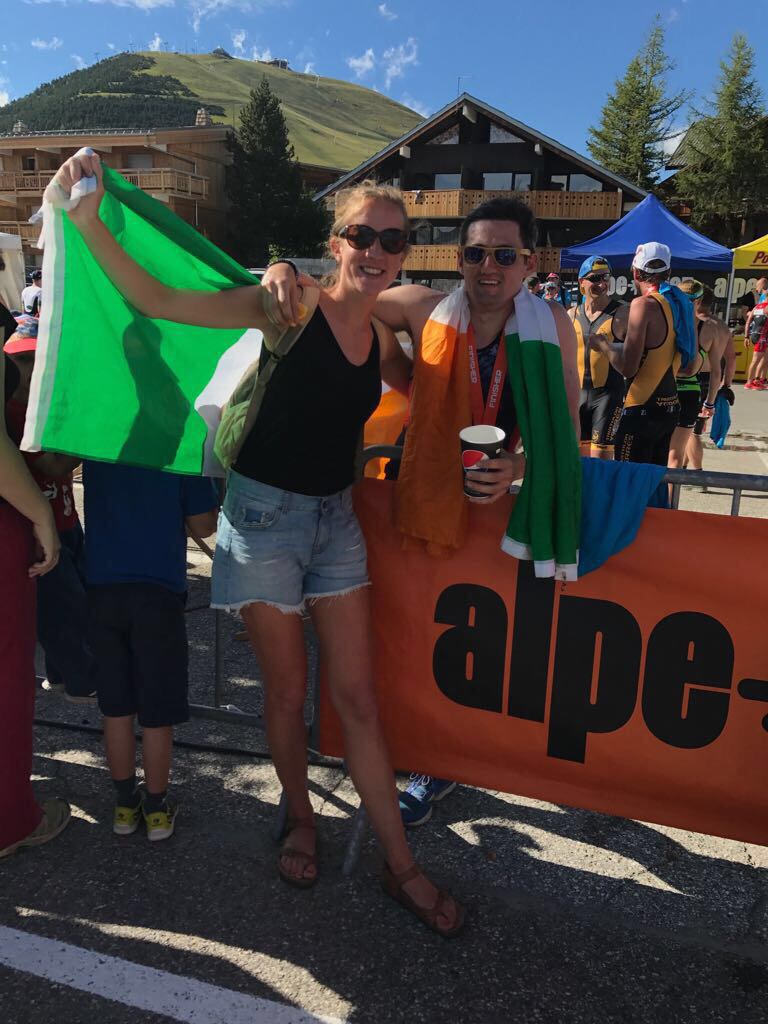 by Diarmuid Meldon
It's that time of year again where I find myself writing a race report.  Which means I've attempted a race that I probably shouldn't have attempted.  This year's race was the long distance Alp D'Huez Triathlon.  I can't remember who told me about it.  But as soon as I heard, I knew I had to try it.  I singed up around Christmas and the race was the end of July.  So plenty of time to do a bit of training.
Training
As always training is the most inconsistent thing I do. I peaked far too early this year – way back in February when I beat the lovely National Series Champ in a 400m track race (Sorry Tom ;), had to say this, it's my only claim to fame).  Holidays and work took priority over a lot of the other training I should have done, but when I was free I trained hard whatever the weather.  My main concern for the race was the bike.  I figured the swim and run would sort themselves out on the day.  So I created the rule of 'no flat bike training' and went up and down every hill I could in Wicklow.
Race Week:
The race was on a Thursday.  So I flew to Nice on the Monday and drove with my girlfriend to the alps the next day.  We just pitched a tent at the bottom of Alp D'Huez in a lovely campsite.  It turns out using a wetsuit as a ground mat is not ideal.  On the Wednesday I registered and rented a bike from a local bike shop to use for the race and the few days after.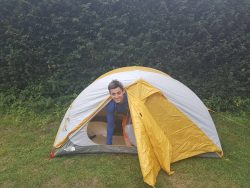 Race Day:
Race start was 9am.  I parked the car in Alp D'Huez and it was a 40-minute cycle to the start (all downhill).  The organisers had put each nationality together in transition so it was nice to be able to chat to the dozen or so other Irish people doing the race.
Swim – 2.2k. Target: 45mins actual: 38mins
The swim was in a dammed lake and was a mass start of about 1000 people.  Water temperature was a lovely 15C and we had to swim two laps.  The lake and surrounding valley were stunning, the water was perfectly calm and clean, so it was one of the best swims I've done in any triathlon.
Bike – 120k. Target: survival, actual: 5.5 hours
The course was point to point, from the lake to the top of Alp D'Huez.  It covered three mountain passes and totalled about 3500m of climbing.  So unsurprisingly, absolutely nothing like Wicklow.  The Alp's as most of you know is cycling heaven.  This was my first time cycling in them and it definitely lived up to the hype.  The roads were amazing.  Cars gave bucket loads of space and time to cyclists and the scenery was stunning.
The first climb was Alp Du Grand Serre.  I probably did this climb a little bit too quickly being full of energy and so excited to be finally cycling the Alps.  I got chatting to a lad from Donegal on the climb and we shot up it.  He then shot off into the distance never to be seen again.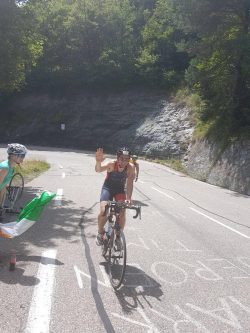 The sun came out in full force from the second climb (Col D'Ornon) onwards, it was around 30C.  This climb was around the 70k mark and it was tough, I think it was more the length than the gradient.  I was still happy I hadn't hit any walls and mozied up it.  I'd no luck on this climb finding someone to chat too.
The final climb then.  The one I'd been fearing since Christmas was Alp D'Huez itself.  I was definitely tired reaching it and it was a case of very slow and very steady.  About halfway up I got chatting to a Canadian lady which I think kept me from losing my sanity.  We went up the rest of the way together.
Like the swim, the cycle is by far the best I've ever done in a triathlon race.  The views are breath taking.  The support is great on the final climb.  The roads are perfect and the climbing is brutal is the best possible way.
Run – 21k.  Target <2hours, actual: 1h45mins
Even though the sun was blazing down.  It wasn't so bad as Alp D'Huez is up at 1900m so it was a bit cooler and there was a wee breeze.  I've no fancy watch to tell me pace so I just set off at what I thought was steady pace I could hold.
I'd not seen the run course before, all I knew was that it was three laps of a mixture of trail and road running.  It turns out the only flat part of the course was the transition area.  I'm not going to lie.  I loved it.  I lose my mind during long flat races.  This was anything but.   The support was great up here.  Róisín and two friends were roaring away with their Irish flags out.
I felt great for the whole run and paced it perfectly.  Crossing the finish line was one of the best feelings I've ever had in a race.
I came in with a time of 7.59.25 which was a lot better then I was expecting.  But even if it had taken 10 or 12 hours I think I would have been just as happy finishing.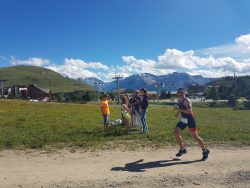 Post race:
The body survived which was the main goal after finishing and I was able to enjoy the next few days eating and cycling around the Alps.  Would I recommend this race? YES!!! I can't see how any race could top this.  You're in one of the most beautiful parts of the world that's been designed for cycling and running.  The atmosphere was great all week there and like most of France the food was divine.  They have an Olympic option, a duathlon and even kids races for all ages over the course of the week. I would definitely go back and do this race in the future.  But for now I'm going to keep a low profile in case someone else suggests a ridiculous rave I've not heard of for next year.