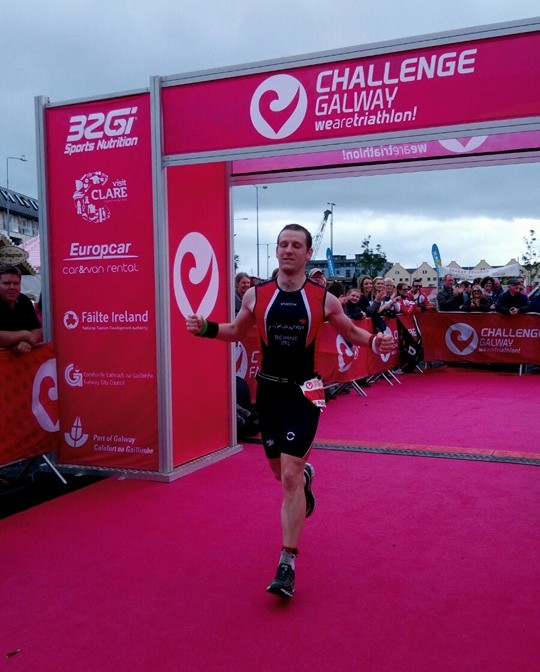 Background
Despite having only ever completed a couple of sprint triathlons in 2014, I got it into my head that I wanted to complete, or at least have a crack off completing, a full ironman. I had heard that Challenge were putting on a race in Galway and immediately warmed to the idea of doing my first ironman at home in Ireland. So despite the lure of racing in a warmer climate I registered for the race and roped in 3 of my good mates for the journey too, 2 of whom were based abroad and planning on flying home for the race.
Preparation and training
I talked to a couple of family friends who had done the distance before and got some invaluable advice, specifically, 1. Join a club and 2. Get a coach.
Taking this on board I joined Piranha in November 2015 and got in touch with Piranha clubman Steven Moody about coaching me. Having always considered myself a decent athlete and having competed to a reasonable level whilst rowing at University I was put on the back foot when Moody initially seemed sceptical of my ironman ambitions. Eventually after a few chats and providing him with my 'sporting CV' he was on board and we were good to go. Probably worth noting that I was a bit of a ham at that point and hadn't run in 6 months due to an achilles injury I sustained hurling for the local club, so on reflection any scepticism was totally warranted.
Given I was 30 weeks out from Challenge Galway, Moody immediately set about getting a training plan sorted. We placed a big emphasis on making the training as flexible as possible and tried to fit sessions around my usual routine when it allowed. This flexibility, such as commuting from my home in North Kildare into work in the city once a week, lunchtime runs and self-swim sessions in my local gym pool, allowed me to get the training done and also keep a decent training/work/life balance.
Broadly, I did 3 swims a week in WestWood (2 mid-week mornings and Saturday morning), 3 cycles (1 Turbo, 1 commute, 1 long Sunday spin), and 2 runs per week with a couple of short brick runs off the bike.
Due to the achilles injury my physio had banished me from running until mid January so I used this as an opportunity to get some extra miles in on the bike and in the pool to build up my base fitness. I actually think this was a blessing in disguise because it allowed me to lose some weight and condition the body for the run training that was coming down the tracks.
A gang of us went to Torrevieja in Spain for a week long training camp in mid February and I speculatively got in touch with a local cycling club, Orihuela Costa Cycling Club, to see if we could tag along on some group spins. Incredibly, but unsurprisingly, it turned out that Noel, one of the founders of the club, was from Cork and was only mad to help us out. Noel sorted us out with rental bikes and took us out each day for some terrific spins, racking up some serious mileage and taking in all the signature mountain climbs in the Murcia / Valencia region. In addition, we also tried to get in some open water swimming and running sessions and all in all this was a really beneficial training camp and brought us on a tonne.
My first build up race of note was Lisbon Half Ironman in early May. Having never done more than a Sprint Tri I purposefully picked Lisbon as it was supposed to be a good quick course and I figured it would boost the confidence and be a launch pad for the last big block of training. How wrong I was. Unprecedented weather conditions, gale force winds and torrential rain meant that the organisers had a judgement call the morning of the race as to whether they were going to cancel it or not. Thankfully, they went ahead but it was an incredibly challenging day. I totally overcooked the bike trying to hold my target split instead of racing the conditions in front of me and as such suffered terribly on the half marathon. Big lesson learned!! My target time was a sub 5 hour race and I came home in 5:01, quite disappointed initially but buoyed by the fact that it seemed to be a real struggle for everyone on the day.
My last build up race was the Lough Cutra Half Ironman in Gort, Co. Galway. Despite the swim being cancelled due to poor visibility I took a huge amount from it as the bike course covered a lot of the same roads we would be racing on in the Ironman. I got my nutrition horribly wrong on the day and ended up getting stomach cramps 5km from the finish. This turned out to be a bit of a disaster but I eventually struggled my way through it. Similarly to Lisbon, it was another invaluable lesson learned and I made a big effort to play around with my nutrition strategy until I got it spot on in the following weeks.
After 2 long weeks of tapering, we got down to the B&B in Oranmore on the Thursday evening before the Ironman and chilled out. I did the swim practise on Friday evening and drove the run course to get my head around it.
The next couple of days went in pretty quickly and before I knew it I was up at 3am and tipping down to the swim start. Thankfully I got a solid 5/6 hours sleep the night before the race.
Race day
Swim – Target time: 70 minutes Actual time: 65 minutes
The atmosphere just before the start was good. The wind had picked up and the water conditions were a lot choppier than it had been at Friday's practice swim but I think everybody was adrenalin-filled at this stage and anxious to get going. We got into the water around 6am and I was pleasantly surprised by the water temperature and how warm (not Baltic) it was. The gun shot went off at 6:20am and away we went.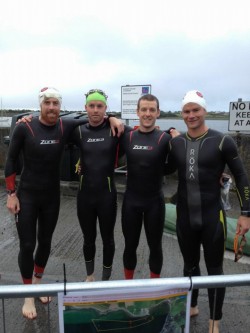 The course was two loops which meant that there was always a good cluster of athletes around, especially at the buoys where there was plenty of jostling. I tried to keep to my own rhythm and keep things nice and steady despite the fact it was totally manic at times. I had allowed myself to get flustered in Lisbon and it was definitely counter-productive so this was a big emphasis for me.
I got a couple of belts at one stage around halfway and my left goggle filled with water but I decided to just leave it and swam on with my left eye closed. The wind was blowing west/south-westerly in off the Atlantic to the coast so there was a strong headwind on the out leg. Once we had turned the second buoy and headed back towards the coast it felt a lot calmer and quicker with the wind on our backs. When I hit this turnaround point on the second lap I had a sense of relief that the worst was over me and actually enjoyed the home straight back in.
We had just over 600m to run from the swim exit to T1. I had walked this the previous day and had decided to take my wetsuit off at the exit point and run from there to T1, figuring it might save me a few seconds. Given the weather I put on my gilet, arm warmers, socks etc and made my way to pick up the bike.
T1 Split – 7 mins 21 seconds. At this point I was in 109th position overall and 10th in my AG category.
180.6km bike – Target time: 5 hrs 40 mins Actual time: 5 hrs 55 mins
From my research of the bike course and having covered sections of the route during Lough Cutra I knew that it would be a challenging route. I broke it down into three sections. The first stretch to Gort would be flat, quick and would have a prevailing tailwind. The next 80/90km would consist of rolling hills and 2 steeper, longer climbs in Corker Hill and Corkscrew Hill. This section would account for the bulk of the 1,300M elevation on the course. The final 50/60km would be along the 'Wild Atlantic Way' coast road and all going well we would have a strong south-westerly wind behind us pushing us home to Galway. The race plan was to reach Gort at around a 33 km/h avg, keep my avg speed as high as possible over the challenging middle section and then try blast the last 50km and bring my avg speed back up to 32 km/h ish.
I got to Gort bang on my target avg pace at 33 km/h. There had been murmurings of a 15-20km stretch from Gort to Boston that had a terrible road surface so I had been going out searching for potholed roads on my long training spins. This proved beneficial as I don't think I found the roads as bad as other people. When the course split at the foot of Corker Hill, with the half IM athletes heading back for Galway and the full IM athletes turning into the Burren, the weather turned on us badly. The wind whipped up and it started lashing rain. As well as that, something I wasn't expecting was the really heavy, dense fog in the Burren which meant that visibility was really poor. This in tandem with the fact that the roads were open to traffic meant that I got held up a couple of times by tourist buses on small narrow roads and also that I was ultra-cautious on the descents.
By the time I reached the top of corkscrew hill, roughly halfway, my avg speed had nosedived to 29.3 km/h but I was quite content as I expected that the hard work was done and the remainder would be quick. I was wrong on that front, the wind and rain was really getting going at this point and I found it a real slog the whole way back down to Lisdoonvarna and up the coast to Ballyvaughan. At this point I made a judgement call that my target split was a non-runner, drew on my Lisbon experience, and decided to race smart and take whatever time the conditions allowed for on the day.
I made it to T2 in a time of 5 hours 55 minutes and despite being 15 minutes slower than my target time I was satisfied I'd executed the race plan as well as I could have on the day.
I was very happy with my nutrition strategy on the bike. I steered clear of gels given they turned my stomach inside out at Lough Cutra. I took on around 60 wine gums, 6/7 energy bars and drank roughly 4 litres of a carbo energy drink / electrolyte mix during the race.
I got through T2 in 3 mins 16 seconds and at this point I had worked my way up to 33rd position overall and 4th in my AG category.
Marathon – Target time: 3 hrs 59 mins Actual time: 4 hrs 02 mins
I was nervous about the run, mostly as I had never run a marathon before. My run training was severely sporadic, initially due to the achilles injury, then due to me mangling my hip on a ski holiday over New Years, and finally when an old hip-flexor injury from my GAA days flared up in the weeks leading into the race. Despite multiple setbacks Steven managed my run load extremely well and found a really good balance of pushing me and getting the key run sessions in without forcing another injury. We had built up to a max long run of 28km in training and whilst I took huge confidence from that I was still bricking it about having to run another 14km on the day.
The plan for the marathon was to run the first 2/3km very conservatively, below my target avg split of 5:45 min/km and then bring it down to my target split with a nice steady rhythm from then onwards. The run was broken into 4 out and back loops, so we basically ran the same stretch of road 8 times from the docks in the city out along the 'Prom' to the turnaround point in Salthill.
I was hoping to just sneak under the 4 hour mark and if I did that I thought that I could get my A goal of going sub 11 hours overall. I had a call to make after the bike as to whether I should attack the run and try to get those 15 minutes I lost on the bike back or consolidate what I had and stick to my target run split.
I felt quite heavy legged for the first 4/5 km and was getting a bit worried but then I found my legs and felt very comfortable. At this point I had passed my fiancée Katie who was cheering us on at the halfway point out to Salthill. Katie was able to tell me that my friend Declan was in second place in our category and that I was in 4th place. I decided then that I was not going to attack the run for fear of blowing up and decided to play the long game and try to maybe sneak into the podium places if things went my way.
I cruised along quite nicely at 5:45 pace until the 30km mark. It was here that I made the conscious decision to briskly walk through the aid stations and really fuel up during the last 12km. The last out leg, 30km-36km, was really tough and as I was starting to wilt a bit my pace was steadily slowing down each kilometre. Just before I got to the turnaround point I spotted the guy who was in 3rd place in my category just up the road in front of me and this helped me refocus. I composed myself for a few seconds and then upped it a gear as I went past him, running the last 5km at 5:00-5:15 min/km pace, digging in as much as I could. My legs started to seize up in the last 2km but I just pushed on as I knew I would be gutted if I missed out on the podium having been so close.
I reached the finishing shoot and was exhausted but totally buzzing at the same time. I finished in a time of 11 hours 14 minutes, finished in 43rd position overall and 3rd in my category.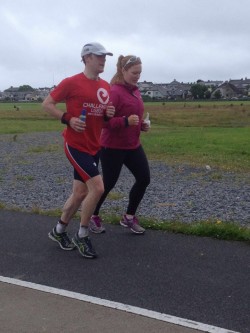 Post race
At the finish line it was lovely to share the moment with my family who had witnessed the effort I'd put into it over the previous 30 weeks and my good friend Declan who had come home ahead of me to take 2nd place in our AG category.
It was brilliant having Katie, family and friends at various points on the run course cheering me on and genuinely helped me to put one leg in front of the other in the dark moments. Katie ran alongside me for a couple of hundred metres each lap which helped distract me from the reality of what I was in the middle of. She was incredibly supportive throughout the entire journey and I don't think it would have been possible to either get to the start line or the finish line without that support.
As I only do the swim sessions I wouldn't know that many in the club but the support and camaraderie between the Piranha competitors and supporters on the day was just fantastic, so a massive shout out and thank you to all the Piranha gang.
We hung around the finishing zone to see my other two mates, Michael and Emmet, finish. It was a great journey for me personally and was most definitely enhanced by sharing it with the lads.
The following morning we made our way down to the athlete village for the presentation. Prior to the race, I never expected nor was I aiming to be on the podium, I purely just wanted to see if I could complete the distance. However, the top 3 finish was a real bonus and the fact I got to share the podium with Declan was top notch. We got presented with some Galway Crystal and were awarded qualification into the Challenge Family 2017 World Champs in Slovakia next June, which is over the half ironman distance.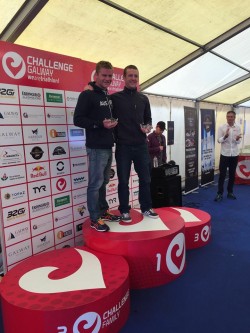 A special thank you has to go to my coach, Steven Moody. I have been exposed to a variety of top class coaches in the past and I rank Steven right up there. His enthusiasm for all things triathlon is infectious and his measured and structured training program delivered me to the start line in Galway with the best chance of achieving my target. He was always in control of the big picture, telling me when to push on or back off, and allowed me to just concentrate on each session at a time. I'm glad I listened to the advice I was given, and I would recommend anyone who is considering an IM to do the same and get a coach – undoubtedly the best money I've spent throughout the process!!
I have ambitions to go back and have another crack off the full Ironman distance at some point in the future but for the time being the wedding, honeymoon and hopefully competing at the worlds in Slovakia next June is enough to keep me busy in 2017.
Finally, I am absolutely delighted that I chose Galway as the location for my first ironman. There was definitely the lure of warmer climates and more prestigious or established races on the continent but at the end of the day what we encountered on the day – wind, rain, dodgy roads, rugged landscape, dodging sheep on the bike, the warmth of the local spectators – was Ireland at its rawest and best and only served to make it an even more epic experience for me!
Paddy