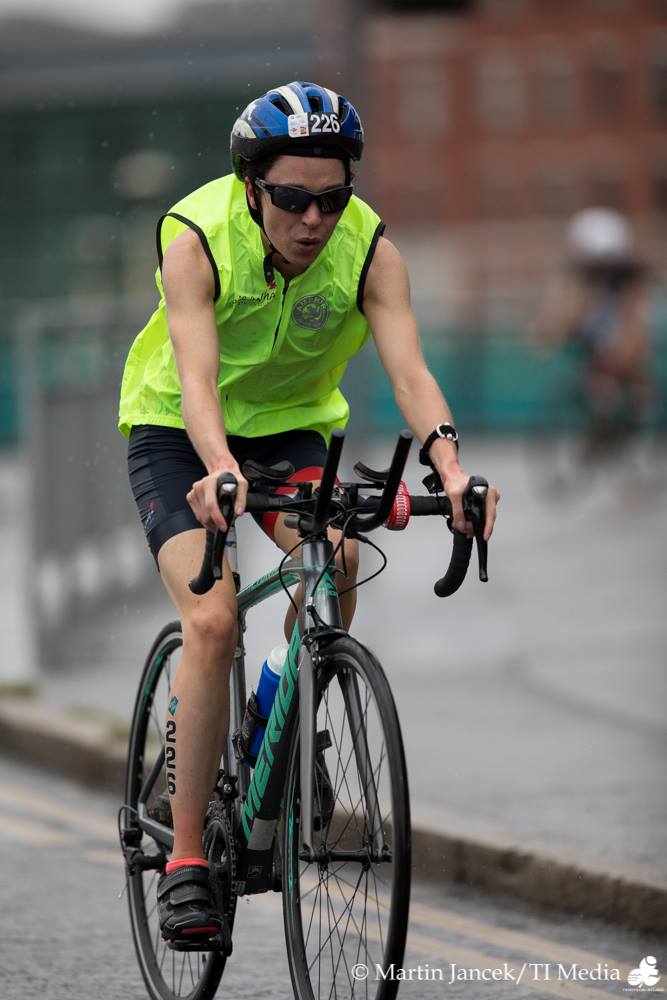 How not to do your first Olympic: and other lessons.
Not intended to dissuade any newbie from attempting their first!
Piranha welcomed me as a new member in January this year: a Newbie and not a runner, cyclist or swimmer to boot, there was much work to be done. But work on me they did and having finally learned how to front crawl, I entered my first sprint race in May. Elated by the atmosphere and sense of achievement, I continued to enter the season sprint races and I set my sights on my first Olympic Triathlon in Belfast on 3rd September.
Working towards that date I carefully ignored the lazy holiday I was taking just two weeks before the race telling myself that the training was done and it would be fine. Back from holidays having had one burrito too many, I knuckled down for the last two weeks and nervously prepped for what would be the biggest race of the year for me. My bike had just been returned after a recall from the shop floor – a faulty fork had been temporarily replaced and I was good to go. Loading my bike onto the car in Dublin, I made my way to Newry the night before the race to meet my dad who was coming to cheer me on the next day. But just as I hopped into bed I realised that in my haste I had managed to forget my cleats – what a start! My long suffering father made the long journey back at almost midnight and picked them up for me, a total hero and saved the day.
5:30 am, I looked outside and gulped – the rain was torrential – pathetic fallacy in all its glory, for inside I was crying. Belfast couldn't be much warmer, could it?
Deathly silent, in Belfast at 7am, we veered off the M3 taking a wrong turn. With a few minutes to spare I jogged from registration down to transition and set up my bike trying to mentally prepare for what lay ahead. I tied up my frizzy mane, (a job that I would advise completing prior to registration) and wiggled into my wetsuit. 'Fail to prepare, prepare to fail' echoed in my head as I realised the rain was coming thick and fast. Luckily I had the plastic covering from my Piranha top I had received from DCT the week before to cover my shoes, but on reflection really, the only thing to to keep my things dry would have been a tent on offer that week in Aldi for Electric Picnic-goers.
The lovely Roisin lent me her Glide, which I had misplaced and I had my wetsuit zipped up just before realising I should have made a last minute nerves toilet stop.
Wetsuit done up for the second time, I wished my friends luck and tentatively pattered over towards the black Lagan. This was where focus took over and I waited towards the back to stay warm for a few more minutes and concentrate on the end of the swim.
All of a sudden the race was on and I tried to remember to GLIDE!
Getting smashed by a few burly white caps I splashed harder to mark my territory, keeping my pride intact and my goggles firmly on my head. Things were going well, I wasn't wrecked, and I could see the finishing buoy, but as luck would have it, flailing in the water, 300m before the end, I felt my timing chip come loose on my ankle.
As I watched all the caps pass me in dismay, I reached down to grab it and held it my hand as I fisted with my left and swam with my right, holding on for dear life for that time to let me qualify for the National Series.
Out of the water, smiling for cameras, the chip delay slightly playing on my mind, I padded into transition and heard the time, pleasantly surprised with my swim.
Sloshing around in T1, was where things began to worsen and I made the race error of putting on the fluorescent jacket tank top, not made for insulation…
Out on the bike some of my Piranha mates passed me on the bike with words of encouragement and the exclamation "This is awful!"
And awful it was. Five minutes into the bike I realised my mistake.
It was Hell on earth. I felt like I was torturing myself. I cannot remember ever being this cold. In fact I had been drier and warmer in the Lagan ten minutes earlier.
10k in, it was obvious this was not going well and Winter was Coming. I started to blow heat onto my exposed shoulders in the hope that that would generate some heat but finally discovered wailing loudly in pain/cold actually helped distract!
I then began to think that things could be worse… It could be a 70.3 race. Or I could be injured and unable to race. Or I could have fallen. Or it could be a Monday.
But on the way back after lap one, I knew my mind wanted to go on but my body was entering shivering thermogenesis and I roared out to the marshal that I was going back to transition – that comforting place of warmth to dress this scantily clad competitor in better fashion.
It all became very apparent that the wind had removed my carefully laid plan and my t-shirts were sopping wet.
A marshal watched as I rung out my quick drying Howth Series t-shirt, delivering a good half pint of rainwater onto my sodden trainers.
Delirium was setting in for me and he refused to let me wear it so off I hopped to the bag drop to find some dry clothes.
As I hobbled back in my mother's rain-jacket (don't ask!) he tried to reason with me.
"You're very cold, would you not just call it a day?"
There was no way I was listening to this. I was going home a finisher come hell or high water…maybe that's what the H&W really stood for on the ominous yellow cranes along the docks, bearing over me, mocking my misery as I had beaten my path through the sheets of rain, cycling past.
"I can't" I chattered, wet, but with conviction. "I have to finish this race!"
"Why?" he pleaded with my dripping frame.
"For my club!" (The irony!!!)
"Who is your club?" he reasoned, probably guessing that my time wasn't exactly a point winning performance.
"Piranha" I shouted.
I look back at this moment with hilarity at the sentiment, but it was there nevertheless and it's what kept me going!
Somewhat reluctantly, the kindly disbeliever resorted to then helping me swap my chip back to my leg to record my second bike lap, (as it had determined that I had spent a good deal longer in the Lagan than reality,) and off I went with the steely or some might say stupid determination of a woman on a mission in a Baltic monsoon!
I won't repeat the choice expletives that may have passed my blue lips as I fought the wind, but I really got into a good rhythm with my language by the second corner and some kindly latecomers meeting me shouted "It gets better."
It didn't. But the hope helped, while some diehard supporters towards the end of the bike ride tried to encourage me along, stoic in their static raincoats, probably way colder than I was at that point!
Looking up at the Harland and Wolfe cranes, I knew it was almost over and soon, soon I would be dry again.
Into Transition for the fourth time that day, I propped my bike up and it was promptly blown over.
The other competitors next to me were finished and tidying up their gear. My next door neighbour saw my frantic velcroing action and lent a hand with my cleat to trainer swap (is that allowed?!) I'm going to send him a postcard from Lanzarote, I decide, the only place I am ever doing an Olympic triathlon again. Where it is beautiful and balmy and….eh Eimear?! A 10k run is still awaiting you!
Back into the bag drop, (all transition training forgotten) for more dry supplies and I pulled on every item of clothing I owned and had a little chat with a few Piranha finishers.
Off I jogged to a few cheers at the 'run out' sign from some very dedicated Piranhas!
"How do you feel"?I heard behind me!
"Worst day of my life!" I shouted, but really it wasn't.
I knew the worst was behind me.
Normally I dread the run, but 10k was a breeze after this. I felt like I'd ruined my race but I was so pleased that I was on the home stretch and I knew I'd beaten the mental games. I was going to finish this, checkmate Belfast.
I trekked around the 4 laps and made a friend, Fiona, on the way keeping pace with her, as I had done on the bike with her relay teammate.
My dad was there to cheer me on and several amazing Piranhas hung in there and kept me going and there was no stopping me – I didn't care what happened now!
Michael the self nominated photographer for the day papped my relief and delight to have reached the end and I grinned my way through the finish line and felt like the actual winner!
I was a real triathlete now! Even though my time was miles more than I'd hoped for, I knew I could do it now and I was hungry for more.
Everyone was packing up, but the club members were there at the end, and I hugged them all in glee and pseudo embarrassment that I'd kept them all waiting at the finish line. But it was all worth it and without getting too cheesy it was all thanks to these great friends I have made.
This was my race to remember and to learn from and my day was complete.
I skipped off the pavement with Harland and Wolfe looming behind me, less ferocious now in the cloudy sky, and never looked back.