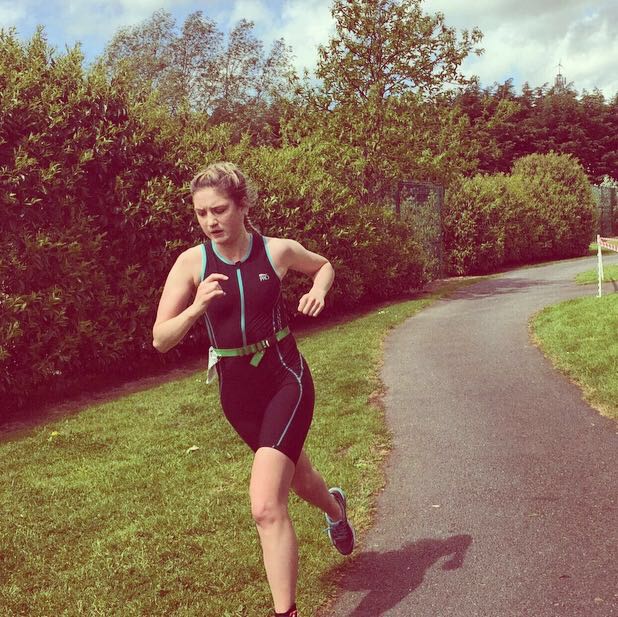 I joined Piranha a few months ago looking for a new physical challenge, and some training variety after years of pounding the concrete on the running scene. Within weeks of joining, I was encouraged by other members to enter the Carlow sprint triathlon to get a baseline of where I was at. Safe to say, I thought they were crazy. Without any solid swimming or cycling background, I was wary, but also excited to get a feel for the racing stage. And so, I entered.
As race day approached, I became a bit apprehensive. The swim especially was at the forefront of my mind, as training hadn't been as consistent as I'd have liked in the run-up, with college exams looming. Thankfully, I had great support from other members in the club with last-minute preparations; going for my first open-water swim, and transition training with Adam, Richie and John (saints to triathlon newbies) really helped calm the nerves, and I was raring to go.
On 14th May, I arrived in Carlow with a long-list of race-day essentials; a far cry from turning up to a running race with a pair of runners/spikes and some pins for your number. Seeing all the other triathletes setting up at transition was quite overwhelming, but having so many familiar faces around from the club was definitely very welcome. After the pre-race briefing, everyone headed over to the swim start together, and then it was game on.
Show time:
Between the excellent advice from fellow club-members re: swim tactics, and all the sessions in Westwood pool, I knew I had been prepared as well as possible. The swim went better than expected, with 500/750m in the direction of the current. The hardest part was undoubtedly the turn-about at the buoy; elbows were out and it was every man for himself. Although this was really tough at the time, in the heat of competition with club pride at stake, it's to be expected, and something I'll definitely be ready for in future races.
Transition went smoothly, totally thanks to the session I had attended earlier in the week (otherwise, it would have been some spectacle on my part). Entering the transition zone, with the countless number of identical bikes, I zeroed-in on my orange towel. Some time was lost taking off the wetsuit in (what seemed like-) slow motion, but then I was out on the bike. With the exception of some wind, we were lucky with ideal weather, by Irish standards. The cycle was a steady uphill drag for 10km, followed by a downhill 10km. With the bike being my weakest discipline, I certainly noticed more experienced athletes fly by me, but I pushed it as hard as I could nonetheless. Going forward, I'm focused on stepping up my cycling, and am looking forward to seeing some good improvements.
When I got off the bike at second transition, I breathed a sigh of relief, as I knew the hardest part was done. All that was left was the 5km run, which was my most enjoyable section of the race. The course was flat, and there were some decent crowds out cheering all the athletes, which made for a great way to finish off the day.
Overall, my experience of my first triathlon was a very positive one, so much of which is attributable to the great preparation I had both in training with the club, and with additional race-day advice from the more experienced members. I've definitely caught the triathlon bug now, and cant wait for my next day out with Piranha.
With so many new members in the club, and so many first triathlon experiences to be had in the coming season, anyone that is slightly anxious about racing should know that Piranha has us so well-prepped, and that it's just up to us now to take the plunge and enter that first race.
Chloe Doran (23)