CHAIRMAN
The Club Chairperson is responsible for coordinating the running and operation of the club, organising and chairing committee meetings with a view to defining and achieving club goals and objectives, and acting as an official club contact and representative.
Killian Nolan  [email: [email protected]]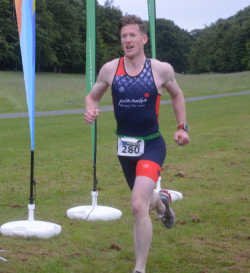 The 2018 Triathlon season was a hugely successful one for Piranha as a club and a large part of this success can be attributed to having such a strong training program in place within the club.
Before I joined Piranha in 2015 my sporting background was in running, I ran the Boston marathon in 2014 and subsequent to that I decided to try out a sprint triathlon that summer to add some variety to my sporting life. Despite floundering in the water I thoroughly enjoyed the race and set out to compete more and improve the following year. I figured the best way to do so would be to surround myself with people who have been doing it for much longer and try to soak up their knowledge and experience. I landed on my feet with Piranha and the high standard of the coaching set-up and friendliness of the members won me over very early on. I've been enjoying the journey ever since.
I believe there is a huge amount to be gained from the active participation in the club and the weekly training sessions, the camaraderie and friendships that have been forged from being a member of the Piranha community is one which I place a lot of value in. I would encourage every member to be as active as they can be as the benefits are far more than just athletic, there is also much to be said for suffering as part of a group rather than on your own! Here's to members using the training sessions offered by the club to help achieve their personal goals in 2019!
---
CLUB SECRETARY
The Secretary maintains the minutes in a club record book, which serves as the official record of the club's activities. Member attendance records of both regularly scheduled and special meetings are maintained by the Secretary.
The Secretary also acts as an additional contact point for the Club and attends to relevant administrative tasks, communications on behalf of the Club and liaison with Triathlon Ireland.
Claire Gorman [email: [email protected]]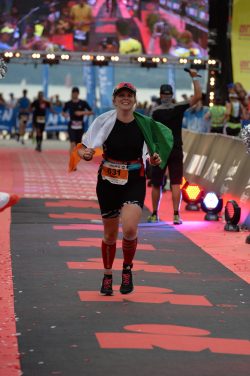 ---
EVENTS
The main roles of the Events (Social & Gear) officer are –
Organise variety of social events during the year (Xmas party, JD post run, Club Champs afters, T.I. Awards night and any other random social activity that may arise.)
AGM – organise nominations & prizes/trophies for all awards, locate and collate presentations.
Organise any other random ideas that arise during the year!
Gear – two orders per year – winter and preseason. Link with PR officer to activate gear shop & treasurer re payment & discounts, coordinate distribution of gear to members
Sinead Plunkett [email: [email protected]]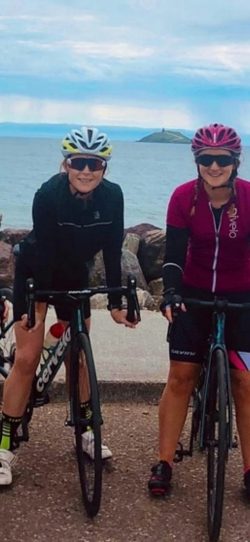 I joined Piranha in 2017 after a long time toying with the idea. I had an interest in each of the disciplines, but no strong background. Indeed the club has really helped me over the seasons. The training sessions are coached by a team of experts and are suited to all levels. Above all there is a great comradory amongst members, most of which have become good friends.
I represent half of the Social Committee with my training buddy Maura Ormiston. Our big social events have been majorly impacted in 2020, however we are excited to host them again next year. Looking forward to meeting you all for the triathlon seasons ahead.
Maura Ormiston [email: [email protected]]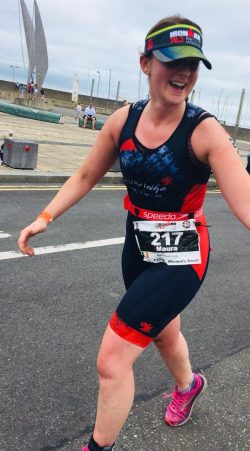 Why just do one sport when you can do three …as they say variety is the spice of life! Finding my morning HIT classes just weren't hitting the spot anymore I decided to give triathlons a shot. As with most it was the dreaded swim which had me hesitant to try a tri which was the main reason I joined the club. Two years on and I may not yet be in the league of Michael Phelps but I'm a damn sight better.
So I joined for the swim but stayed on for the people, banter, social and of course the first class training sessions. The club caters for all ages and abilities, whether you want to dabble in a tri or aim for the holy grail Kona, Piranha will get you there!
---
TREASURER 
The Finance committee works to ensure that the finances of Piranha Triathlon Club are organised and managed effectively. This includes:
Oversee the financial affairs of the Club and plan for its ongoing financial viability
Manage the Club financial accounts, and report on financial status to committee and members
Operate the Club's financial process, managing bank accounts and all related invoicing and payment matters for the Club
Susan Wylie: [email: [email protected]]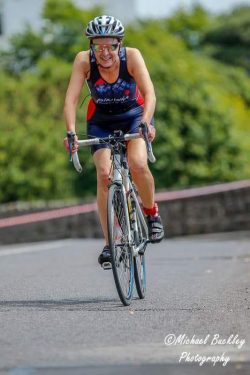 In 2016 I joined a running club with the aim of doing the Clontarf 5 mile race. I ran the race and then myself and a few of my fellow runners decided we would give the Dublin City Triathlon (DCT) a go. I entered the DCT 2016 race, which is run by the Piranha Triathlon club. I managed to finish the race but my abiding memory was how well run the race was and how friendly all of the volunteers were. The following January I joined Piranha and haven't looked back.
In my first year with the club, I thought I would maybe enter one or two races but the training was so good and with encouragement from members old and new, I raced 3 Sprint Distance Triathlons and 1 Olympic Distance Triathlon. I thoroughly enjoyed my first race season with the club.
In 2017 I was involved with all of the other cub members by volunteering for the 2017 DCT race. It was great to be involved in the race from the organisation side rather than as a competitor.  In 2018 my aim was to continue training and improve my race times. This I achieved but I still consider myself a recreational triathlete.
In 2018 I went on the Warm Weather Training camp to Lanzarote and the pre-season Training Camp in Killarney. Both involved lots of hard training but were great trips and finished off with some great parties.  Everyone in Piranha are so welcoming, friendly and encouraging and the club caters for all abilities – from the Tri a Tri competitor to those training for Ironman.
I look forward to meeting you and helping you achieve your own goals as a Piranha Club Member.  More importantly I look forward to celebrating with you after a race.
---
MARKETING
The marketing committee works on the promotion of Piranha Tri Club.The main roles of the Marketing, Web and PR officer are to:
Update the website, activate and manage all accounts.
Post stories and source race reports.
Keep Instagram, Facebook and Twitter up to date
All website admin.
Deal with queries re piranha from members thinking of joining.
Manage any additions to the website – e.g. bike boxes, gear shop. Paypal account, etc.
Create and distribute monthly newsletters.
Write & distribute press releases and handle press queries.
Source and organise triathlon related seminars and workshops.
Helping out with the marketing of club events – e.g. new to tri night.
Roisín Pakenham [email: [email protected]]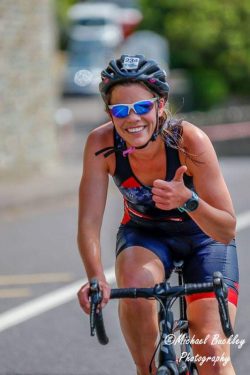 I joined Piranha in 2017 looking for a change of scene from the gym. I was absolutely terrified going to my very first Piranha session in Westwood on a Monday night. Luckily the session started with a coffee and a chat, I met a few other nervous "newbies" and felt at ease that I wasn't the only one. Initially my worry was making the end of the 50m pool, three years later and I love swimming. Next was the bike, I'd never cycled in a group, or used cleats or even cycled a road bike. Within a few short weeks I gave into peer pressure and upgraded my pedals to cleats. The running however is still in progress… Maria and Gary still have their work cut out for them 😀
The best thing about Piranha is without a doubt the people – members and coaches. Getting to know a group of like minded people is fantastic. If you're looking for some motivation, people to push you and have a laugh with, Piranha is the club.
---
MEMBERSHIP
The Membership Officer is in charge of administrating membership applications and dealing with all queries relating to membership. The main roles of the membership officer(s) are –
Keep membership list up to date.
Supply Westwood with regular updates of membership list
Check bank accounts for all SO payments on a monthly basis
Process any new membership requests
Make sure all members have TI membership and are insured to train.
Enda Marren [email: [email protected]]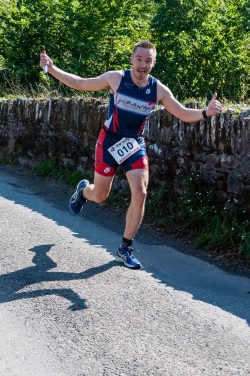 As part of a relay team I undertook the run and the cycle in the Humbert Half Iron and I really enjoyed it. This inspired me to join a triathlon club, and so in January 2012 I joined Piranha.
I can't recommend Piranha highly enough for anybody who is looking for top quality training and a great club spirit. Piranha is inclusive and friendly. It doesn't matter whether you're fast or slow or like long or short distances everyone is welcome.
---
TRAINING
The Training committee strives to provide a successful training programme for all level of athlete. This includes:
Weekly training sessions in swimming, cycling and running
Experienced and qualified coaching
Seminars and workshops
Warm weather training week abroad
Adam Goslin [email: [email protected]]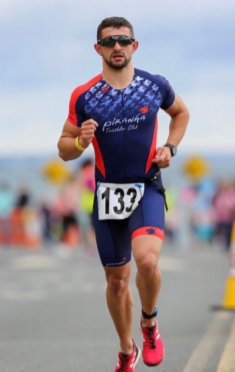 I joined Piranha in January 2016 and it was one of the best things I've ever done!
I played a lot of team sports throughout the years including soccer and rugby. As these started to
fade throughout my time in college, I began running and swimming which I found very difficult on
my own. I needed a challenge!
I first experienced triathlon while watching the Canadian Ironman in Whistler. I was completely
inspired by the athletes and I instantly fell in love with the sport!
On my return back to Ireland I immediately joined Piranha Triathlon Club.
Everyone in Piranha was so welcoming, friendly and supportive and the club caters for all abilities.
There is such a wide variety of training options and the coaches are second to none!
My first triathlon was in Carlow which was a sprint distance and I would be lying if I said I wasn't
nervous. It was a fantastic day, I got such a thrill out of racing and I crossed the finish line a very
happy man! I was completely hooked on Triathlon!
I have held a variety of different roles on the Committee to date and I am delighted to be one of the
Training Coordinators this year. My job is to ensure the highest quality of training sessions for all the
members of the club, coordinate with coaches and provide a successful training programme for all
levels of athletes.
I look forward to meeting you and witnessing you all achieve your triathlon goals as a Piranha!
Adele Hall [email: [email protected]]
Sean Walsh – Swim Captain
Enda Traynor – Run Captain
John Kearney & Hannah Gibney  – Bike Captains
---
NEW TO TRIATHLON PROGRAMME
A rewarding position to coordinate members who are New to Triathlon. Things on your to-do list will include:
Create a calendar of events for the New to Tri programme
Organise events such as: Club Open Night, Transition Training, Coffee Morning, Mini Triathlon in the West Wood
Track down and harass new members into signing up for races!
Choose a race for the New to Triathlon Club Championship.
Marlon Major: [email protected]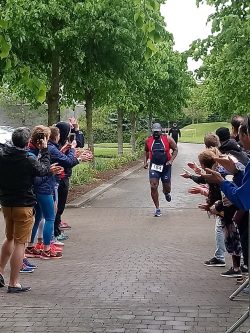 I still can't believe that I've completed a triathlon. Though, I may not have been first across the finish line, I did finish. And all the credit goes to all the wonderful people, programmes and coaching of the Piranha Triathlon Club.
Before Piranha I had been a religious weight lifter. I had little challenge, wanted to feel more accomplishment and wanted to lose a little weight. But I didn't know how to get there or get it. It wasn't until I met a senior committee member of the Piranha Triathlon Club and an accomplished triathlete that I considered given this endurance sport a chance.
Now I can say that I am a triathlete… I may not have made it to the podium yet… But, with the wonderful support of the Piranha Club… I feel that I can do it.
As one of the members of the New-to-Tri Team, I would like to share many of my newbie mistakes, experiences and accomplishments with all of the new members of the club.
Hannah Gibney – COVID Officer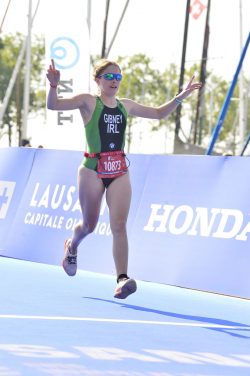 I've always been sporty, I rode ponies up until I was 17 and I did tetrathlon/pentathlon. I took a step back from all sport for a while and in between that and taking up trampolining/gymnastics in college, I was back with a bang in 2016. I took on the challenge of my first triathlon that year, at none other than Dublin City Triathlon, with a mountain bike that I built myself in the summer, with some swimming, biking and just a couple of 5k runs as training. I hadn't an absolute notion about what I was at, I just knew I wanted to do it after watching triathlon at the Olympics in 2012.
Alas, it's now 2019, I eat, sleep and breathe swim/bike/run, with more hopes of continuing to represent Piranha and Ireland abroad. I joined Piranha in January, thanks to my two coaches introducing me to the club, and I find myself up and down the country racing with this wonderful group of people, having the craic, and having made friends for life. I have a huge involvement in the technical side of triathlon for Triathlon Ireland as a Technical Delegate and a Race Referee and volunteering for things at any given chance, which includes making about 10kg of Rocky Road to date.
I'm excited to be part of the Piranha committee this year as I hope I can help impart some knowledge I've gained (and continuing to gain) and enthusiasm to our New to Tri and current members alike. After all it's important to me to give back to the sport that's given me so much.
Adele Hall [email: [email protected]] 
I joined Piranha in October 2018 having participated in triathlon for two seasons and tipping away at each of the three disciplines by myself. Joining the club has made a huge difference to my training. The weekly training options that the club provides in each discipline are amazing and the coaches are second to none. The coached swim sessions are a game changer and the off-season coffee (and cake) spins on a Sunday morning are a high point of most weekends. In addition to that there are weekly brick sessions in the summer and turbo sessions in the winter with

 Coach Casso 

. There are options for every level of athlete from a first timer to those training for Ironman so sign up and get stuck in!!
Piranha also offers a social side that is second to none – there are nights out, domestic and foreign training camps, awards nights, end of season parties and organized club races and weekends away. There is no doubt that the people are the reason that Piranha is such a vibrant and successful club. I have made what I know are life-long friendships through Piranha over the course of my first year as a member and I look forward to training (and socialising) with the Club for many years to come!