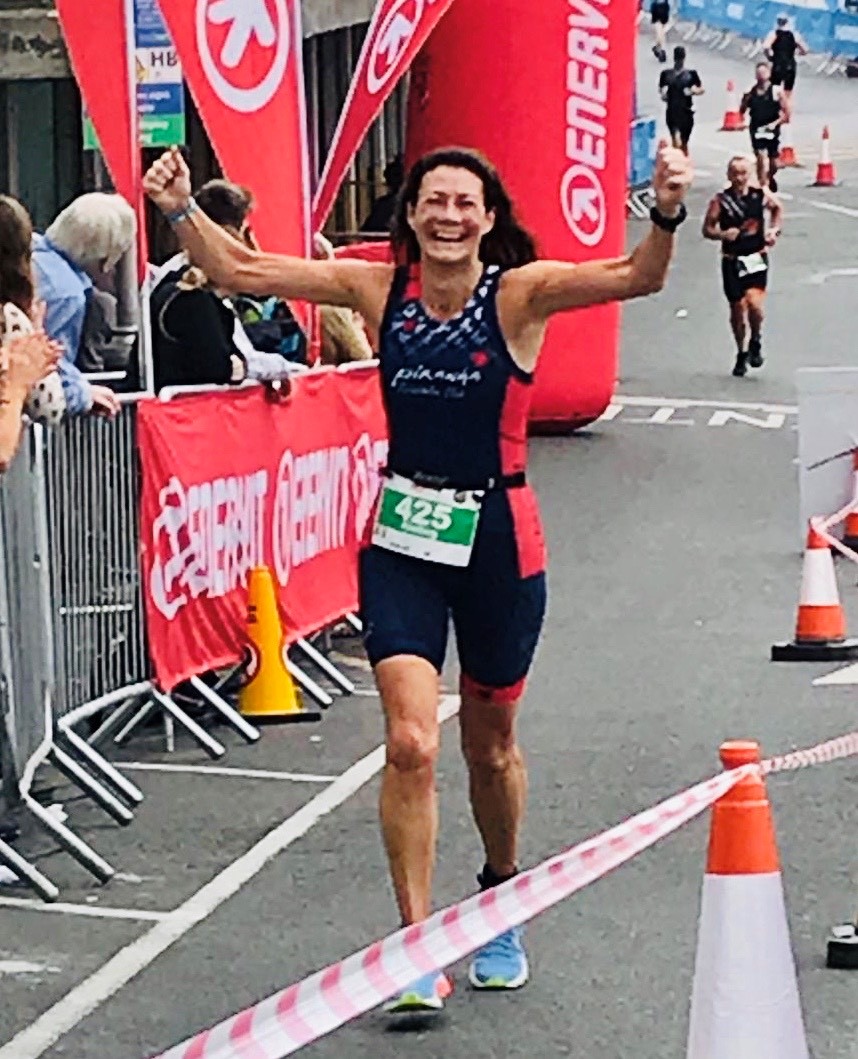 I joined the best club in Ireland – Piranha – in January this year and was quickly and easily persuaded to sign up to Dun Laoire 70.3 by my Shamrocks pal Liz. I suppose the enthusiasm at that time was infectious! I realized quickly that 70.3 was no easy feat and perhaps I should get some advice and guidance to help me achieve my goal. I thought – this is one I can't 'wing' !
So I met John 'Wolf' Lyons and after we 'interviewed' each other I started on my training plan. John carefully designed a schedule to suit my ability (I toppled off my bike first time I went up through howth village – I was going too slow 😱, he had a difficult task ahead) With my fellow 'Cubs' he encouraged us to train together when we could and use each other for support. He organized trips to Wicklow, swims at Scotsman Bay and a trial run of the actual day, complete with transition area, nothing was left to chance. The motto : Fail to prepare, prepare to fail.
So on the morning of the race I was actually very relaxed. I just wanted it to start and get to the finish. The journey to get to the start line had been the hard part, the race was going to be the Glory. I loved it all. The swim – being pushed, thumped in the head, swam over. The bike, all those lovely hills, counting them down and saying good bye to each one as I reached the top. The run – my favorite part, spending two of the laps searching and scanning the crowds for family (they missed me at first as they were getting a Terry's Icecream !) Friends, family and strangers shouting their support. And then the emotion and joy of running down that red carpet, it was a fantastic feeling.
And my Medal …..A medal which signifies support, patience, belief and sacrifice from my husband. A medal which signifies missed bed time stories, missed sunday picnics & missed lazy afternoons with my 9 year old twins. A medal which signifies advice, encouragement, ass kicking and telepathy from my coach. A medal which signifies new, like minded & crazy friends. A medal which signifies determination, courage & perseverance, and that anything is possible once I have the right people around me.