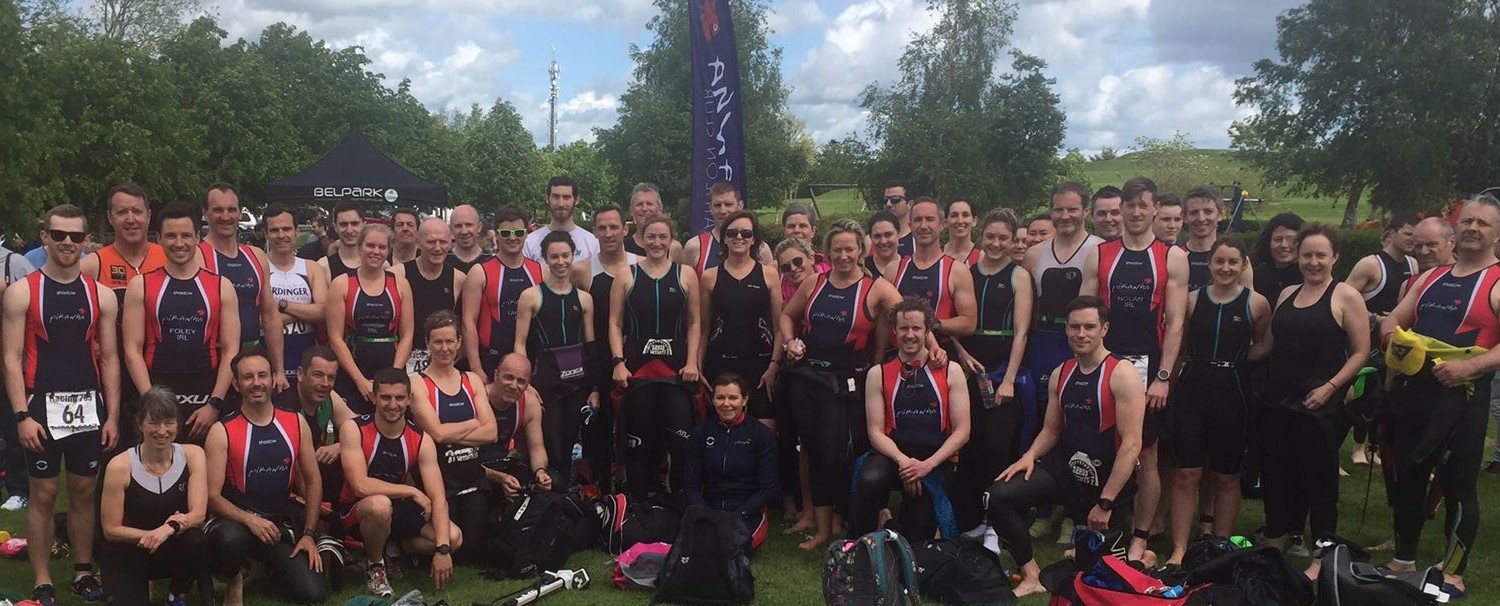 Hard to believe, but the first of our National Series Races is upon us and next Sunday Piranha members will get a chance to put the hard winter work and Dungarvan training camp efforts into action.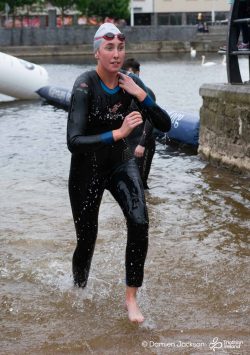 As one of the first races of the season it will probably be a shock to the body, as the intensity of a race is invariably greater than that of training – blame the competitive instinct in us all! Nonetheless, you've trained hard and should be ready for the challenge ahead. As it's a sprint, you shouldn't have to worry about 'blowing up'. Once racing, go for it! Don't slack off, but keep on pushing yourself all the way to the line. Seconds convert into points, both for you and the club!
As for Carlow itself, it's only mid-May and our waters are still warming up, so expect the swim to be chilly… If you haven't already, try and expose yourself this week to the open water, even if just for five minutes.  The Clontarf Baths Friday evening session as organized by the Club are a great opportunity. An alternative is to avail of the plunge pool in Westwood post swim session to acclimatize.
Make sure you have read the official briefing (see link below), that you are in plenty of time (triathlon is complicated enough without unnecessary distractions!) and that you have a plan for what you are going to do in the race.  There'll be plenty of Piranhas around and near you at different stages, so do what you can to encourage and \ or cajole them.
This note has the following sections:
Final Schedule and Race Briefing
Pre-Race Advice
Getting There and Car Pooling.
Final Schedule and Race Briefing  
This is a very important and comprehensive document. Read it!
https://racing795.files.wordpress.com/2019/01/tri-795-carlow-race-manual-2017.pdf
Schedule
Sat 18th May:  18:00 – 20:00 Race registration at Seven Oaks Hotel Carlow.
Sun 19th May:  08:30 – 11:30 Race registration opens at Seven Oaks Hotel Carlow.
08:30 – 11:45:  Transition Area Open
10:00 – 10:20:  Marshal Briefing at Racing 795 club tent in Carlow Town Park (marshals only)
11:45 – 12:00:  Race Briefing at Transition area (all competitors – mandatory)
12:30:  – Wave 1 Start (subsequent waves approx. every 4-5 minutes)
14:30 – 15:30:  Refreshments, tea and coffee in Carlow Town Park o 16:00 Prize-giving and results in Carlow Town Park.
Queries relating to the race can be addressed to [email protected].
Keep an eye on your e-mail inbox \ Tri795's website and social media for any late announcements.
In particular, note that:
Registration is open until 11.30, but in previous years, it was very slow, leaving very little time for latecomers.
Main parking is at Carlow Rowing Club – arrive early to get a space.
First wave starts at 12:30pm with every other wave starting 4-5 minutes thereafter.
Given the river width and turnaround point, it's likely to be congested for the first 200 – 300 metres of the swim leg and you're unlikely to swim freely. Don't let that bother you!
The cycle course is very much split into two parts: 10k out of the town, most of which is a constant drag uphill, then 10k back the same route, very fast in parts. Roads are due to be closed, but caution is always warranted!
The run course is very flat featuring an 'out and back' section along the River Barrow.
Obey the rules and be courteous to fellow competitors and race marshals.
Pre-Race Advice
Race Week
In the week before the race, being well-rested is vital. Triathletes have a (good) habit of being very committed to training and often find it hard not to train! However, the week ahead of a race is one of those times when you should take that break and not feel guilty about it. The training that matters has been done already and flogging yourself a few days before a race is not wise. However, tuning up in the form of short and sharp intervals across all three disciplines is generally recommended. Otherwise, eat good and nutritious food and stay hydrated.
Make sure you have everything you might need for the day. Of critical importance is your TI card or one day licence – no licence, no race! You should know yourself what items you need, but as a guide, see the sample checklist below:
Swim
Tri suit or swimsuit
Wetsuit
Cap
Goggles
Antifog solution for goggles
Spare goggles
Ear plugs
Bike
Run
Additional
Medical info/emergency contact card
Prescription/over-the-counter medications
Baby wipes (for cleanups) or hand sanitizer
Race number and documents
Race belt (for number)
Safety pins
Transition bag(s)
Handlebar end caps
Cash/credit card/photo ID
After-race clothing (insulation layers if cool)
Duffel (catch-all for loose gear)
Race Day
Outlined below is a comprehensive warm-up that incorporates all three disciplines and requires a decent amount of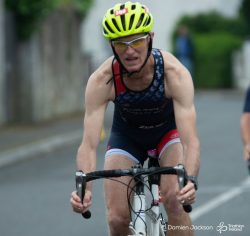 time. What is arguably as important as the physical side of warming-up is the logistical and mental preparation. Make sure that you have everything positioned where you want it (the logistics), ideally as early as possible, so that you can then prepare mentally. Assuming you have allowed sufficient time, this should incorporate familiarising yourself with the course, in particular, in and around transition. If you have any particular concerns, try to limit these. For example, nervous swimmers might walk to the turnaround point to get the measure of the course and note landmarks that might be reassuring during the race; if your bike handling on a TT is rusty, navigate a few corners. Make sure your bike is roadworthy and operating smoothly (faulty bikes cause anger, anger leads to hate, hate causes suffering!).
Cycle
Before you rack your bike, try to get 10-15 minutes easy cycle- this will give you a feel for you race position, changing gears and pedaling technique. Keep this cycle at easy intensity- This can be a couple of hours before the race start and the purpose is to give you a feel for the bike (Use run/swim as warm up before race).
Transition
 When racking your bike: Do a couple of jogs through the transition and visualise where you have to enter and exit for T1 & T2. Know exactly where your bike is – memorise how to get to your bike quickly. Placing a ridiculously colourful towel on the ground by your bike is sometimes useful as it can be easy to spot as you run along a row of bikes. You can place your runners, gels, visor, sunglasses etc. on the towel so you can grab them before you head out on the run. Alternatively, note a fixed landmark (not a bike!) and practice making your way to \ from the entry \ exit point.
 Run
After racking your bike and setting up your transition completely, do a run warm up next – complete 10-15 minutes jog with 5x 10 strides seconds at intensity of 7/10. Aim to finish your run warm up approximately 20-25 minutes of starting your race, then get wetsuit on for swim warm up below.
Swim        
Try and get into the water to allow sufficient time for the body to acclimatise. While you don't want to get cold, given it's probably one of your first exposures to outside water, acclimatising as best you can is very important. Dynamic movements of your arms and shoulder are suggested (e.g. circling your arms and practicing the swim motion). Start with some aerobic swimming and add 4 x20 seconds at race intensity, with 1 minute easy between each.
Getting There (and Car Pooling)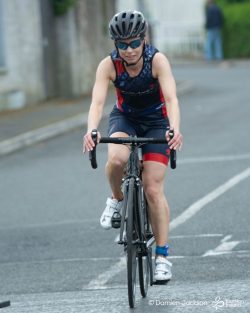 Registration and race day parking details are outlined in the Race Briefing. The main parking for the race is at Carlow Rowing Club, and the car park opposite the park beside transition.
As registration and transition both closes at 11.30am on Sunday morning, we advise aiming to be there well in advance to avoid the stress of any potential delays. The main route will see you get there via the N7, M7, M9 and then approach registration via the N80 ring road, as directed by the organisers. There will be little traffic Sunday morning but you should allow 1 hr 20 minutes to get there from Dublin city centre.
Since there is a large number of us heading down to race it makes sense that we try and minimise our carbon footprint and carpool where possible! If you are interested in giving or getting a lift please post up on the forum and take it from there. The more information and flexibility you can offer, the likelier you are to get a lift! Similarly there are a hardy group hoping to cycle down to support, but may ask for a lift home. If you are taking a lift please be prepared to contribute to the cost of the journey. After the race people have previously regrouped for a well-earned bite to eat in Avoca off the M7 at Rathcoole.
Any questions, please do not hesitate to contact us.
Enjoy the race and remember every second can convert to NS points! Wishing you all Good Luck!
Siobhan and Ross
Siobhan Forman and Ross Condy
National Series Coordinators.