Background
Last year I joined Piranha and completed 3 enjoyable sprint races beginning with Carlow. This year my training kicked off with warm weather training in Lanzarote during January with my goal for the year to complete the national series and also the 70.3 Ironman Dun Laoghaire in August.
Motivation:
As with any competitor, we all have goals which we would like to achieve when competing in races and mine for Carlow this year was to hopefully,
1) improve my overall race time by 10 mins over the previous year.
2) improve on my times across all three disciplines.
3) to start my completion of the national series for the first time.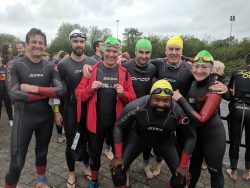 Preparation:
My preparation for this event included focussing on clean eating, tapering, sending various whatsapp messages to my training buddies and preparing my race kit – the Carlow handbook was a gem, thank you to the national series team! On the Friday leading up to the race I attended my friends wedding, which I was nervous about as to how I was going to balance race preparation, nutrition and get a good night's sleep. Luckily my friends and husband were fully supportive. I had a fantastic day and it was lights out for me before midnight. The next morning I took a quick dip in the hotel pool to check in on technique.
Pre race: 
It was absolutely fantastic to see so much supporters from the piranha club driving and cycling down to support their fellow members. After mentally going through the race sequence and walking through the transition area, I was feeling confident with the setup of transition and had mapped out my position of the bike with the help of surrounding trees and pillars.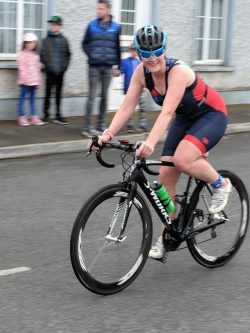 Swim
Swimming is my weakest discipline but I have recently joined the intermediate swim lane with the help of my swim coach John Lyons. What I've improved: keeping my head low down and submerged in the water and becoming quickly acclimatized to the water. This has greatly improved by spending time in the plunge pool after my swim sessions in Westwood. Overall experience: A difficult start to the race, struggling to remain calm and mentally relaxed. Most memorable moment was hearing the cheers from Eimear McHugh and Roisin Pakenham as I exited the water.
Bike 
As I jumped on the bike across the mount line I was delighted to be out of the water and on the bike my strongest discipline, I felt like a new person. Having been disheartened by the swim I pedalled on and took the valuable advice from Siobhan Forman who taught me the importance of being compassionate to one self. I focussed on pacing myself and reminded myself to keep fuel in the tank for the run. During the outward 10km incline I monitored my speed on my garmin and after a quick turnaround I picked up the pace on the final 10km decent. This triathlon was back on track!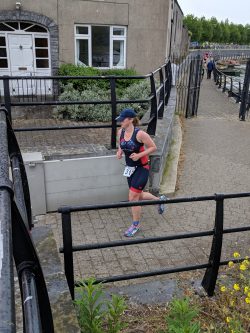 Run
It felt like the home stretch and as I exited transition 2 I popped on my baseball cap and ran. I had 3 things going through my head, maintain pace, don't stop and keep looking forward. I will admit that at the 3km mark I walked a few steps but I rallied up again, most likely due to the sight of familiar faces on the loop up and down the riverside.
| Year | Swim | T1 | Bike | T2 | Run | Total |
| --- | --- | --- | --- | --- | --- | --- |
| Carlow 2017 | 21:22 | 2:24 | 44:39 | 1:18 | 30:49 | 1:40:31 |
| Carlow 2018 | 20:00 | 2:47 | 39:47 | 1:40 | 27:50 | 1:32:05 |
Conclusion & Results
Challenging and disheartened by my start in the swim stretch that caused added time to T1 but through perseverance I battled through. Race results saw an overall time improvement of 8 mins 26 mins with improvement across all 3 disciplines swim (1 min 22), Bike (4 mins 52) and Run (2 min 59)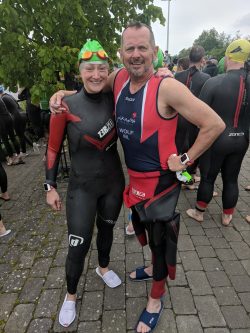 My advice to others who ever have a bad start is run you race, be kind to yourself and remember you're never alone with Piranha, accept what went well (celebrate them) and take note where you can improve – make a plan and get back on the horse! I'd like to give a big thank you to my coach John Lyons for all his support along the way and of course……The Piranhas.