by David O'Shea
I could see the red path in the distance, the sun was splitting the stones, palm trees waived from side to side, and the crowds roared "David O'Shea, David O'Shea". I felt like Jesus arriving in triumphant style into Jerusalem on Palm Sunday. Was this heaven, or could this be hell?
I woke from my trance to hear "David O'Shea, you are Ironman" from the MC as he ushered me over the line with plenty of fist bumps and high fives.
So, how did I reach this point….
Background
When preparing this report I thought it would be more beneficial to reach out to the Ironman newbies. This is certainly true for many of the crew that signed up to Ironman Austria or Ironman Barcelona in 2018. To avoid people getting bored hearing about my transition to becoming an awesome triathlete and conquering the world, the following is a brief breakdown of the report, so feel free to skip on to the "juicy bits" if you tire whilst reading my meticulous training details:
The big decision: overcoming the sweats and fear, the agony of seeking permission from your better half, planning and then blowing a load of cash.
The long haul: training, training and more training.
The burning man: race day.
Step 1. The big decision: the sweats and fear, the agony of seeking permission from your better half, planning and blowing a load of cash.
THE SWEATS AND FEAR
Back in June 2016, one of my mates from Cork, Cormac O'Regan, mentioned the idea of doing an Ironman. "An Ironman, hell no!", I said. At the time I was tipping away training for IM 70.3 Dublin. There was something appealing about the prospect of an IM. I wanted another goal for 2017 to look forward to, and something to structure my year and training around.
One Friday lunch break in July the WhatsApp message came in. "You in?". Next thing I was added to another WhatsApp group. I pondered over the idea, and then finally, while sitting on the loo, entered the registration site and CLICK – "Congratulations, you have entered Mainova IRONMAN European Champions 2017".
Du bist "nearly" ein Ironman.
THE AGONY OF SEEKING PERMISSION FROM YOUR BETTER HALF
Well, I thought I had overcome the biggest hurdle in signing up to the race. Little did I know that trying to persuade your wife that this is a "good thing for both of us" would be such a difficult task! How was I going to break it to her? A plan was devised.
Jen was always a fan of nice handbags. So, after a visit to Brown Thomas followed by some lunch in Balfes I slowly broke it to her and convinced her how muscular I would look after 7/8 months of Ironman training – it was a win-win situation. Ha!
BLOWING A LOAD OF CASH
Next thing on the agenda was to sit down and budget for the event. While everyone will have different financial constraints and budgets in mind, the below were some of the key items of expenditure on my part (NB: please don't share this with my wife):
| | Description | Approximate price (€) |
| --- | --- | --- |
| 1. | Entry fee | 550 |
| 2. | Tri-bike and bike accessories (new bento box, hydration unit, cage and saddle bag to tightly fit under saddle. | 2,000 |
| 3. | New tri-gear (two piece tri-suit (very important just in case you need to run to loo during the race), socks so my hair legs were covered, geeky visor and shades = One seriously geeky looking Triathlete) | 400 |
| 4. | Transportation (Aerlingus to Frankfurt and train directly to down town Frankfurt) | 400 |
| 5. | Accommodation (Holiday Inn – Alte Oper – beware it is also the district beside the Red Light District) | 500 |
| 6. | Shipmytribike | 225 |
| 7. | Training: S&C, Pilates, Gym (incl. a 3 ½ month period of coaching) | 1,000 |
| 8. | Food and other miscellaneous race day expenses | 450 |
| | Approximate total: | 5,550 |
New bike – while I do agree that if one puts in a sufficient amount of training, and depending on your physique, up to a certain level, you can do very well with a good Aerobike (just ask Dan Skold) and even better with an Aerobike with spanking hot wheels. However, I had a few BtW schemes (abbreviated for tax reasons) available to me and this made it more affordable to purchase a new tri-bike.
New gear – half the battle of doing an IM is dealing with the amount of posers in the lead up to the race hanging around the Race Expo, dressed head to toe in the latest fluorescent lycra, looking super cool. In saying that, I got caught in the bubble and with every Wiggle offer I was clicking away like mad purchasing another unnecessary gadget.
Transportation – flights to Frankfurt plus direct train to downtown Frankfurt
Accommodation – we had decided to keep it basic but clean and booked 4 nights (Thursday – Monday) in the Holiday Inn – Alte Oper. The hotel was extremely central (a 10-15 minute walk to the finish line and Race Expo). NB: the hotel is also a two minute walk to the Red Light District, so make sure to choose your routes to the Race Expo appropriately.
Shipmybike – I'm a useless mechanic so I couldn't trust my bike assembly skills if I purchased a bike box.
Training – this ultimately depends on the individual:

S&C classes (from October 2016 to June 2017)
Pilates (went to around 10 classes, but then I was turned off by some old biddy farting beside me while she stretched one day)
Coaching – Anthony Mulholland (3 ½ months)
The above breakdown obviously doesn't include the mountains of food supplies including: peanut butter; protein power; bags of porridge and chia seeds along with the gels and bars for the long spins. Yes, you are constantly eating.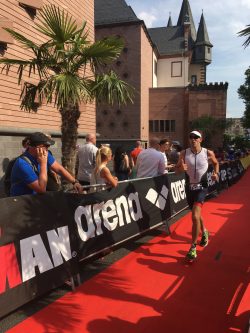 GET OUT THE DIARY AND START PLANNING
It's definitely a good idea to sit down 10-11 months out from the race and figure out roughly what the next year has in store for you. If you have weddings, christenings and other occasions these need to be built into the plan. While you do turn into a hermit and your overall level of 'craic' drops significantly, life still goes on! 4am nights out on the lash are few and far between, but a good blow out is needed every so often (just not the week of the race!) You need to be understanding, particularly if there is family involved (or at least pretend to be!). Equally, you need to consider your training blocks and whether you will fit in any target races.
When sitting down and looking at the 2016/2017 race year, I decided to kick start in late October/November with a long base phase. I aimed to work on S&C, Pilates and lots of swimming as I enjoy the early morning sessions in Westwood. Having come from a team sport background, I really enjoy the banter and the extra motivation at the group sessions, so in the lead up to Christmas and January I went to most of the club sessions, whether it was swimming, turbo or running.
For the base and early build phase I followed the Don Fink advanced plan. With work commitments ramping up during the build phase (late March), despite being methodical about my training session, it was sometimes hard to fit in weekday sessions, especially when you have to do some of the long sweaty turbo sessions in front of the TV at 9/10pm. When you live in a tightly compact apartment, your wife is not too impressed when puddles of sweat start to gather beside her as she sits there watching TV.
By late March, busy late nights at work led me to get the assistance of a coach. I needed someone to keep me in line – Anthony 'Anto' Mulholland was no better buchaill. Admittedly, I think I was quite organized up to that point, but I probably was smashing out too many sessions without sufficient rest – going hard in my "grey zone" or on the verge of z2/z3. With that in mind I felt that it was the right time to have another person looking over my shoulder, barking orders at me to hold back or push me harder where needed.
Lessons learned:
As many would say, an IM is like a warm-up swim, a long bike and a cool-down jog. With that in mind, I probably should have focused a little bit more on the bike.
Skipping the easy sessions – these are just as important to facilitate the recovery process.
STEP 2: THE LONG HAUL: TRAINING, TRAINING AND MORE TRAINING.
As the months flew past I could really see the incremental gains in my performances. I had clocked a 2:46 200m swim TT and ran an 18:45 minute 5km on a hilly circuit by April. I continued to attend a lot of club sessions (including every second Sunday spin) to retain my sanity and thankfully had Michael Dillon (Challenge Regensburg) to tag along and listen to my rants for many of the long spins, runs or swims. Cheers Michael!
Rather than going on the WWT I went to Killarney for a super weekend of training. In addition, two "big training days" were slotted into the schedule in the lead-up to the race. The first one was approximately nine weeks out and the last one was five weeks out from the IM. Others suggested doing a half IM or a half marathon but, on reflection, I felt that these "big training days" were excellent preparation. It gives one an opportunity to test out hydration, nutrition and transition/gear changing. It really is down to the individual, what you put into the actual big training day, and how serious you take it.
Big Training Day 1:
1 hour swim: total of 4km with an Australian exit after 2km to simulate the race;
1 ½ hour break: got a bit of grub into the system – stuck to the reliable porridge, peanut butter bagel and a black coffee;
120-140km cycle: few IM efforts and trying to work on nutrition and hydration;
1 hour break: hydrate and an energy gel; and
21 km run (run walk strategy to simulate the race day with the aid stations. Had placed an odd bottle around the park. My bowels started to get very active so had to slow down running but this was ideal preparation for the day).
Big Training Day 2:
1 hour swim: total of 4km with an Australian exit after 2km to simulate the race at Low Rock in Malahide;
Quick transition – quick banana and some fluids to wash the mouth.
140 – 160km cycle – 3 or 4 Ironman efforts of 20 minutes;
Quick transition; and
25/26 km run: run/walk strategy to simulate the race day – loops of Malahide Castle.
As you can see, my first big training day was staggered over 12-14 hours, whereas my second big training day tried to exactly mirror the race with proper long brick efforts.
Lesson Learned: carefully plan you run brick sessions so there are plenty of accessible toilets along the way. Bring a few tissues just in case – bristly leaves are a poor substitute.
RACE WEEK
So race week had arrived. I had imagined this week in my head over and over again as I pounded the paths around Phoenix Park on my long runs. It was finally here.
Myself and Jen travelled to Frankfurt on the Thursday. It was amazing to have my family along in support too (my Mom, Dad, sister and brother). On exiting the plane, the first thing to hit me was the sweltering heat. It was absolutely scorching (32 degrees Celsius) so I was fortunate to have a couple of days to acclimatize. Over the next few days I made sure to constantly hydrate (thanks to plenty of advice from all the lads on WhatsApp – Tom 'Down at your local Spar' Ennis, Rog 'Hugh Heffner' Rice et. Al.). A bottle of water with dioralyte was always to hand. The support from the club was excellent in the lead-up. Kudos!
On Friday morning I did a short run along the banks of the Main River to check out the run route, followed by a short spin on Friday evening (20km) passing some pros en route.
Myself and a few mates from Cork did a further reccie spin on Saturday (approx 30km very easy) to check out "Hell Hill" (the Germans are very original with their descriptions), a cobble-stoned hill. This was great as we were to race this section another two times over the IM bike. Over the next few hours I organized my transition bags and started visualizing transition, while practicing transition and changing gear in my bedroom.
After popping out to the lake (an old quarry) we dropped off all our gear in T1 and dipped our toes in the water. The lake was 20 minutes outside the city by bus so we did not get too many opportunities to test out the swim circuit, which is definitely a disadvantage of split transitions. With all the open water swim training under the belt, I was not overly concerned about this.
In the lead up to the race we had feared the dreaded news that it would be a non-wetsuit swim due to the rising water temperatures. As the week passed by the water temperatures were slowly creeping up to the cut-off temperature of 24.5 degrees. At the race briefing, the IM organisers informed us that a decision would be made an hour before the race. Nothing like a bit more suspense!
A few more hours with the feet up, watching some shows on the iPad, pizza dinner at 5pm and then I hit the sack at 9/10pm. It was time – let's rock and roll!
STEP 3. THE BURNING MAN – RACE DAY
The alarm was set for 3:15am. I told Jen not to bother coming out to watch a herd of seals battering away in the lake, so was jealous of her sleep-in till 9/10am.
Busses of poor, misfortunate souls departed regularly from a bus stop near T2 to shuttle us out to the lake and this depot was a 10-minute walk from my hotel. I could feel the temperatures rising and the sweat starting to drop from the pores. The bus trip was tense with people jammed in, lads shivering with the trepidation of racing, while others sat there munching and leaving off steam. I managed to get a corner seat and hide away from all the nervous types and most importantly arrive at the lake in a calm state.
After a few adjustments to the bike, nutrition stocked, dropped the T1 bag and post-race bags off, the time had finally arrived. Guns 'N' Roses tunes were blaring away on the max! Final quick dip to warm up the arms. Felt absolutely amazing. I kept repeating to myself "Du bist nearly ein Ironman".
5:50am announcement – "We have some good news, it will be a wetsuit swim!". Never have I seen people so happy before a race, especially a race of this magnitude.
The swim waves were self-seeded and, in contrast to previous years, it was no longer a mass start. I slotted into the sub-1 hour group and moved a bit forward as was conscious that there might be a few spoofers towards the back. Some more Guns 'N' Roses / Europop pumping through the speakers, followed by some serious Terminator like announcements. Pro-athletes went off and suddenly the amateurs started to roll in towards the water in groups of 3/4, like cattle been led into the house for slaughter. Few high-fives and fist bumps with some random Germans and I was off.
TIME ESTIMATES
Given that this was my first Ironman, myself and Anto didn't want to spend too long worrying about time splits, principally because there were so many variables that could affect my performance. It was a complete mystery and therefore time predictions were difficult. As noted by Anto in the lead-up, while having a time in mind was useful for motivation, it was all about following the process on the day and managing myself. Follow the plan, but make a calculated decision to deviate where and when necessary.
This was ever so true for the 2017 race with weather conditions being unbearable. At the height of the day towards the middle to end of the bike section and most of the run, the temperatures ranged from 33 degrees Celsius on the bike during the inland section, to 30-32 degrees Celsius on the run. There was little to no breeze. Dead heat. Perfect conditions if you were Spanish perhaps, but not for us pasty Irish. The closest I managed to experience such conditions was during my living room turbo set up in the winter when my wife had the heating on full blast.
Being slightly larger build I knew I'd struggle in the heat in the lead-up to the race, but I managed to remain positive and calm. Plenty of re-assurance via WhatsApp messages, Facebook (was well chuffed to make the Piranha FB page) and texts certainly helped.
With all of the above in mind, I put down some rough targets (mainly for motivational purposes):
SWIM – estimated time = 58/59 min (result: 59.06min)
BIKE – estimated time = 5hr 20-25min (result: 5hr 15min)
RUN – estimated time = 3hr 35min (result: 3hr 52min – oops)
T1 – 6min 52sec (spent too long getting sun cream re-applied)
T2 – 3min 21sec
SWIM (Strandbad Langener Waldsee)
Suddenly I was head deep in the water going off fast, six beat kick, hammer and tongs. No one was going to stop me. My left shoulder was aching all week so I took it handy on the left arm. Looked up – was after veering off to the right. Managed to get back on track but had lost the toes of the faster swimmers. Eventually got into a rhythm after about 150-200metres.
As we reached the 800metre buoy we did a 180degree turn and suddenly we were all blinded by the bright sun making its way over the horizon, right in our sighting line. It was a matter of jumping on the toes of the group ahead, saying a quick Hail Mary and hope that we were travelling in a straight line.
The swim was split into two sections with an Australian exit after the first section. This was great as one is able to gauge your performance and equally take a short break from arm swinging as you run along the short running passage to the second part of the swim. As I exited the first section of the swim after approx. 1.6km I had approx. 24min on my watch which would mean a 1.30min/100 meters. I was on track. Another 2.2km and I was exiting the water with a slight run up the hill. 59 minutes. Sweet. Job done, let's not get carried away and move on to the next phase.
T1 – not much to see here but applying lots of sun cream.
BIKE
Distance: 178km (shortened due to an "unavoidable construction project"); Elevation Gain: 1226m.
The bike course heads back towards downtown Frankfurt along the main roads and then out to the north of the city to the surrounding countryside where you complete two laps. Crowds were out lining the streets as we rolled through the city. I was conscious of not getting carried away and racing with the big boys at the front so kept at a comfortable cadence at the start to get the legs going.
Once the legs starting to come around I had reached the city and exited out into the countryside. The plan was to maintain a steady effort in zone 3 on the flats with an average speed of approx. 33/34km, but in doing so not to focus too hard on the numbers given the rising temperatures.
With the heat being a huge factor, I ensured to take on the necessary fluids and kept adding to the smorgasbord of nutrition at each food or drink stop. "ISO, ISO, ISO!" I was drunk on Isotonic drinks by the end of it!
The Germans were out in their numbers supporting in each small town with Bratwurst sizzling on barbeques. We seemed to pass through a number of villages scattered on small hills throughout the countryside. This leant for a lumpy enough circuit as one was constantly breaking and accelerating as we passed through the villages.
On the second lap the temperatures were noticeably increasing. As I reached the 135km marker and the return point along the route we were entering the hot spell of the day (approx. 10:30pm). Kids were out with their Supersoakers drenching athletes as they passed. Despite the layers of suncream I could feel my shoulders starting to toast in the sun. I passed a few lads from Waterford Tri who seemed to be struggling with the conditions. It really was turning into a serious battle.
Before I knew it I was descending back in towards the city and approaching T2. Huge crowds cheered on the racers as they entered the transition area. It felt like Déjà vu, back in another tent with another German woman applying some suncream to my back!
As I exited transition I had a quick look at my watch to see my total accumulated time. I was in and around 6hr 25 minutes. A sub-10 was on the cards if my run was anywhere near as good as it was during training. "Keep focused; let's not get carried away", I thought.
RUN
Lap 1
As we exited transition, crowds were on either side cheering along the athletes. Amidst the crowds were my family lined along the run path at the 1km marker with their Irish flags and flashy banners. With a bridge across the water at the 1.5km marker they would pop over to the 6k marker to greet me on the other side as I looped around. I could hear Casso's bit of advice from the turbo sessions each time I passed them at these markers, "Keep smiling".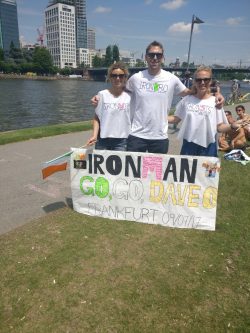 My plan for the first lap was to maintain a conservative pace and to trot through the aid stations and keep on top of the hydration with a small sip or two of water and a gel at every second/third station. Although it seemed like there were way too many aid stations (6 in total) at the time, I later realized how valuable these were on a scorching day, especially the hoses and showers. The majority of the run was out in the open, aside from a 2-2.5km stretch in the shade along the banks.
Lap 2
As I passed the starting point I felt great. I decided to pick the pace up very slightly but keep trotting throught aid stations. I was averaging 4:50min/km while running and then trotting along through the aid stations which led to a slightly slower average pace.
The heat was slowly starting to get to me as I finished the second lap. Lads were exhausted. Ice was our new best friend as we cooled our necks and head.
Lap 3
As I headed off into the third lap I could feel my times slowly dropping. Rather than 5min/km, it was dropping to 5:10min/km. The ten hour dream was still on, but each trot through aid station was becoming more of a walk. The mental battle had begun. Luckily my entourage were still out cheering me on. It was a fight to keep positive and focus when the majority of the runners around you were struggling with the heat – each of them sprinting for the showers and ice. While I didn't feel any aches or pains, the heat was taking its toll.
Another colourband was handed to me. I had reached the 26km marker. Never was I so delighted to be wearing rainbow coloured hair bobbins. Back through the shade and over the start line and suddenly I was off on my last lap.
Lap 4 – Redbull Lap
The plan was to hold off on the caffeine drinks till the last lap. As I reached the first aid station on the fourth lap, I was like a mad man running for the redbull and mixing it with some icey water. It was like a trip down memory lane to College rag week, downing shots of icey redbull (this time without the alcoholic substance), having the bantz with the redbull girls, and still getting awful looks. Despite being "nearly" an Ironman, things hadn't changed. The only problem – I was now hooked. Get me to the next aid station.
I would power along to the next aid station, have another cola shot and then fly off in pursuit of my redbull hit. A drugged up maniac was let loose.
Last of the hair bobbins and 2.5-3km to go. Game on!
Suddenly the emotions started to kick in and you think about all the wet and windy spins over the past few months, the early mornings and the late night training sessions. The finish line music gets louder and then the red carpet appears and the crowd start shouting "David O'Shea, David O'Shea…" The papperazi are out so it is time to look your best. You give your hair a quick brush, wipe the snot and sweat off your face and power over the finish line while giving your best heroic pose – time for free booze and pizza!
"David O'Shea, you are Ironman"….
Total time: 10:16:48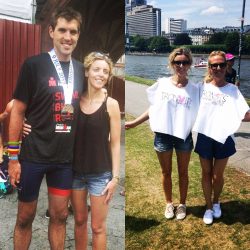 Lesson Learned:
1. There are a number of factors which could go badly wrong on the day of an IM, so its important not to get to bogged down with the numbers. Stay focussed instead and get a sense for how your body feels.
2. If one is adopting the walk-run strategy, it is best not to become static during aid stations as it gets harder to start moving again as the race progresses.
ON REFLECTION
I was absolutely delighted to have finished in such a great time and having the support of my family and wife throughout the weekend and along the run made it even more special. Don't let anyone say otherwise, it definitely is not easy.
While I never expected to get anything close to a 10hour IM, for a while it was on the cards for a large part of the race and it leaves you thinking, "what if?". In saying that, the 30-32 degrees heat was a real struggle. Unfortunately, my friend, Cormac, didn't manage to start the race as he was extremely sick just before the swim. It just shows that anything can happen or go wrong on race day.
Reflecting on it now I can say that I really enjoyed all of it (well most of it). Lots of discipline and hard work but huge rewards and fun along the way.
As I was finishing off the last lap of the run, I tried to count all those that played their part in this epic adventure. To my wonderful wife who managed to put up with my hours of sweaty turbo training, and to my family who offered amazing support. Equally, thank you to Anto for keeping me in line, for his attention to detail, his love of triathlon and his patience in coaching me. Finally, thank you to all the Piranhas who pushed me along the way. Proud to be a Piranha!
"So will you do another Ironman?" she said.
"Of course, I need to take the smug look off these fellas!" (See below).