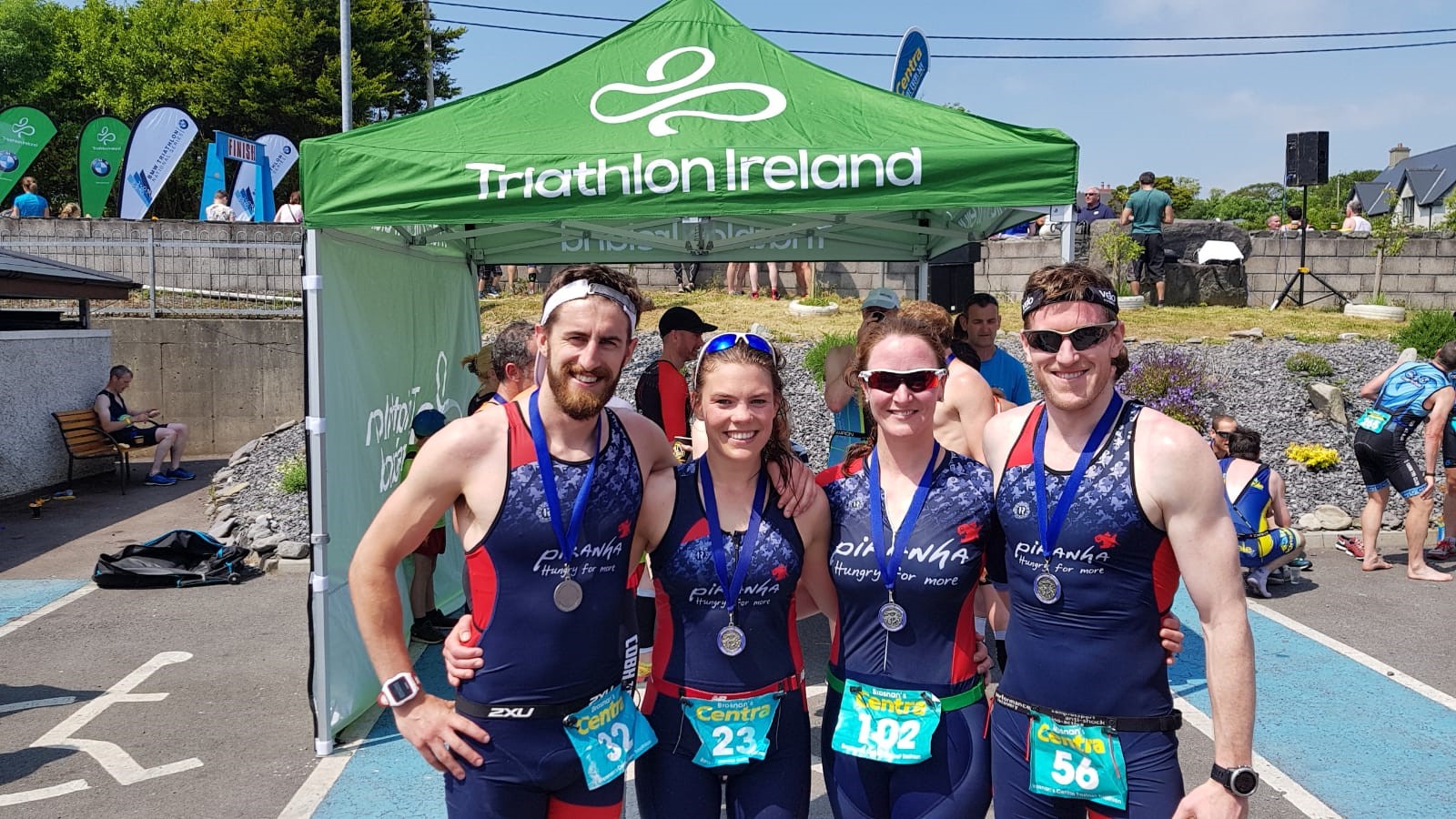 Get your racing heads on, because just like buses the 3rd and 4th races in our Club National Series take place one week apart, with the Wicklow Triathlon Club hosted Harbourman Olympic on Sunday next (July 7th) and then 2 Provinces Sprint Triathlon the following Saturday (July 13th).  First up is Harbourman in Wicklow town on Sunday 7th . This is the 4th year of the event and it's third year as a National Series, but more importantly the race is host of the Standard Distance National Championship. This means that not only are there valuable NS points to be collected for your Club, but also the potential to achieve a National Championship Podium in your Age Group or (for the guys and girls in our Club at the pointy end) a chance to podium overall at National Championship level.
The rankings currently show 2 Piranha men in the Overall Top Ten NS. Our ladies have yet to complete the requisite number of races, but hopefully over the next fortnight the additional races will push the points upwards. Piranha Club currently is 2nd in the Men's Club Event and 3rd in both the Mixed and Ladies Event. Every point counts!!
As Harbourman is the National Championships Olympic distance expect a strong field of athletes. Last year the race was on a scorching day, so many athletes found the conditions tough going. This year a more clement day is forecast so hopefully an easier ride to the finish line and post race Ice cream!
Below you will find who else from Piranha is racing along with some info about the course. As always no matter what happens, enjoy your race, be safe and of course don't let any other Club pass you !
This handbook has the following sections:
Who's racing?
Over 60 Piranhas are registered to race this Sunday:
Liz Rouine, Debbie Harmon, Steven Moody, Maura Ormiston, David O'Shea, Ross Condy,
Brian Stanley, Kenneth O'Brien, Pat Linehan, Michael Foley, Lorraine Carrabin, Val Quinn,
Bernard Hanratty, Patricia Eadie, Derek Organ, Sarah Sreenan, Rob Mcdonald, Ivan Eustace,
Aoife Parker Hedderman, Declan Connolly, Conor Barron, Gordon Grant, Cathal O'Sullivan,
Martin Dunne, Jason McFetridge, Colin O'Neill, Zoe Greene, Adam Goslin, Shay Phelan,
Matt Coughlan, Fionnuala NiBhroin, Jonathan Freeman, Siobhan Keating, Brian Burke,
James Dunne, Conor Crosbie,Noel Kelly, Sean Walsh, Roisin Pakenham, Cormac O Brien,
Alan Owens, David Hatton, Katie Weldon, Hannah Gibney, Richie Dooley, Siobhan Forman,
Paul Jennings, Eric Clonan, Wini Gallagher, Niamh Corry, Fintan Phelan, Adele Hall, Alexandre Grandjean,  Shane Farrell, Ronan Corby, Shane Gavin, Susan Fitzpatrick,
Simon O'Regan, Ger Fennelly, Nora Gallagher, Jacqui Dunphy, Vanessa Fenton, Sinead Plunkett
Event Timetable:
REGISTRATION
Friday 5th July 4.00pm-8.00pm- Base2Race, Ballymount
Saturday 6thJuly 11.00am–5.00pm -Base2Race, Ballymount
Sunday 7th July 7.00am–8.00am- Assembly Hall, Wicklow Town
(A word to the wise – Pre Register if you can – The Race Start is earlier than last year, so you will put yourself under less pressure if you already have your Race Number and Chip and are not stuck in a long queue on Sunday morning at Registration.)
Harbourman gives out a wristband necessary to access Transition.
Sunday July 7th – Race Day
Transition opens -8am – Port Road
Transition closes – 9.15am
Race briefing – 9.30am- (Beside transition) ALL COMPETITORS MUST ATTEND THE RACE BRIEFING.
Race start –10.00am sharp Wicklow Harbour.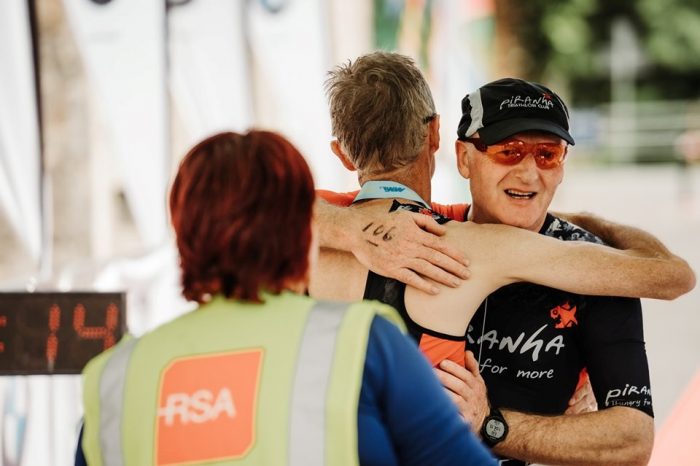 Race Course
SWIM – 1500m
 The swim will be a rolling start. Competitors will be counted onto the pier and will be requested to seed themselves according to their estimated finish swim time. Competitors will then be directed to the rolling start area and once you cross the timing mat, your race has started.
The 1500m swim will start in Wicklow Harbour, go North parallel to the shore, turn left towards the shore, left again to go South parallel to the shore once more, left again parallel to the pier and return into the Harbour:
Please note: Due to road closures, there will be a swim cut-off of 50 minutes from when the swimmer enters the water. This will be based on the chip time.
TRANSITION
Transition 1
Exit harbour at same point as swim entry and follow marked pathway from the water to transition. The transition area is about 500m from the swim exit.
Long run back into Transition. Consider taking off Wetsuit at water edge and some put on runners at this point. Check surface and route before racing. (Ask Killian Nolan for tips!!!)
BIKE – 40km
The 40km cycle is an out-and-back route and will start up the Port Road in Wicklow away from the Harbour and out onto the road to Rathnew. It will then take a left up a short but sharp hill (get your gearing right) and onto a road that will steadily bring you up to The Beehive pub. Once at the Beehive, you will take the first exit on the roundabout and follow the old N11 road south, with the turnaround 1k or so beyond Jack White's Inn.
Some of the bike is on lesser roads and is undulating. Exercise caution especially at the last right hand roundabout. The roads are not closed.
RUN – 10 Km
The run will leave transition and run out the Port Road for over 2km before turning back. Once past transition they will cross the new cycling path and over the bridge onto the South Quays; this is the start of lap 1 of 2 laps of Wicklow Town. The route follows the South Quays down to the lighthouse, around and back as far as the steps (22) that bring you up to the entrance of the Black Castle. From there competitors will run down Quarantine Hill and back onto the South Quays to turn around to start lap 2 or to continue onto the Finishing Area back near Transition.
The Aid stations are situated at the playground beside Transition and at 6k on the Quays. Given the recent mild temperatures get your hydration in!!!
The Finish
Finish at the transition site car park finish line and exclusion area immediately after finish with drinks/medical assistance. Runners will cross the timing mat at the finish.
Competitors can collect their bags at the finish area and will be provided with hot food and refreshments and a 99! You are by the sea after all!!
Competitors must present their wristband at the food stand and ice-cream van in order to be fed.
Pre-Race Advice
Race Week
In the week before the race, being well-rested is vital. Triathletes have a (good) habit of being very committed to training and often find it hard not to train! However, the week ahead of a race is one of those times when you should take that break and not feel guilty about it. The training that matters has been done already and flogging yourself a few days before a race is not wise. However, tuning up in the form of short and sharp intervals across all three disciplines is generally recommended. Otherwise, eat good and nutritious food and stay hydrated. Make sure you have everything you might need for the day. Of critical importance is your TI card or one day licence – no licence, no race!
You should know yourself what items you need, but as a guide, see the sample checklist below:
Swim
Bike
Run
Additional
Race Day
Outlined below is a comprehensive warm-up that incorporates all three disciplines and requires a decent amount of time. What is arguably as important as the physical side of warming-up is the logistical and mental preparation. Make sure that you have everything positioned where you want it (the logistics), ideally as early as possible, so that you can then prepare mentally. Assuming you have allowed sufficient time, this should incorporate familiarising yourself with the course, in particular, in and around transition. If you have any particular concerns, try to limit these. For example, nervous swimmers might walk to the turnaround point to get the measure of the course and note landmarks that might be reassuring during the race; if your bike handling on a TT is rusty, navigate a few corners. Make sure your bike is roadworthy and operating smoothly (faulty bikes cause anger, anger leads to hate, hate causes suffering!).
Cycle
Before you rack your bike, try to get 10-15 minutes easy cycle- this will give you a feel for you race position, changing gears and pedaling technique. Keep this cycle at easy intensity- This can be a couple of hours before the race start and the purpose is to give you a feel for the bike (Use run/swim as warm up before race).
Transition
 When racking your bike: Do a couple of jogs through the transition and visualise where you have to enter and exit for T1 & T2. Know exactly where your bike is – memorise how to get to your bike quickly. Placing a ridiculously colourful towel on the ground by your bike is sometimes useful as it can be easy to spot as you run along a row of bikes. You can place your runners, gels, visor, sunglasses etc. on the towel so you can grab them before you head out on the run. Alternatively, note a fixed landmark (not a bike!) and practice making your way to \ from the entry \ exit point.
Run
After racking your bike and setting up your transition completely, do a run warm up next – complete 10-15 minutes jog with 5x 10 strides seconds at intensity of 7/10. Aim to finish your run warm up approximately 20-25 minutes of starting your race, then get wetsuit on for swim warm up below.
Swim        
Try and get into the water to allow sufficient time for the body to acclimatize. While you don't want to get cold, given it's probably one of your first exposures to outside water, acclimatizing as best you can is very important. Dynamic movements of your arms and shoulder are suggested (e.g. circling your arms and practicing the swim motion). Start with some aerobic swimming and add 4 x20 seconds at race intensity, with 1 minute easy between each.
Getting There and Car Pooling
The travel time to Wicklow town from Dublin City Centre is 45 minutes via the Stillorgan Road and N11 and M11. (Time from Clontarf is 50 minutes). Take Exit 16 to Wicklow Town and then the R750. After passing through Rathnew, competitors should take the left hand turn at traffic lights sign posted for Port Road to in order to get to race site and parking.  Parking will be available close to the race venue and competitors are requested to arrive early and car pool where possible.
No road side parking will be permitted near transition as this road is part of the bike course and access for emergency vehicles is required, so please do not park on the roadside.
Give yourself plenty of time in case of traffic heading to transition – no need to add panic to Pre Race nerves!
Travel Safe, Race Hard and Good Luck!
Siobhan and Ross
Siobhan Forman and Ross Condy
National Series Coordinators.