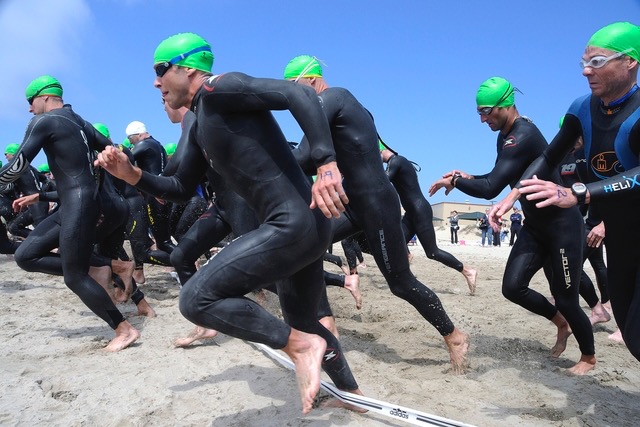 Races are coming in thick and fast and by now most of us have got one under the belt! Sea temperatures have risen beautifully over last few weeks and it's now time for our second race in the National series strategy. It's one of triathlon Irelands longest serving races and it is set in the beautiful surroundings of Dunmore East. We have 60 Members doing the race with 35 male and 25 female the split. It's a totally different race to Carlow. Beach start and open water sea swim. So for any newbie's racing, like Carlow don't get caught up with the mad dash to the water, relax the heart rate and easy yourself into the swim and race. This is a tough course, hilly terrain and not one to go after for a PB!!
Again like all races read the official briefing (see link below), that you are in plenty of time and that you have a plan for what you are going to do in the race. As it's an open water sea swim and there might be a chop up in water do a visual swim recce of course and pick out landscape markers on course. Sometimes markers can be hard to spot in water but a boat or headland might be better.
The run from the sea is up a long flight of steps off the beach, which can get slippy so be careful.
The bike is an undulating rolling course, road surface is good, but not closed roads and there tends to be quite a few tour buses that can seem bigger than usual when they go past! There is a steep run out of the bike transition to the Golf Course, Once onto the course the remainder of the run is more level.
On Saturday evening after the race join all your club mates for a BBQ at the Golf Club house at 7pm.  Cost per head will be just €12 for burger / sausage/ chicken and side salad/ buffet, serve yourself deal  There will also be a full bar available to re hydrate the night away and we will have reserved a number of tables together. 
At 9pm there will be live music also by the strobes. 
We hope to see everyone there!
This handbook has the following sections:
Who's Racing?
Final Schedule and Race Briefing
Pre-Race Advice
Getting There and Car Pooling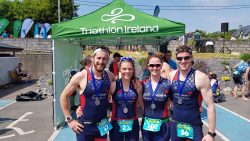 Who's Racing?
These Piranhas are registered to race this Saturday:
| | | | | | |
| --- | --- | --- | --- | --- | --- |
| Tom McEnery | Jason McFetridge | Robert Frewen | Colm Fitzsimons | Brianne Mulvihill | Aileen McCarthy |
| Adam Goslin | Diarmuid Weldon | Jamie Olden | Kevin Lavin | Lorraine Carbon | Roisin O'Loughlin |
| Richie Dooley | Gareth Robinson | John Lyons | Pauric Bannon | Siobhan Forman | Siobhan Keating |
| Ross Condy | Pablo Perez | Sebastien Le Roy | Conal Heron | Aine O' Sullivan | Jacqueline Foley |
| Robert Keenan | Derek Organ | Jonathan Bunce | Aidan Hughes | Roisin Pakenham | Mathilde Fail |
| Cathal O Sullivan | Pat Linehan | Shay Phelan | Becky Woods | Megan Smith | Ava Whalen |
| Ian Allen | Simon Montgomery | Noel Kelly | Shannon Kelly | Marie Moran | Regina Boe |
| John Wallnutt | Jorge Callado | Ciaran Barry | Anne Morrissey | Ciara Kilroy | Nora Gallagher |
| Brian Stanley | Kenneth O'Brien | John Clarke | Eimear McHugh | Audrey Phelan | Lauren Crowley |
| David Cullen | Declan Connolly | Frank ODea | Martina Duignan | Celine Clerkin | |
Event Timetable:
Race Registration Friday 15th June:  18.30 -20.30   Dunmore Golf Club
Race Registration Saturday 16th June 7am – 10am Dunmore Golf Club
Transition opens at 8.30am and closes at 10.15am
Race Briefing: 10.30 in Transition
Race Start Wave 1:  11.00
Race Start Wave 2:  11.07
Race Start Wave 3:  11.14
Race Start Wave 4:  11.21
Race Start Wave 5: 11.28
Post-Race Presentation: At the finish line area at 3.30 pm
After Party featuring The Strobes:   20:30pm (Dunmore Golf Club)
FULL RACE BRIEFING HAS BEEN EMAILED TO ALL COMPETITORS BY WATERFORD TRI CLUB
Race Briefing ……….The Important bits
SWIM –
There will be five 'WAVES' (7 Min Time Gap) Each wave will have a dedicated Swim Hat Provided which must be worn. Only designated swim hats allowed into water before start of each wave to warm up. Each wave will comprise a maximum of 150 competitors
The swim will start from the strand beach and head towards the harbour for 250m, at the first marker swimmers will swim left for a further 250m and swim left again at the second marker.
Swimmers will then swim toward councillor's beach keeping the next marker on their right side.
Swimmers will then proceed out of the water and along the pedestrian footpath (guided by marshals) until they reach the transition area. This is an uphill run of approx. 250m
BIKE –
20 Km- Race number must be worn on the back
Bike racks in Transition Area are SORTED BY WAVE so please rack your bike in an orderly fashion.
When you leave transition area, it's a Steep downhill so cycle slowly & carefully & obey marshals. NEUTRAL ZONE
At the strand hotel cyclists will be directed right, back onto the Waterford road, Cyclist will proceed along this road for approx. 9.5km until they reach the turnaround point on the main road so generally straight out and back.  (Not closed road as far as we know)
Cyclists will then proceed back to Dunmore East where they will turn left on entering Dunmore East towards the strand hotel.
At the strand hotel cyclists will turn left again and head towards the transition area.
NEUTRAL ZONE
Cyclists will turn right and proceed up a steep incline towards the transition area. Make sure you are in the correct gear!
IMPORTANT – NEUTRAL ZONE A neutral zone will be in effect from the mount / dismount line at transition to the roundabout at the main road (approx. 650 meters), this applies on the outward and return sections of the bike leg. There is NO OVERTAKING in the neutral zone, a one minute penalty will apply for first offence, multiple offences will incur a DQ.
RUN – 5 Km
On completing of the bike section, cyclists will dismount the bike at the 'dismount' line before entering transition.
Helmets must remain on until the bike is racked.
On exiting transition, you will turn right and go up the hill for about 500 meters passing the Golf Club
The road turns left here and the next 2km are an out and back route to a turnaround close to Killea Road. 1km out / 1km back!
Following the turnaround you will arrive back to the Golf Club where marshals will direct you onto the fairways to complete the final 2.5kms.
The route from here is made up of two loops arriving back at the Golf Club and the finish line
Follow the direction of marshals and course marking throughout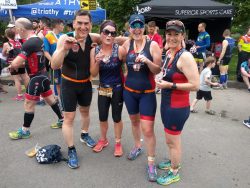 Pre-Race Advice
Race Week
In the week before the race, being well-rested is vital. Triathletes have a (good) habit of being very committed to training and often find it hard not to train! However, the week ahead of a race is one of those times when you should take that break and not feel guilty about it. The training that matters has been done already and flogging yourself a few days before a race is not wise. However, tuning up in the form of short and sharp intervals across all three disciplines is generally recommended. Otherwise, eat good and nutritious food and stay hydrated. Make sure you have everything you might need for the day. Of critical importance is your TI card or one day licence – no licence, no race! You should know yourself what items you need, but as a guide, see the sample checklist below:
Swim
Tri suit or swimsuit
Wetsuit
Cap
Goggles
Antifog solution for goggles
Spare goggles
Ear plugs
Bike
Run
Additional
Medical info/emergency contact card
Prescription/over-the-counter medications
Baby wipes (for cleanups) or hand sanitizer
Race number and documents
Race belt (for number)
Safety pins
Transition bag(s)
Handlebar end caps
Cash/credit card/photo ID
After-race clothing (insulation layers if cool)
Duffel(catch-all for loose gear)
Race Day
Outlined below is a comprehensive warm-up that incorporates all three disciplines and requires a decent amount of time. What is arguably as important as the physical side of warming-up is the logistical and mental preparation. Make sure that you have everything positioned where you want it (the logistics), ideally as early as possible, so that you can then prepare mentally. Assuming you have allowed sufficient time, this should incorporate familiarising yourself with the course, in particular, in and around transition. If you have any particular concerns, try to limit these. For example, nervous swimmers might walk to the turnaround point to get the measure of the course and note landmarks that might be reassuring during the race; if your bike handling on a TT is rusty, navigate a few corners. Make sure your bike is roadworthy and operating smoothly (faulty bikes cause anger, anger leads to hate, hate causes suffering!).
Cycle
Before you rack your bike, try to get 10-15 minutes easy cycle- this will give you a feel for you race position, changing gears and pedaling technique. Keep this cycle at easy intensity- This can be a couple of hours before the race start and the purpose is to give you a feel for the bike (Use run/swim as warm up before race).
Transition
 When racking your bike: Do a couple of jogs through the transition and visualise where you have to enter and exit for T1 & T2. Know exactly where your bike is – memorise how to get to your bike quickly. Placing a ridiculously colourful towel on the ground by your bike is sometimes useful as it can be easy to spot as you run along a row of bikes. You can place your runners, gels, visor, sunglasses etc. on the towel so you can grab them before you head out on the run. Alternatively, note a fixed landmark (not a bike!) and practice making your way to \ from the entry \ exit point.
Run
After racking your bike and setting up your transition completely, do a run warm up next – complete 10-15 minutes jog with 5x 10 strides seconds at intensity of 7/10. Aim to finish your run warm up approximately 20-25 minutes of starting your race, then get wetsuit on for swim warm up below.
Swim        
Try and get into the water to allow sufficient time for the body to acclimatize. While you don't want to get cold, given it's probably one of your first exposures to outside water, acclimatizing as best you can is very important. Dynamic movements of your arms and shoulder are suggested (e.g. circling your arms and practicing the swim motion). Start with some aerobic swimming and add 4 x20 seconds at race intensity, with 1 minute easy between each.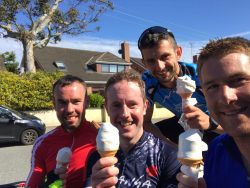 Getting There (and Car Pooling)
Registration and race day parking details are outlined in the Race Briefing. The main parking for the race is in and around the village of Dunmore east. If you are staying in any of the holiday homes it's a short walk to the Transition Area. If you are travelling on the day we would suggest parking at the Dunmore east Golf Club / Holidays homes.  The main route will see you get there via the M50 exit at red cow, M7 (road works around Naas might slow you down but keep to the 60km speed limit as they are giving tickets out every day from unmarked Garda Cars), then after Naas KEEP LEFT AND TAKE THE  M9  all the way to Waterford . Follow road signs from there to Dunmore East. Travel distance is 200km and travel time is around 2hrs from Red Cow intersection.
Since there are a large number of us heading down to race it makes sense that we try and minimise our carbon footprint and carpool where possible! If you are interested in giving or getting a lift please post up on the forum and take it from there. The more information and flexibility you can offer, the likelier you are to get a lift! If you are taking a lift please be prepared to contribute to the cost of the journey. Any questions, please do not hesitate to contact us.
On Saturday evening after the race join all your club mates for a BBQ at the Golf Club house at 7pm.  Cost per head will be just €12 for burger / sausage/ chicken and side salad/ buffet, serve yourself deal  There will also be a full bar available to re hydrate the night away and we will have reserved a number of tables together. 
At 9pm there will be live music also by the strobes. 
We hope to see everyone there, 
Good Luck!
Siobhan, John and Ivan
Siobhan Forman, John Wallnutt and Ivan Eustace
National Series Coordinators.