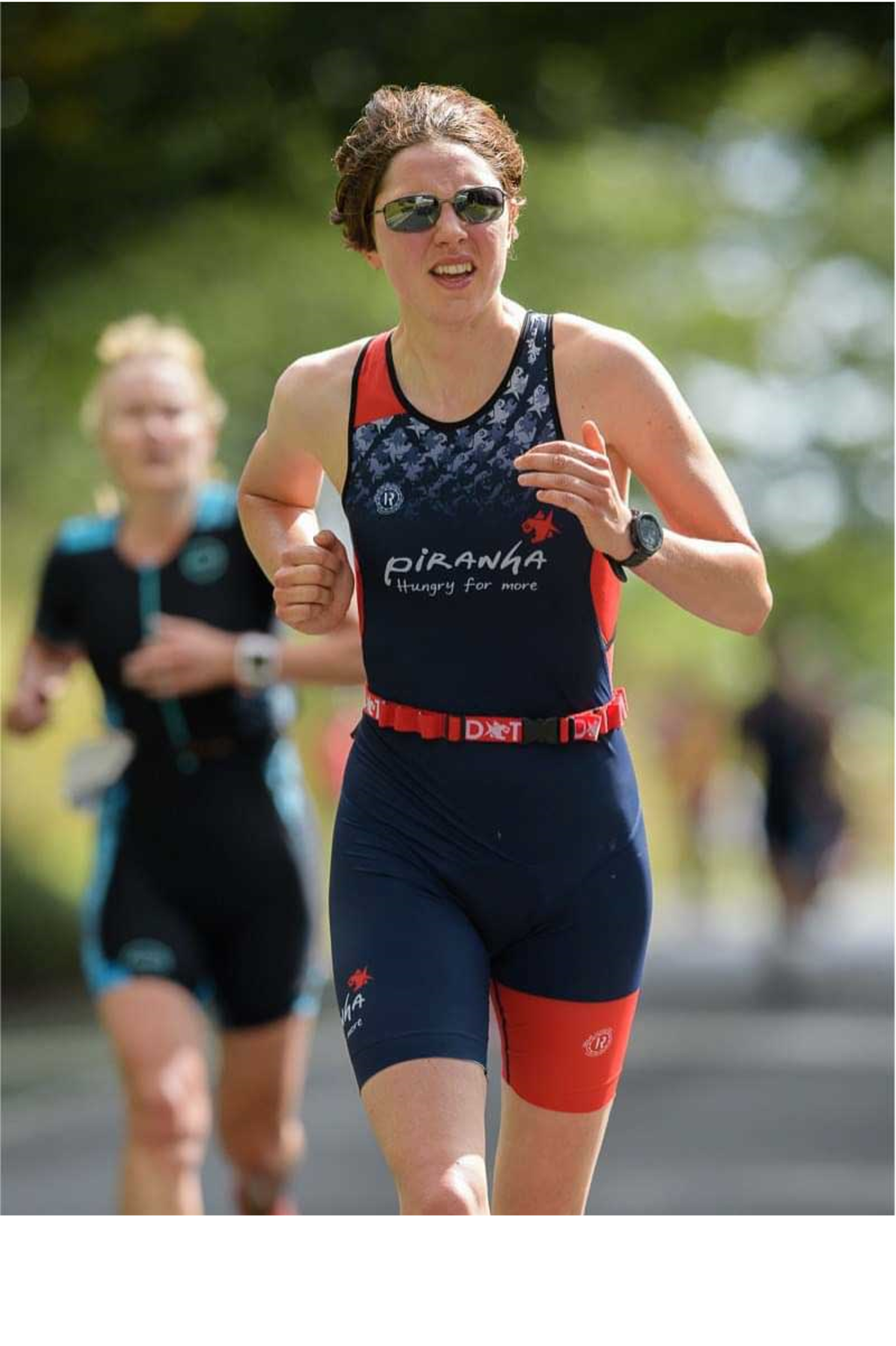 Missing the banter and motivation that came with training as part of a team I joined Piranha at the end of last summer. I enjoyed swimming but had only ever cycled to and from work and tried to avoid running at all costs, but I figured how hard could it be?
My first week in the club was definitely a baptism of fire. I arrived down at the pool on Thursday morning and spend the next hour at the back of the beginners group frantically trying to keep up. By 8am I was ready for bed. Things didn't improve on Sunday when I turned up on my 12 gear road bike for the beginners cycle. I thought it would be a gentle spin out along the coast. Instead I ended up on a 90km cycle up the Sally Gap with Shay, Fintan, Helen, Bernard and Sean. Never in my life have I been so happy to see my couch. I collapsed face down feeling like I'd been hit by a bus.
But I stuck with the training over the winter and slowly things were coming together. As the season approached I set my goal; complete my first NS. I decided to head off on the warm weather training camp in Lanzarote to prepare. As I stood in the que to board the plane, John was talking about the Ironman races he was targeting, I started to panic – I was never going to be able for this. Sure enough the next day as we set off on our first bike ride I was at the back of the beginners group struggling to keep up with Gary trying to teach me how and when to change gears and explaining why I needed cleats. But with the help and patience of our amazing coaches and fellow club mates I found my cycling legs, learnt how to put on and take of a wetsuit, learnt all about transition (importantly your transition time does count towards your overall race time) and done my first open water swim.  Armed with a welt of knowledge I left Lanzarote feeling excited for about my first triathlon.
Over the summer I managed to complete 5 triathlons; Carlow, 2 Province sprints, Westport, Harbourman and Lough Neagh. There were highs and lows, new things to improve on and new lessons learnt.
I threw my name into the hat for DCT as I was looking to improve on some of my times. I was delighted when I received the email to tell me I had the golden ticket to race.
The music was in full volume as I cycled up to the Boat Club on Saturday morning. I was greeted with a friendly welcome by Fionnuala. After a quick catch-up I attempted to enter the transition area but was met with  'Hmmm is that helmet tight enough'. Eventually I met Fionnuala's strict standards and was permitted entry. I headed off to find my spot. The atmosphere was electric. Everyone seemed to be in high spirits. As I set myself up in transition I looked around and saw the other Piranha's racing – Becky, Killian, Adam, Ross, Niamh, Siobhan, Cathal, Roisin, Jacqui. An intimidating group of athletes, I had watched these guys win or podium finish at very triathlon I had done – no pressure so.
While Johnny gave the race briefing everyone started to filter towards the start of the swim barrier and the nerves increased. The rolling start meant there was no fanatic rush to the start of the swim, which was brilliant. Before long I was at the top of the line listening to  '3,2,1, go', the green light to dive in. Surprisingly the water was very inviting looking. I remembered the advice the swim team had given Niamh and I that morning; 'Stay close to the rope on the downstream and out by the bank on the upstream. During the first 150m I found my rhythm and by the time I rounded the first buoy I was drafting off another competitor. It made the upstream 400m fly by. Before I knew it, I was being pulled out of the water and heading towards transition.
Fionnuala and Audrey were at the mount line cheering me off on the bike course. A nice flat ride towards the park helped to get the legs going. Once I turned into the park there was a slight incline. I could hear Sean shouting at me to overtake the cyclists in front of me, which I quickly did. The cycle course was brilliant. It was technical and the wind added to the challenge, but it was a great mix of bends, deceiving hills and flats. As I neared the end of the second lap Siobhan flew past me, overtaking everyone in front of me. I wish I could cycle that quick. The whole bike course seemed to go by in a flash and before I knew it I heard Lorraine cheering me on as I came out of the park and back onto the road. Ahead of me I saw Number 77. We had been overtaking each other the whole course and I was determined to catch him. I put my head down and got ahead of him just before the dismount line. As I hopped off the bike and rounded the corner into the car park towards transition Siobhan Keating appeared from nowhere screaming 'Susan, Susan, Go Susan' over and over at the top of her lungs. Initially I got such a fright I nearly went flying into the bushes. I can honestly say no one got a loader cheer that day – thanks Siobhan.
Now just the dreaded run. Running out of transition my legs were feeling heavy. As I ran towards the park, I could see Niamh on the opposite side making her way back to the finish line and wished I could do a U-turn and join her. But I got a boost when I heard Maura shouting my name from the side of the road. Turning into the park I saw the slight incline in front of me. Running up it felt like a mountain. Unfortunately, the turn at the top led to another drag but Wini was cheering out my name and headed up towards her. Veering left there was a flat run to the turn around. With Miriam's words of encouragement ringing in my ear I made my way back down.  Jacqui came from behind me 'Lets pull Siobhan in, keep your eyes on me' Well there was no way I could keep up with her pace but she definitely made me run faster. The run from the park back to transition felt like an eternity. But finally, I rounded the corner to the finish line and was greeted with a big hug from Johnny. 1.18, my season best, I was delighted.
Massive congratulations to all the Piranhas who raced DCT on their incredible times. Hopefully, with a lot more training I'll be able to get catch-up with you.
As the prize giving took place I was over to one side rummaging in my bag for my keys. Then I heard 3rd place 30-34 Susan Fitzpatrick – was that really my name they just called. Shocked I made my way up to the podium and was in brilliant company with Killian (1st) on my right and Cathal (3rd) on my left.  Not to be cheesy but I won't have been standing there if it weren't for all the amazing Piranha volunteers. I only got to mention a few but every time I passed a yellow vest I got a load cheer and words of encouragement. It really spurred me on and forced me to go faster – THANKS A MILLION GUYS.
Thanks Johnny and Aidan for the phenomenal amount of work you put into organizing this incredible race.  It was by far the race of the season and the perfect way to finish of my first triathlon season.
A year ago I didn't think I would be able to complete one triathlon never mind my first NS. It wouldn't have been possible without all the amazing help and advice from every club members. A special thank you to Simon, Siobhan, Fionnuala and the Lanzarote and Shenanigans crews, for making the training so much fun and patiently waiting for me as I crawled down the hills on the bike.
Now there's just the small matter of my first marathon…