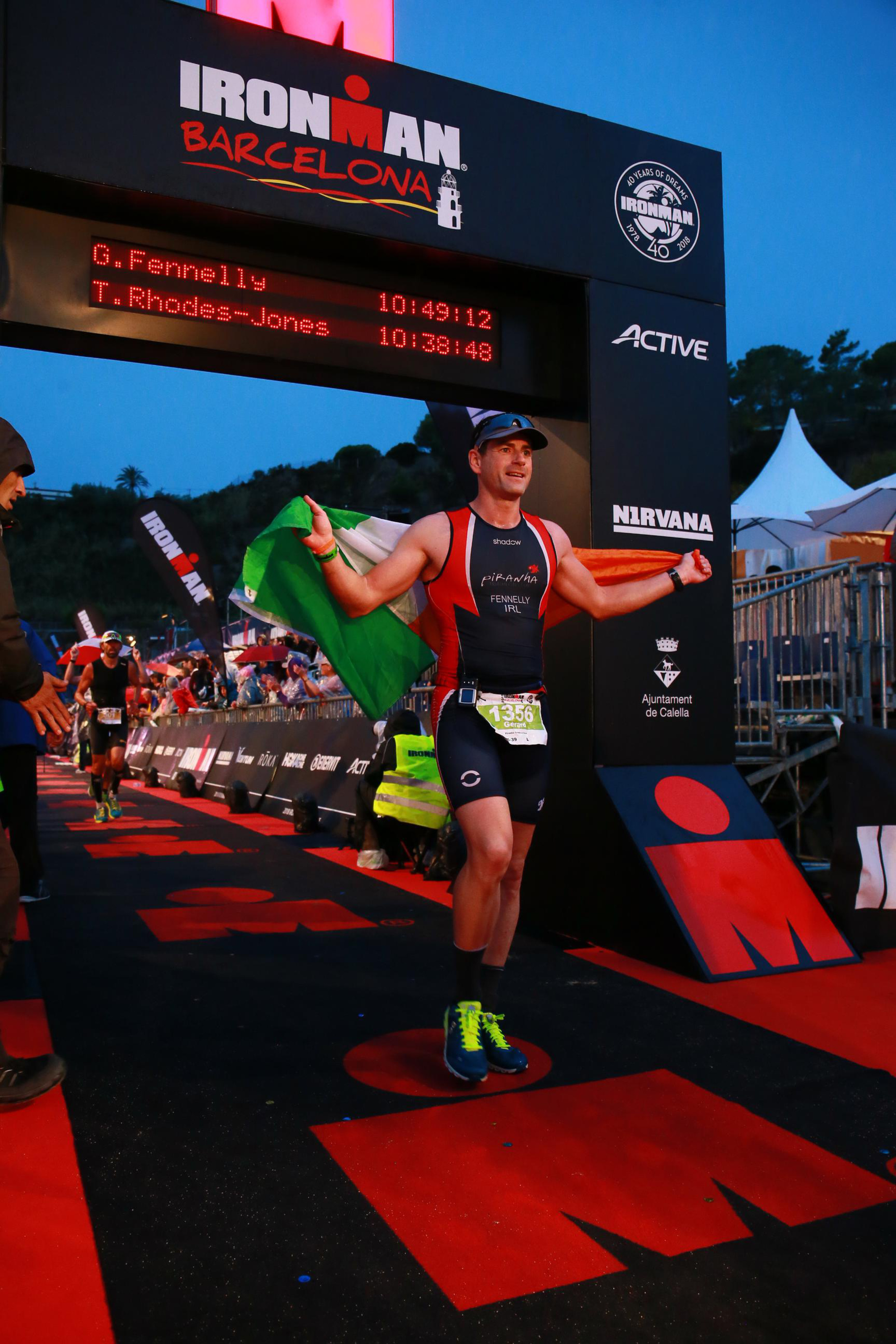 I was diagnosed with Type 1 Diabetes in 2004 while in San Diego on a J1 visa for the summer.  Since then I have had to manually do the work of my pancreas by injecting insulin into my body 24/7.
Out of those 14 years I've been doing triathlon 4 years. I can definitely say carbohydrate counting, diet and exercise are the most important elements to avoid diabetic complications and live a normal life style.
Everything I eat is calculated to a percentage ratio of insulin. It's all about balance by trying to keep sugar levels between 5mmol/l and 7mmol/l. Every day dosages fluctuate depending on what is planned for the day e.g. from sitting in work at the computer to doing a cycle commute home dosages need to be accounted for.
Here's the distinction between Type 1 and Type 2 diabetes 
Type 1 Diabetes
T1D, also known as insulin dependent diabetes is an autoimmune disease which means that your pancreas stops doing its job and requires daily injections.
Before I developed T1D the body automatically kept my blood sugar level at equilibrium between 5 and 7 mmol/l. After a meal containing carbohydrates, sugar is absorbed into the blood stream very quickly. A large amount of glucose will be absorbed by the liver with the help of insulin and also stored as a reservoir of glycogen.  The glucose which is not stored by the liver is transported around the whole body. Two hormones, insulin and glucagon are produced in the pancreas and they ensure that the blood sugars are balanced when you eat and exercise. Unfortunately with T1D the pancreas no longer produces insulin .
Type 2 Diabetes
Type 2 diabetes develops when the beta-cells in the pancreas become inefficient and produce too little insulin for the body's needs. The cells in the body become less responsive to insulin. In this case, even though you may still be making some insulin, it is not enough to keep the body functioning properly. In most cases this happens through poor diet and no exercise
So what happens if sugar levels are too low or too high?
Not enough glucose in the body will cause the body to go into Hypoglycaemia.
Too much glucose will cause the body to go into Hyperglycaemia
Hypoglycaemia: "F…!!!!!Heading towards a coma, I need glucose and will eat all in sight"
Hyperglycaemia "F…!!!!! "  Extreme Tiredness, Damage to internal organs, eyes, feet, liver. I need insulin!!!!!!!!"
Brief History
Triathlon started for me back in 2014. I had been kitesurfing since 2006 and after a few dodgy episodes I knew I needed to learn how to swim properly. In 2013 I injured my arm while kite surfing. I was told to avoid kitesurfing and weights for the next 9 months.
Not being able to do the two activities I loved, I started to run a bit and got a hybrid bike on the cycle- to-work scheme. I looked into getting some swimming lessons in WW gym. I then came across Piranha Triathlon club. My first swim session was an eye opener. I had been a member of WW for years but never ventured into the pool. Anyhow how hard could it be? In my head I thought to myself within a few weeks I would be flying up and down the pool. God was I so wrong! 50m with head out of the water splashing about thinking I will never make it to the end of the pool gasping for breath. I left the pool and returned a few weeks later after getting some private swim tuition. I persevered swimming 2 to 3 times a week and learning from the brilliant swim coaches in the club and taking on board advice and encouragement from fellow Piranhas.
I will never forget my first sprint triathlon in Dunmore East (Hook or by Crook). Back then I was on daily insulin injections at least 6 to 8 times a day and checking blood sugars every time I ate or exercised. I remember before the race I was reading 7 mmol/l and afterwards to see 7.7 mmol/l on the blood finger prick monitor. Any diabetic will tell you that to see sugar levels between 5 and 7 is big kudos every time. I thought if I can manage my sugars this well for a sprint maybe I could try an Olympic.
After completing a few triathlons I set my sights on completing my first Ironman Dublin 70.3 in 2015. Due to ligament damage in my knee I had to pull out of my first Olympic (Hell of the west) and go straight for the 70.3 distance.
The Game Changer
2015 was the game changer year because I became eligible to get an insulin pump with a continuous glucose monitor. It's that little black box attached to me that you might see me checking from to time.  The eligibility process took a while to go through as I wanted an insulin pump that was water proof and could read my sugars every 5 minutes. This was a big deal for endurance exercise as I could now monitor how my sugars where balancing out during a race to avoid any complications.
I got the pump 4 weeks before Dublin Ironman 70.3. I will never forget finishing the race in the Phoenix Park. The buzz crossing the finish line was amazing and being able to monitor my sugars during the race was class. Straight after the race I thought that's it I will never do that again but within a few weeks I wanted to do another 70.3 race.
Ironman
The notion of doing a full Ironman was way off in the distance and for the insane.  Sitting around the pool the day after doing Ironman Portugal 70.3 in 2017 (which I would highly recommend) my fellow Piranhas began to discuss doing the full distance.  John Lyons had the audacity to say "imagine me being an Ironman and you only being a half one?"  That's it – I said to myself well if he signs up I can't be giving him those slagging rights.
Steve Moody's Ironman talk was very beneficial, setting out logistics, time of year, type of course and commitment involved in doing the full distance. After the talk I had made up my mind to do Barcelona Ironman.
Training events for the year ahead
Piranha Killarney training camp (Top Notch)
Ring of Beara Sportive (Best Sportive of the year)
Tri a Mhi Olympic Triathlon (Choppiest lake swim ever)
Habourman Olympic Triathlon (Hottest triathlon ever)
Wicklow 200 Sportive. (Organisers added a few extra hills for the craic)
Ring of Clare Sportive (Flash floods everywhere)
Escape from Island eye Swim (Tip for next year, you don't have to go around the buoys)
Ironman Dun Laoghaire 70.3 (Toughest bike )
Glendalough 3.9 km Swim (Recommend for anyone going the distance)
Training Plan
All the races listed above were the building blocks of my training to get to the big day. I had started a work-related course so the plan was to bang it out in six months and start the 30 week training plan by Don Fink in April. For every training session I was monitoring carbohydrate to insulin dosages and learning how my body was reacting to different exercise and training intensity.
Running and cycling was coming along nicely but sea swimming the distance was becoming a worry. Every time i went sea swimming my sugars where dropping after 2 km. I then discovered cold water temperature can have this effect on blood sugars so I had to double carbohydrate intake for sea swimming compared to pool swimming.
Race week
Thursday:
I flew out on the red-eye 6.45am flight to Barcelona and was happy to meet some friendly Piranha faces in the airport and have coffee with them before boarding the plane.
Got to Calella before lunchtime and had a look around the town and had lunch with some Piranhas before heading to the expo for registration. The atmosphere about the place was unreal. Everyone was attired head to toe in Ironman branding with t-shirts from different Ironman races from all over the world. I managed to escape the marketing carnival with just a T-shirt, keepsake magnet and a flag!
Friday:
A Piranha sunrise swim was organised.  The sea was a lovely temperature and would be perfect conditions for race day.  It felt great to get a swim in the Mediterranean before the race and was comforting to see and talk to the other Piranhas.  It was also an excellent start to the day because my blood sugar levels were elevated more than usual and this was affecting my energy levels!
Back at the hotel for breakfast then time to build the bike.  To distract the mind we headed into Barcelona for the day and went on an open top tour bus. Sarah was like a tour guide. She had been a few times before and surprised everyone by being able to speak fluent Spanish.
Saturday:
Had a lie-in on Saturday, so much so that we missed breakfast in the hotel that finished at 10.00am. After a cup of coffee and a croissant we headed down to the race briefing. Two rules had changed which made it better for me. It was optional to wear the race number during the bike and you had access on race morning to the blue and red bag.  This was important as I was able to put my blood testing kits in each bag on Race Day.
After the briefing I had some pasta and headed back to the hotel to test the bike before heading down to transition at 5.00pm. Once the bike was racked, and the blue and red bags dropped off, I picked up my timing chip. We headed up to see my family, then went to bed at 9.30pm .You think you will have loads of down-time leading up to the race but the time was flying in.
Race Day
Didn't have a great sleep due to thunderstorms and fork lighting which lit up the room throughout the night.  The alarm went off at 5.00am and we headed down to breakfast for 5.30. I had brought my own reliable porridge with me along with every other Irish athlete in the hotel by the looks of it. I had some fruit with porridge and a coffee and then went back to the hotel room for some final prep before heading down to transition.  Sugars were good and I was hoping they would stay that way.
Ironman Nutrition strategy/ insulin dosages
Because of the diabetes I wanted to be self sufficient for the race and not having to rely on any aid stations.
Swim:  Half cliff bar and 1 gel. Reduction of insulin to 20% intake.
Bike: 3 Bottles of EFS powder mix with 75 grams of glucose in each bottle.2 cliff bars.1 Bottle of EFS gel. Reduction of insulin to 40% intake
Run: 2 Bottles of EFS gel. 100 grams of glucose per bottle. Reduction of insulin to 30% intake.
Part of the prep was to listen to music to get me focused and in the right frame of mind for the task ahead. I listened to Chemical Brothers Don't Hold Back and Sarah suggested listening to Ben Howard, Keep your Head Up and Your Heart Strong. We left the hotel and headed for transition. On the way it was raining and then it became torrential so much so that everyone had to take cover under any building in sight. It was forecast to stop by 7.00am so I remained optimistic that it would be fine for the rest of the day. After 10 minutes it died off completely and didn't return till later that night. Phew!
Once I had the bike loaded up with nutrition I headed to the transition tent to leave the two blood sugar testing kits in each bag. The problem with having the pump is that it doesn't read sugars in water so as it was such a long day the plan was to calibrate the pump after the swim and make sure the readings were correct after the bike.
I got my wetsuit on, blood test, took my pre-race nutrition, left the white bag in the bag drop and headed for the race start. The nerves started to creep in.  Once I walked onto the beach I could hear my family to the right shouting and waving while AC/DC was banging out over the speakers. After a lot of discussions with fellow Piranhas the plan was to go in the 1.05 time slot, let faster swimmers pass and draft as much as possible. I headed down the beach and met Sarah, Gerry Maher and his brother Paul. We chatted, got some photos and then I start heading towards the front of the queue where I met John Lyons.
I hadn't seen the sea conditions up until then and when I looked out people were being pushed back towards the beach and tossed around by the enormous waves. I said to John "this is mental, we need to time the waves carefully to avoid getting caught up."
Before I knew it John was gone and suddenly I was running into the water. I hesitated to avoid the carnage of the first wave crashing in front of me and made a dash and swam like a mad yoke to avoid the next wave. After 50m I was out and in the big swell. My stomach felt like I was on a rollercoaster but felt good and buzzing inside. The first buoy was 300m out then the course is parallel to the beach, 100m across and back towards home and left to the beach.
The race plan was simple. Swim to the first buoy nice and easy. Draft as much as I could and sight every 9 strokes. It became evident very quickly that the swell was tossing people around from left to right and dragging towards the beach. Drafting was quite difficult with the conditions so I decided to just focus on swimming and if I got a draft, that was well and good. At the half-way point I had a look at the watch and read 36 minutes. I felt great thinking if I keep this up I will be ahead of my target time. But then, suddenly some dope smacked me in the face knocking my goggles off. Luckily before the race at the very last minute I put my swim hat over the goggles otherwise they would have been knocked clean off my head and sinking to the bottom of the sea. In a frantic rage I put goggles back on and then continued after I let out an almighty roar at the offending triathlete!
During the second half of the swim the swell was pushing me towards the beach so it felt like I was swimming at an angle to keep the buoys close on my right. The last 800m or so I could hear the music and see the swim finish in sight. I felt really good and stayed at a nice steady pace. My plan to get out of the water was to swim until I could feel the sand with my hands but loads of people where stopping before the beach and getting caught up in the waves. I managed to swim around and launched myself out of the water like I was coming out of the blocks of a 100m sprint. I could see Sarah and John Clarke cheering me on.  I had a quick look at the watch  – 1 hour 13 minutes.
Bike:
Into transition I got myself ready then took a blood sugar reading to calibrate the insulin pump. Sugars where reading 13 mmol/l. This was not what I wanted to see so I took 2 units of insulin to bring me back in range and adjusted dosages for bike to 40%.   A high sugar reading like this means too much carbohydrate in the blood and not enough insulin which can lead to tiredness and severe muscle cramps.
Running out of transition I met John Lyons and we cycled for around 3km down the narrow road. Once out on the main road I settled in nicely on the bike and got great satisfaction passing guys on bikes that were 10 times more expensive then mine. I had programmed the watch to alert me every 30 minutes to drink. This was a great help as it's so easy to get caught up in cycling and then forgetting to take nutrition. Because I had all my nutrition with me I passed at least 10 people at every aid station.
At the half-way point I could see my family, Sarah and the Piranha crew. I looked at the watch – 2 hours 32 minutes. I had to remind myself that this was not a half-Ironman and that I had a marathon to run. I eased off the pedal a bit for the second half and felt really good coming into Callella seeing the Piranha crew and my family again –  Bike time 5 hours 17 minutes.
I racked the bike, got the runners on and took another blood test with the glucose monitor. Sugars were reading 5.2.mmol/l. I adjusted the pump to 30% insulin intake and grabbed the two bottles of gel. This was a brilliant blood sugar reading if I didn't have a marathon to run so I started sipping on the bottle of gel straight away.
For the first few kilometres I felt really strong keeping a steady 5.15 pace. I decided that I would go back to the race plan which was to keep it at 5.30 to 5.40 pace. Then 11km into the race my pace dropped to 6.00 and I felt really woozy. Shit! I thought what's going on??? This is not going according to plan! Then the pump started vibrating. Once the pump vibrates it means ALERT!!!!! I looked at the reading and it said 3.8 mmol/l with the arrow going straight down. All sorts of emotions were flying through my head thinking the race was over and I could end up in the back of an ambulance.
With no aid station in sight, I started to walk and take the bottle of gel which was making me feel so sick. I kept thinking 1 unit of carb takes 1 minute to be absorbed into the body so hopefully in 5 to 10 minutes I will be ok. After about 5 minutes the arrow on the pump was going across so I knew that the gel was starting to bring my sugars back up and my body out of hypoglycaemia. I started to come around and run again. At the 13 km mark I badly needed a toilet stop where I could gather my thoughts! After I got to the next aid station I checked the pump again and it read 5.5 mmol/l. This was still too low so I took anything sugary I could lay my hands on which included coca cola.  I got such a kick off the coke and was back feeling really good again.
For the second lap I was sipping water at most of the aid stations and taking some coke on board.   I got a great boost of energy from all the Irish support who seemed to be everywhere. Don't Hold Back and Keep Your Head Up and Heart Strong kept going through my head.  I was checking my sugars regularly and they were staying steady at 8 mmol/l.
On the final lap I realised that if I kept up the pace I could get home in less than 11 hours.  I pushed on and suddenly I was at the last kilometre.  Everyone was cheering and I could see Sarah and Calvin, my nephew, up ahead. I grabbed the Irish flag from them and ran down the finishing chute feeling ecstatic with a massive smile on my face to hear "Ger you are an Ironman."
I am very grateful for all the support, encouragement and advice from my fellow Piranhas, coaches, my family and Sarah who have been invaluable to me to make this epic roller coaster of a journey possible.