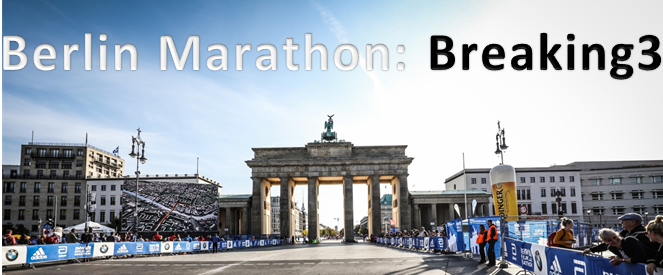 by Shane Gavin
Hope you can endure this race report; it is a bit of marathon in itself!! Once I found out I gained entry into Berlin Marathon in January, it immediately became my A race for the season. Inspired by Kipchoges project Breaking 2, I started to formulate my own project to break the elusive 3 hour mark and project breaking3 was born! #Breaking3
The idea that I could go sub 3 before I joined Piranha seemed totally aspirational and near impossible! To give you a quick background I joined Piranha in March 2016, I previously had ran, jogged and limped four Dublin City Marathons (DCM) with my times being 4:04, 3:38, 3:34 and 3:28. Also after umpteen attempts I had never broken 1:30 in a half marathon but after my first season with Piranha, I broke 1:30 in the Longford Half Marathon and then knocked 10 mins off my DCM time to hit a PB of 3:18. Needless to say I was delighted with my improvement in such a short time! In 2017 I then focused on tri and completed Dublin 70.3; unfortunately I didn't make it to the start line for DCM 17 due to injury.
Training
Last winter I put in the ground work training from November right through to the New Year, breaking 5k, 5 mile and 10k PB's along the way. Once I got my hands the golden ticket entry through the ballot for Berlin, I took aim at going sub 3.  Knowing that I had a considerable gap to close from 3:18, I signed up for the Manchester Marathon which was early April. I had a decent training block beforehand and I felt great on race day but missed out on the 3 hr mark by 4 mins. I was on track up to the last few km's when I was struck by cramp. However, I was delighted with a 14 minute PB but there was still work to be done. I went away, re-grouped, returned to triathlon training and focused on my running speed work.
After my one and only Tri of the year, Harbourman, I started into a 10 week training block from the beginning of July for Berlin in September. Under the guidance of Maria and Gary every session was planned out, I had three key sessions a week, Tempo Tuesdays, Track Thursdays and a long run at the weekend. Between those sessions I ran a lot of recovery miles, usually on my commute in and out of work. On average over those 10 weeks I ran 105km a week and my max mileage was 120km.  Alongside that I was in the gym most days foam rolling and stretching, boring stuff but essential maintenance when you have a heavy run load. On the build-up I raced the Irish Runner 10 miler where I ran a PB of 1:03 and the Longford half marathon smashing my half marathon PB time to come in sub 1:22, as well as collecting some prize money for a top 6 finish. I was brimming with confidence and I couldn't wait to get back to it!
On my very next run an early morning commute into work, I pulled my calf … oh no disaster… straight into the physio, who told me I needed to rest up for a week. Three weeks out from Berlin I didn't want to take a break as I had invested so much time and effort and definitely didn't want to stop now. Thankfully Maria came to my aid and recommended the Muscle Clinic in Clontarf, where I could run on an Anti-Gravity treadmill. Though it was grim running on a treadmill in a small room on my own for hours on end… It's a great piece of kit and I would recommend if anyone can't run close to race day! I did 4 sessions on it and actually felt stronger and fitter after each session. No problems with the calf either, after two weeks of taper with some physio, I felt confident heading over to Berlin.

Pre- Race
I flew over to Berlin with my wife Tina on the 6 am flight the day before the race. We went straight to the expo to get my number and headed off to find our Airbnb to rest up for the day.  I spent the day carbing up with pasta as well as hydrating with water, Isotonics and some Diorolyte. I didn't take any electrolytes or salts prior to Manchester and think that's why I cramped up so I didn't want to make the same mistake.  I was early to bed that night wrecked after a long day.
At 6 am the alarm woke me, Marathon day was finally here! I followed my usual pre-marathon rituals (porridge, coffee, eggs, isotonics and some light stretching) and proudly put on my Piranha vest.  We headed via underground to the marathon start line; you could feel the atmosphere building the closer we got to the event. At the security barrier I said goodbye to Tina, hopefully when I would see her again I would be a sub 3 marathoner. Conditions were perfect, clear skies, the temperature was around 15 degrees and no wind. I was itching to get going, I kept going over my game plan in my head that I had talked through with Marie a few days before and now I just had to execute it. Start off slow and finish strong! I pushed up the front to get a good start position, I spotted the 3 hour pacer and pushed on about another 50 meters from them, I felt good, confident. Let's do this! Bang the gun goes off, balloons fill the air and as I cross the start line I'm just 40 second off world record pace! J Let's GO!!
First 10k
It was a quick start spurred along by the 44,000 other runners we pushed up through Tiergarten park past the famous Victory Column, the 1st km flashed up 4.08… oops too quick slow down. 2nd km felt easier, 4:20 too slow! Come on get into a groove I was telling myself. I wanted to be close to 4:15/16 for the first 5/10 k and the speed up into the race. The next couple were bang on 4:14, 4:14, 4:13 … by about 7k I was into my rhythm and felt very comfortable moving at this pace. Then suddenly the 3 hour pacer was on my shoulder, I quickly realised my GPS was off it was showing that I was going faster than my actual speed, Maria had warned me this could happen due to so many people using GPS watches and the signal getting skewed, thankfully I had written my expected spit times on my arm . So I had to re-adjust, speed up a little but don't overdo it, in hind sight it was a good thing as it eased me into the race, I hit the 10k mark in 42:37, for sub 3 I needed to be at 42:30, I was happy with that and felt confident.
Second 10k
The next 10k I felt good, I sped up a little but I wasn't certain of my pace until I was going through each 5k intervals. Took my first Gel at 12k in and next at 17k, I didn't feel like I needed them but wanted to make sure I had enough fuel to get me through to the end. My fuel strategy was to take a gel every 5k and at every aid station take on water / isotonic, bananas etc., whatever they had I took… I went through 20k in 01:23:46. I was on track!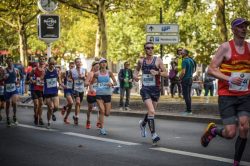 Third 10k
At the half way mark I was at 1:28:19, 1 min 41 seconds ahead of 3 hour pace, I was looking to do negative splits so happy to keep the pace steady now. I took a third gel at 22k, this one had added caffeine and for the next few km's my stomach was very dodgy and It was touch and go If I needed to stop, thankfully after a water station at 25k it seemed to settle down.  My pace was pretty consistent at this stage at around 4:07 pace, at 29 km I remember feeling super strong so I decided to push the pace slightly here. I went through 30k in 02:04:52.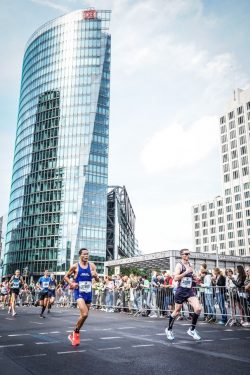 Fourth 10k
Between 30-35km I felt really good and I was pushing along nicely, you could sense you were coming back into the centre; crowds were getting bigger, music getting louder, sky scrapers getting higher. I looked down at my watch and I had 6k remaining, the clock was at 2:30. Then I knew if I did six 5 min km's I had this! The legs were starting to get a bit heavy, I needed to dig in! 38km's in my legs were starting to twitch, I definitely didn't want to cramp again! I knew if I kept going at the same pace I would be close to 2:55 but if I cramped I might have to walk in and miss out on sub 3, I had a choice stick or twist? I backed off a little to 4:20 pace. I went through 40k in 02:46:59
The Final 2k
The route twists and turns on the way into the finish, I was confident now I wouldn't cramp and started to feel strong again passing more and more people, a few were cramping up and hobbling in, I just kept telling myself that I have this and to stay focused. As I turned onto the main straight with about 800 meters to go, I looked to my left and fellow Piranha was on my inside, Ian Allen, this gave me a major lift seeing a familiar face we chatted as we headed toward the finish. On the final stretch the music with the cheer from the crowd was like entering a stadium, this lifted me up and it felt like I floated through the Brandenburg Gate. 200m to go and with the realisation nothing was going to stop me now! I pushed for the finish line pumping my arms and glided across the line!! BOOM 2:56:11 Delighted!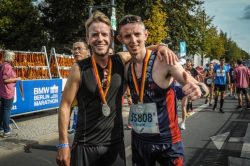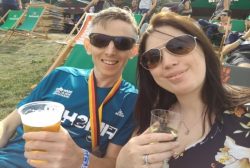 Post-Race
The race was amazing and I achieved beyond my expectations! All the hard work paid off! I had left everything out there and was delighted with the result, project Breaking3 was a success! Out of the 7 marathons (5 DCM, 1 Manchester, 1 Berlin) I have done I enjoyed every moment of this one and not just endured it. Usually once I finish the marathon I'm saying never again, but I can't wait for the next one already!
Afterwards I caught up with my fellow Piranhas Ian and Ciara Brady who both ran PB's themselves. The whole city seemed to be buzzing after the race especially with Kipchoge smashing the world record! Then it was time to relax and celebrate my PB and enjoy a few days in Berlin.
Having Tina with me in Berlin made the moment extra special, it was great to share in the success as without her support it would not have been possible. Special thanks goes to my family and fellow Piranhas, I appreciate all the advice, support and encouragement along the way!  A lot of the progress I have made since joining Piranha can be put down to our run coaches Maria and Gary. Their guidance, skill and expertise have been a major factor in my improvement and I can't thank them enough!
Now what's next? I'm already looking forward to the next challenge and my next marathon! Can I go faster?  Who knows…but I'll do my best trying still HUNGRY FOR MORE!