by Killian Nolan
Background & overview:
My marathon PB going into this was 2:43:30 from October 2016 in Dublin, DCM 2017 was my 8th marathon (6th time doing Dublin) and there has certainly been cumulative learnings and gains along the way. I don't necessarily believe that I am especially talented at running, and my running style has been described as "unorthodox" by the kinder people in the world, but what I am good at is following instruction, and having Maria McCambridge and Gary Crossan as coaches means I had huge depth of knowledge at my disposal and a great training programme to follow. This has been the key to my successes in the marathon in the last few years. To illustrate the point, my PB has decreased by 22 minutes from 2:59:19 prior to joining, down to 2:37:37 in the 2.5 years since joining the club.
The 2017 season has been a resounding success for me. I thoroughly enjoyed racing and chasing my club members and other athletes at the various Sprint and Olympic races up and down the country this summer and I finished the Triathlon Ireland National Series ranked 13th overall. It didn't start out that way though. I had early season plans to run the Seville marathon in February, then that changed to Barcelona marathon in March, but I got injured at the end of January with my IT Band failing me. This injury ultimately prevented me from running for almost 3 full months. This wasn't an enjoyable time in my life by any stretch, I really missed running and struggled to accept being injured. I resolved to do the best I could in the interim though and swam and biked much more as a result. The other thing to come out of this time was an increased focus on strength & conditioning, the rehab the physio had me doing was mainly based around building up my glute muscles to support the IT band, this meant i was in the gym 4/5 times per week purely focussed on this. Once I eventually returned to running I kept up the S&C out of fear of a recurrence of the injury.
Training block:
My last tri of the season was Belfast Olympic on 3rd Sept. That only gave me 8 weeks of marathon specific training in the run in to this race. 10-12 weeks would be ideal but I was confident that the base of fitness I had from the 2017 tri season had me in very good physical shape overall and the 8 week block would be enough.
Below is the breakdown of my 8 weeks. My weekly kilometerage is not very heavy and my peak week was 84kms. Most runners achieving my sort of times would generally have a much higher load. I did keep up with swimming during this time and I have included how many swim sets I did each week in the comments. I didn't swim the week before the half marathon or the marathon – choosing to rest and ensure I got enough sleep those weeks.
| Date | Total KM's | Long run (KMs) | Comments |
| --- | --- | --- | --- |
| Sept 4th - 10th | 74 | 32 | 1 x swim session |
| Sept 11th - 17th | 61 | 34 | 2 x swim sessions |
| Sept 18th - 24th | 50 | 21 | Dublin Half marathon |
| Sept 25th - Oct 1st | 84 | 35 | 2 x swim sessions |
| Oct 2nd - 8th | 76 | 37 | 2 x swim sessions |
| Oct 9th - 15th | 73 | 30 | 3 x swim sessions |
| Oct 16th - 22nd | 38 | 19 | 2 x swim sessions |
| Oct 23rd - 29th | 59 | 42.195 | Marathon week |
The thing I was worried about during this build up was getting sick and missing a week of training but fortunately I avoided catching anything as it seemed everyone around me was coughing or sneezing in the weeks leading up to the race. The important thing about this block was that I didn't miss a single session. I got all my long runs done and hit every target pace and distance that Maria had set for me which gave me great confidence in the build-up to race day.
Pre-race build up:
Taper week is always somewhat difficult but I managed to find ways to distract myself that week – work was pretty busy which helped. I went to the RDS on Friday to pick up my race pack to avoid the crowds that would be there on Saturday. This meant I had most of Saturday free to rest and relax. I ran 4kms Sat morning and did some strides and then it was feet up for the majority of the rest of the day. I spoke to Maria and she wanted me to target running at 2:37 pace, I told her I thought if I had a really good day I could run 2:36, she agreed but said to wait and see how I feel it out on the course too, and that going through half way in 79 mins wouldn't be a problem as I should be able to run a negative split and make up time in the second.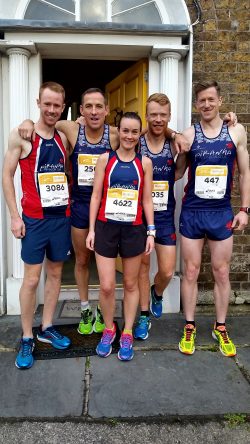 Race day:
9am race start meant a 6:30 alarm – thankfully the clocks went back that night which meant an extra hours sleep. I had my breakfast prepped and finished by 7. My tried and tested combination of a bowl of porridge and 2 scrambled eggs on a bagel has worked well for previous marathons and longer distance tris so I had no need to tinker with that formula.
Some stretching and foam rolling along with chats with everyone in the house before getting out the door at 8.35 for the 10 min walk to the start line. I got some strides in on Fitzwilliam Sq North before joining the masses. I got a good spot right up the front and took a gel 2 mins before the gun went off. First kilometre I was consciously trying to hold back but it's always difficult not to get swept up, and first km flashed up 3:31 on my watch – whoops. Got a few shouts from a few people, Ger V was on Stephens Green. Second and third kms were both 3:42 which was bang on my target race pace.
First 5km was 18:35.
That brought me to the North Circular Road and into the Phoenix Park. Great shouts of encouragement along the way. Cathal O'S was waiting with a gel along with a bunch of Piranha members just after we turned right onto Chesterfield Ave. I held onto it until just after 10km before I took it. The breeze was into us and noticeable for the long drag up Chesterfield to the Castleknock gate so I did my best to tuck in behind someone most of the way.
I went through 10km in 37:15 (official) 37:06 on my watch, making my second 5km 18:32.
There's a nice downhill section once we turn left at Castleknock village all the way down and back into the park at Knockmaroon gate and out at the Chapelizod gate. Laura Graham went by me on the Glen Road not long before leaving the park and I ran with her for a km or two, I resisted the urge to stay with her and get swept up in a different pace and kept telling myself to run my own race so I watched her move ahead along with a group of 3 or 4 other runners.
Third 5km – 18:05
The next section of the race passed without much incident – good crowds at Kilmainham. Barry Mc gave me a shout turning right from South Circular onto Dolphins Barn and the Wallnutts were just over the bridge. Maria was waiting with a gel on the Crumlin road just before half way. I felt strong at this point and very comfortable with the pace.
Fourth 5km – 18:28
Half way time (official): 1:18:12
Was running with 2 or 3 guys at this point but not anyone who hung around for long enough to do some sharing of the load with – the marathon is a lonely affair!
Fifth 5km: 18:55
Coming up to Bushy park and my mam was there with some Lucozade, grabbed that and then turned left towards Terenure, Laura Graham was in my sights again and I went past her just before getting to the village, Maria was there too and gave me another gel, turned right onto Orwell road and was greeted by a great cheers from the mobile Piranha crew. I was all smiles at this point.
Sixth 5km: 18:18
Cathal Mc from the JK Harriers crew gave me a shout and Shane G was waiting just after turning right from Milltown road onto Clonskeagh road and he gave me a gel and ran with me for a few hundred meters. That was a nice boost, but shortly after that I was about 35km in and that's when I started to feel fatigued (dammit Shane – I should've asked you to keep running with me!).
Seventh 5km: 18:25
I had 7kms left to go at this point and was facing the climb to Roebuck hill, my splits had begun to slow and I felt the makings of a cramp in my left quad. I knew I couldn't push the pace at this stage out of fear of inducing a full-on race altering/ending cramp but I kept pushing right to the limit of what my legs could take. There was a nice downhill on Fosters Avenue before turning left on to the N11 and heading for home, but once I turned left on the N11 I realised I was quite isolated with no runner on front of me for about 600m and a headwind that was trying its best to sap my remaining energy.
Jerry Kiernan and his crew were on the flyover, as was Sue W and that helped me mentally refocus on the task at hand but my km splits had gone from 3:42 up to ~3:52 so it was taking all my effort not to let my pace slip to 4:00 or above at this point. Down Nutley lane and left at the Merrion shopping centre and I was in familiar territory and knew how close I was to home at this point. Coming up to Ballsbridge Moody and Paul O'D were just outside the Horseshow house and I tried to muster a smile but I think in reality it was more of a grimace.
Eight 5km: 19:10
The Wallnutt crew and some other friends were down closer to the American embassy and I think I managed to raise a finger in acknowledgement but couldn't contemplate anything close to an actual wave at this point. I overtook another runner and that gave me a bit of a boost, just coming up to the Schoolhouse pub and the crowds started to make themselves heard, Cathal (the legend) managed to sprint get to Mount Street bridge (from his other support duties) to cheer me on and the last 500m were wonderfully euphoric – I knew I had given it my all and concerns about what the clock said were non-existent, I was already delighted.
As I approached the line I thought about the cartwheel – will I do it? Can I do it? There was no one else around me to fall into, ah, sure we'll give it a lash – the legs couldn't support my landing so I ended up landing on my ass just over the finish line, but it would've taken much more than a failed cartwheel to wipe the smile off my face at that point – I was over the line in 2:37:37 to finish in 37th place.
Average pace for the first 35km: 3:42/km
Average pace for the last 7km: 3:52/km
Being 10 seconds slower per km for the last 7km account for the difference between my hope of a 2:36:xx finish and my 2:37:37 finish. I am not in any way disappointed with my efforts though, I gave it everything I had on the day and unlike DCM 2016, I don't feel like I left a better time out there, I just know now that I need to work a little harder and increase the weekly training kms next time to incrementally gain on what I have achieved this year. Piece of cake, right? 
Speaking of cake, I am enjoying my off season now – a little more desert and a little less training can be a good thing, and if you've stayed with me all the way down to here, then please go get yourself some cake – you need to treat yourself after being subjected to the above!