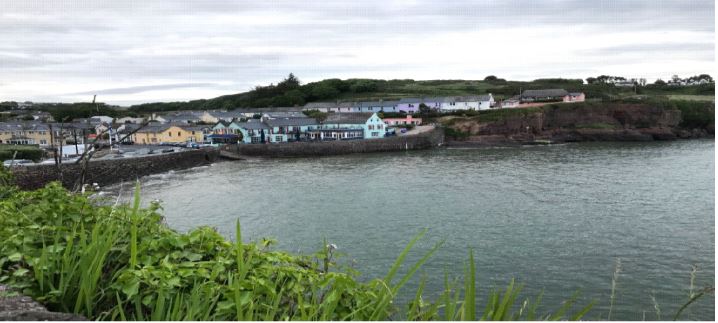 By hook or by crook" is an English phrase meaning "by any means necessary", suggesting that any means possible should be taken to accomplish a goal
The appropriately named Hook or By Crook was to be the setting for my third sprint since joining the club back in January.
The first race of the year came at the Carlow Tri, which I hear is being re-named the Marlon Tri from 2019.
My second outing was the Skerries Triathlon which I had viewed as a shake out before taking on Hook or By Crook a week later. Of course as everyone who races knows there's no such thing as a shakeout race. So I was delighted to do my fastest Tri to date (I have since been informed the run course was short and that Johnny Wallnutt was in Wave 2 not 1, ssshhhhhh).
I was looking forward to Hook or by Crook the most as it was one of the clubs official overnight trips. It did not disappoint.
Friday – Confidence was high heading down the M9 towards Dunmore East. Weather forecast looked good, no niggles from the previous weeks race and a generous lie in allowed with a start time of 11am (11:14am – 3rd wave) on Saturday morning.
The athlete's village was perfectly located at the Dunmore East Golf Course. The view out over Ardnamult Head was something to behold.
The Strand Inn was to provide the hearty pre-race dinner. While the chef took his rod down to the front and fished out dinner I sat with my fellow Piranhas as Cristiano Ronaldo showed once again what dedication to your craft can do on game day. Well-fed and inspired by an athlete who I detest for his ego but admire greatly for his work ethic it was back to the digs for an early night. Tea and laughs at No. 18 with Barry, Ann & Ciara was the perfect way to close out the evening.
Game Day – 4 Croissants, 3 Weetabix, 2 Cups of Coffee and a bowl of porridge (they didn't have a partridge in a pear tree). This was a little more than I'd normally take on the morning of a race but when it's all there in front of you it's hard to resist. Looking back now I can say the big feed stood to me.
Full to the gills it was off to transition. I find myself staring aimlessly in to space while my fellow athletes either chat casually with each other or obsess over the perfect set up. We all know what category we fall under.
There was a growing buzz in the parking lot turned transition area. The music was blaring, the wetsuits were waist high and everyone was basking in the glorious weather the Triathlon Gods had sent us. While some Piranhas danced to the tunes being played (Interesting warm up Ciara, Roisin & Eimear), others found a secluded spot to get in the zone (Still wondering what private tune was getting Tom pumped up, Footloose perhaps?).
The herd assembled and we made our way down to the beach where the race was to get underway.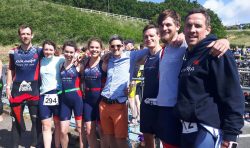 The swim has always been the most daunting part of the race for me. My first triathlon was DCT in 2017 in which I was sporting a Lidl wetsuit while swimming behind Leo Varadker. I'd like to think I've come a long way since then (as has Leo). None the less it's still the leg of the race that I would say I find the most difficult.
The first 250m I was among a lot of flailing arms and legs. I have learned the hard way you have to be ruthless in the swim, fight for your space to put that fine technique Ewa and Anthony have helped sculpt.
I settled in to the swim and found the last 500m reasonably pleasant, that wasn't to last. Transition…
The Everest of all transitions was to greet us as we left the water. It was steep, congested and it hurt. Having summited it would have been nice to chill but there was a bike ride and wee run still to be done.
Having been solely a runner up to last year I have enjoyed the addition of the bike to my training routine. I got my first real taste on the training weekend down in Killarney (highly recommend). Since then I feel myself and my bike have really bonded (I won't make a ride joke).
Although I have been enjoying the bike miles I found the cycle very tough. In Carlow I was delighted with my progress on the bike but Skerries and Dunmore East showed just how much work I still have to do to get to the level I feel can be reached.
I picked off a few competitors in the first 5km but after that I felt like I was going backwards. Person after person seemed to fly by me as the confidence took a bit of a battering.
I like the big climbs on the bike. It's the gradual inclines that seem to get to me. I was braced for the climb back up to transition. I knew I could pick off a couple of the people that had flew by me on the way back in to Dunmore East. I rose out of the saddle and pushed hard (Chris Froome minus the inhaler).
A poor gent was sprawled out with paramedics attending to him half way up the hill. I took a second to appreciate the fact I'd made it through the cycle in one piece and hoped my fellow competitor wasn't going to be out of the triathlon game for long.
I arrived at a pretty congested dismount line. I wanted to get through this transition quickly and get started on making those precious places back that I'd lost on the bike. It was not my most gracious transition from cleats to runners.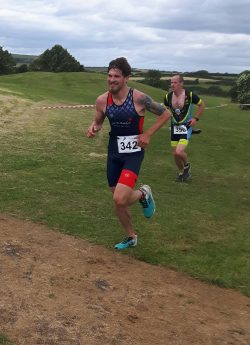 That hill… I've done some tough runs but that climb out of transition was something else. It was the closest I have come to walking during a race. The arms dropped, the strides shortened, the teeth gritted and I ground it out. I would have liked to have raised my arms in triumph having reached the top but I still had another 4.8km to go!
Once I reached level ground I was away. I reeled in person after person (images of the chef pulling in my dinner came to mind), making up those positions I'd lost out on the bike course. The legs were burning, a sign that nothing was being left out on that course.
A 5km run during a triathlon always seems a whole lot longer than your standard road race 5km. I expected the finish line on a number of occasions but it just wouldn't come.
Finally, as I turned the last corner I could see all my fellow Piranhas waiting to cheer every club member who was still out battling the course in over the line. They had all been out there, they knew what was going through the mind of their club mates, they knew the hurt but most importantly they knew what a big cheer would do for that final kick towards the finish line.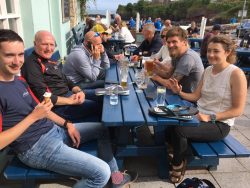 As pre-warned it was far from a PB course but that's not what racing is all about. It is about setting yourself a target and doing everything in your power to reach it. It's about digging deep when you thought you couldn't dig any deeper. It's about striving towards your goals and getting there 'by hook or by crook'.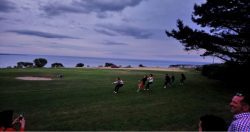 Post-Race – BBQ, Pints, Tug war TryAthy (Bravo Mr Phelan) and a lot of laughs!