by Gerry Maher
Obstacles are put in your way to see if what you want, is really worth fighting for.
— Unknown
I joined Piranha Triathlon Club in March 2016. After a decade or more of little physical exercise, bar commuting by bike to work, and an attempt at doing a Sprint triathlon, where I breast-stroked the swim, blew up on the bike and limped over the line on the run, I thought that there must be a better way of getting fit and doing these triathlon things. Sure, even if I learned how to swim properly it would be worth the price of joining a club for at least a couple of months. And I might even have a bit of craic along the way too.
I didn't have to look too hard. A quick google search of Triathlon Clubs in Dublin, brought up Piranha, one of the top Triathlon Clubs in Ireland. And what's more it was 'situated' down the road from me. The pool would be literally only a five minute drive from my house. And, as luck would have it, the Club were having an 'Open Day' for newbies on that very week. So, needless to say, I went along and was immediately taken by how open, friendly and enthusiastic people were. They made me feel so at ease and that anything was possible.
In the first couple of months, I learned how to swim freestyle. Under the expert guidance of the brilliant swim coaches at Piranha, I went from being able to barely swim one length of Westwood Pool to regularly taking part in full swim squad sessions. This was massive for me. From as long as I could remember I had a fear of the water and drowning that kept me from taking lessons and swimming events before. Even at Tri Athy the previous year, the only way for me to get through the swim was to do the breast stroke whilst trying not to panic.
With this new found confidence combined with the infectious enthusiasm of my fellow Piranhas I found myself signing up for many events over my first year with the Club. Even before my first Sprint Triathlon, I took a massive leap of faith and signed up for Dublin 70.3. Talk about setting a lofty goal! But it focused my mind like nothing else and I embraced all the long and hard  training sessions with extra zeal. Having such a big goal also helped me through the Triathlon season with each race acting like a stepping stone towards the ultimate goal of racing Dublin 70.3. I improved in all disciplines and come that race day I felt more than ready. The race itself went pretty well and I was chuffed to finish an Ironman, albeit a 'half'. I could easily have left it there to focus on just getting better times at Sprint and standard distance triathlons. But the whole Ironman experience had planted the seed for something even bigger.
Fast forward to October 2017. Entries for Ironman Barcelona were open. There was a real buzz in the club as many of my fellow Piranhas began talking about booking the race. Like in my first year in the club I got caught up in the excitement of it all. And before I knew it i found myself sitting in front of the registration page, finger poised,  ready to press the trigger. I had 'permission' from home but I still had some lingering doubts. Did i really want to put myself through those long hours of training? Early morning turbos and swims? Long boring turbos when the weather wasn't so good. Did I really want to miss out on many social/family events? Did I really want to fork out all that money, only for something to happen at the last minute to stop me from going? Indeed, my father-in-law, was very unwell at the time and I was concerned that I wouldn't be able to train if he took for the worse. My wife assured me that all would be ok and that I would find a way to fit all the training in. The more important question am I motivated? Did I really want to be an Ironman? The answer was an empathetic 'yes' and I quickly pulled the trigger an signed my life away. Well, that is from the new year….
In February I signed up for coaching with Ross McGlynn of Sligo. We discussed my Ironman aspirations and what I thought I could achieve with the time I had available to train. He reviewed what races I had done up to then, my training history in terms of FTP, 5km/10 km/HM run  pace and swim CSS.  He then went about crafting a training plan that would give me the best chance of achieving my goal. Initially these sessions were fairly short and the training load was very manageable at 11 to 14 hrs per week. This suited me well, as I has promised myself that I'd try and not let my Ironman training interfere with my home life. At the beginning, it was easy to swap around sessions if something came up. If I missed the swim session with the club I could do it at lunchtime at work. And if I couldn't cycle after work I'd get up early and do a turbo.  Same with the run. This often became a run on my commute home or a lunchtime run down to Ringsend Park.
However, as training progressed and sessions became longer, it became much more difficult to juggle things around. The 70/80 minute turbos that I did before work became 2 hrs plus and I found it increasingly difficult to maintain. Recovery became an issue as sleep was being compromised and I had to adjust things around and accept that as the months wore on, there would be times when training would impact on family life. This was difficult to accept but having a coach in my corner, telling me that I was doing the right thing was very helpful. On many occasions he tweaked my training schedule and got me through some tricky weeks and months were training went completely offline.
Indeed, one important period when training went completely offline was around the family holiday in July. Unfortunately for me, the only middle distance race that I could book was Tribesman, which was on the week that  I came back from two week holiday in Italy. A family holiday is temptation enough not to do any training but to make matters worse I accidentally burnt my hand and couldn't do any swimming or biking for most of the break. Instead of easing into a taper I eased into more Chianti, more pizza and even more pasta. I fretted so much about lost fitness and lack of race preparedness that I almost pulled out of Ironman altogether. I even told myself that I was sabotaging myself and doubted my motivation to want to do Ironman in the first place. Talk about kicking yourself when you were down! It was time to speak to my coach. And on returning back to Ireland, Ross contacted me and put my concerns at ease. He also took the pressure off and said to treat the race more like a training day.
Tribesman, Galway, went very well. I followed Ross's advise and treated the race as one long training day. I knew that training was definitely on track when I came in with a PB of 17 mins.. If I had actually looked at my watch I could have upped the pace and easily gone under 5 hrs. From then on I vowed to try and miss as little training as possible and felt my motivation come back. I had about two big months of training ahead of me but I felt strong and much more confident in getting to the start line and hopefully achieving  my goal. I'd say that in the last  two months I only missed only 3 sessions. Even though I was now training up to 17/18 hrs a week I felt good and remained injury free. I also noticed that I was also in the best shape of my life. It was quiet insane how much weight I had shed with all the extra hours of training. I was definitely at racing weight and was easily at or above my aim of 4W/KG. Being much lighter also meant that running felt so much easier. Everything was going to plan.
Taper finally arrived and I began looking forward to the Race. I continued to train but for much shorter duration. My focus was on staying healthy and injury free. So many of our group had been unfortunate to have accidents or succumb to injury in the last few weeks. So I vowed not to stumble on the final hurdle and did all of my bike sessions on the turbo. I even did all of my run session doing laps of the local park and got the Dart to work instead of commuting by bike. The start line was almost in sight. After 8 months of training I was just there. I just had one last swim session in Westwood and then I'd pretty much be packing my bags and heading for the airport.
But then disaster struck. After the Saturday morning swim session I developed sinusitis. At first I didn't panic. I had gotten this before after swimming in Westwood and it usually lasted only a couple of days. But by Monday night I was still sneezing and my chest began to feel tight. My heart sank. I couldn't believe it. I was developing a chest infection less than a week from race day. I thought about going to the Dr but decided that I'd wait another day and load up on Zinc, vitamin c and lots of nutritious food. On Tuesday I thought I felt better and postponed going to the doctor again. But by Wednesday afternoon the day before I was due to leave, I had gotten worse. The wheeze had become a rattle and now I had a cough. It was also too late to go to the Dr. I'd have to hope that it would just somehow get better before the race.
On Thursday morning I flew to Barcelona, full of hope that I'd be able to race. I met my fellow piranhas, collected my bike, and registered for Ironman. The atmosphere was electric and there was a real buzz about the place. Outside in the milieu, it was easy to forget that I wasn't 100 percent. I put on a brave face and went about the business of getting ready for the race. I rested as much as I could and planned my day ahead. The next morning we met up for a sea swim on the race course. The Mediterranean was warm, beautiful and mostly calm. But that didn't stop me getting a mild panic attack as I over exerted myself, forgetting that my lungs were congested. It was a valuable learning experience as I made a note to take it a bit easier on the swim on race day.
After a late breakfast, I decided to bring the bike out on the course. It was something that I was really looking forward to as Barcelona is known to have a fast bike course. Tom led the way as we flew along the super smooth roads out of Calella towards Barcelona. Again I got carried away and over exerted myself, nearly busting a lung as I coughed my way back to my hotel room. I lay on the bed and thought about quitting the race. I clearly wasn't well. What was the point of starting if I couldn't even finish?  Maybe I should have gone to the Dr? Maybe I should have gone on antibiotics. Why didn't I go on antibiotics? Was it too late now? I was in a dark place. I needed to talk to someone. I texted Dr Siobhan and quick as a flash she came back to me with great advise (thank you so much Siobhan). I headed to the chemist to see if I could get a general antibiotic. As fortune would have it I met a triathlete from Pulse who worked as a nurse. She was also super helpful and gave me two of her own inhalers explaining what I needed to do. She also had a look at the cough bottle with antibiotics and told me what the ingredients were and that it would also help. For the next twenty four hours I dosed myself up with steroid inhalers, crazy Spanish cough syrup, vitamin C, Zinc, paracetamol and whatever else I had at hand.
The next morning I felt a lot better. On a call to my wife I even heard myself say that I was perhaps even 30 or 40 percent better. And, what's more, I thought that I might even make the start line. Clearly my drugs regime was working. Now if only I had the number of Michele Ferrari (Lane Armstrong's Doctor) I'd really be flying! Clearly I was in better mental space. And with the added 'morale boost' of having my brother coming over later that day, I began to really believe that I could start the race and even finish. I prepared my bike and run bags and later on that evening I wheeled my bike down to transition to set up for the big day ahead. Again, the atmosphere was amazing. As I racked my bike and took it all in, I knew that I could do it. Like all of my fellow competitors I had worked so bloody dam hard to get it here. I wasn't going to let anything stop me.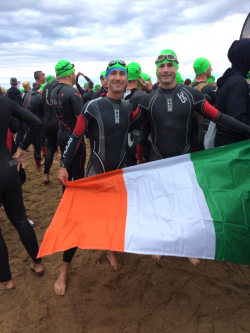 Race day arrived. 12 months after signing up it was finally here. I got up at 5 a.m. and ate a light breakfast. I felt ok and had the mindset of just getting on with it. After chatting to a couple of fellow competitors I heard that the weather wasn't going to be great . Thunderstorms were forecast for the start of the race. As we left our Hotel the heavens opened up and rain hammered down. We were all soaked by the time we reached transition but I didn't care. I was going to get wet in little over 90 mins anyway. I pumped up my tyres, checked my bike over and made my way over to the transition tent. I put on my wetsuit and placed my rain soaked 'dry' clothes into the bag for after the race (Doh!). I took two puffs of the inhaler, placed it back in my run bag and  made my way onto the beach. There I met fellow Piranha Ger Fennelly. After an emotional hug and wishing each other well, we positioned ourselves in our respective pens. Before the race, I had planned to go in the middle of the 1:05-1:15 pen. But as I looked at the sea I decided to go at the back of this group and give myself a bit more space. The waves were pretty big and there was a decent amount of swell. As we waited for the countdown to commence the DJ played Sweet Caroline. Dancing and singing along to this definitely helped calm my nerves. And before I knew it I was running through the waves and diving into the sea.
The swim was a bit of a rollercoaster ride. I actually don't know how I didn't get sick as I was tossed around quite a bit, especially on the way back after the turnaround point. It was also very difficult to sight and I went off course on more than a few occasions (4000m per my Garmin!). The kayakers were fantastic and I didn't panic when I struggled to navigate my way back to the swim exit. I swam at a very steady pace, just focusing on exhaling fully and executing my stroke as best as I could. I had to stop to cough a few times and I used these breaks to get my bearings. After 85 minutes I eventually emerged and was delighted to be standing on the solid ground. Next up was the bike.
After two puffs of the inhaler, I grabbed my bike and ran to the mount line. I was really looking forward to getting going as I was bloody freezing after the swim. After the first 3 km through the town I eventually hit the main road and got up to speed. The roads were wet so I was extra careful at roundabouts and passing other competitors. Being a mid-back of the pack swimmer meant I was unfortunately coming out into traffic. I spent the next 2 hrs passing people trying to get some clear open road whilst sticking to my race plan. My garmin was showing that I was making great progress and was not far off what I was hoping for as a bike split. That is until out of nowhere I got a penalty! I couldn't believe it. Somehow I had got boxed in behind two slower cyclists whilst coming to a roundabout. The road was coned off and narrowed as we came to the roundabout, so there was nowhere I could go. Had the official actually being observing me he would have seen what had happened and given me more time.
I spent the rest of the bike trying to find a penalty tent. The last thing I wanted after getting to the start line and through that epic swim was a DQ. Every town that I entered I shouted out, where was the penalty tent only to be met with blank stares or someone offering me a banana or energy drink. As the race wore on, I was getting increasingly frustrated and anxious. Nobody spoke English and nobody could tell me where the Penalty Tent was. Less than 20 km from Calalla I was so desperate I asked a couple of competitors did they see any penalty tents in the last 10 km? One guy whom spoke English told me that he thought he saw a tent back a few kilometres behind a roundabout. I thanked him and duly hoped across the round, turned around and headed back to where I had come from. I was losing precious time but what could I do? I had to serve my penalty. Eventually I reached a large tent marked Ironman where a couple of other cyclists were also standing. I shouted at the official was this the penalty tent and then proceeded to give out to her telling her that it was not clearly marked as in the race brief. I had been looking for a Blue Penalty tent not a mechanics tent with a tiny wooden sign saying penalty box! After calming myself down I quickly asked her to start the clock and I waited to get going again. It felt like a very long 5 mins.
As I came into Calella, I knew I had lost a lot of time so I didn't push it as I cycled through the streets to transition. Now it was more about finishing the race than hitting any preface time goals. In transition I racked my bike and quickly made my way to the tent to change into my running gear. Another two quick blasts of the inhaler and I was off again. The first 5 km I started out too fast but quickly adjusted my pace to allow for my heart rate to come down a bit. With all the drama of looking for the penalty tent I hadn't noticed that my wheeze had gotten worse again. But now, as the marathon wore, I was fully aware of it and that my cough was steadily getting worse. I didn't carry my inhaler and found the only way that I could stop coughing and settle my heart rate was to walk every few kilometres, or at every add station. It was really mind over matter at this stage. Run a bit, cough a bit, walk a bit, run again. Somehow I'd get there in the end.
Then, before I knew it, I was into my last few kilometres. I could hear the announcer calling people 'Ironman', as they crossed the finish line. It was so near but yet so bloody far. I passed my brother who had been out supporting me all day. He gave me an Irish flag and shouted out some words of encouragement. I unfurled the flag and managed to get it above my head as I turned onto the finishing chute. As I glided up the 'magic carpet', towards the finish line, I tried to take it all in. This was what it was all about. All those months of training. All those early morning swim sessions, long cycles, hard painful turbos, lunchtime runs, long runs, long bricks, long double bricks and even treble bricks. All of the sacrifices that I and my family had made came down to this.
This was my moment. I was An Ironman!
A special view mentions:
I'd like to dedicate this race report to Gilbert, my late Father-in-law ,whom sadly passed away in March 2018. He was always were supportive of me doing triathlons and no doubt would have been cheering me on from his home in France had he been still alive.
I'd also like to thank my coach Ross McGlynn, all the Piranha coaches, Piranha support crew, my wife Isabelle and my brother Paul, all of whom helped me in no small way to get to the starting line and beyond. I also must say that I simply would not even signed up for an Ironman if I wasn't a member of such a wonderful club.