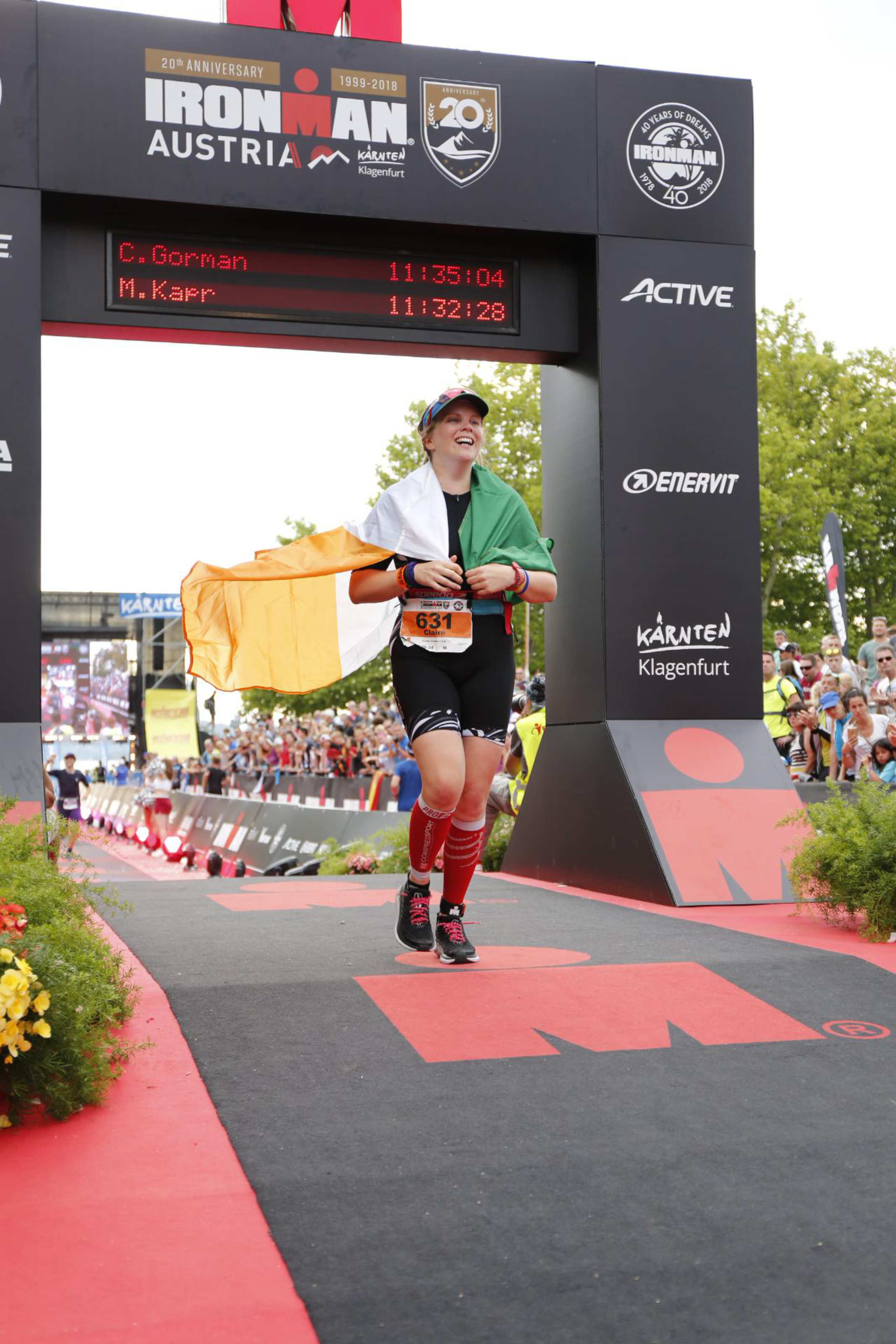 by Claire Gorman
I joined Piranha back in January 2016 and was absent for the first few months until the fear of completing a 70.3 that August became too strong to ignore.
I had come across Piranha while writing about the Ironman 70.3 in Dublin and, despite having very little experience in triathlon (a try-a-tri and a sprint where I spent 3:30 in T1 wrestling out of a tiny wetsuit), I couldn't say no to an entry.
John Wallnutt, the then race director, had an answer to every excuse I gave for not joining the club and so I signed up.
Two seasons and countless races later, a solid gang of Piranhas was signing up for an Ironman in Austria. I was still "never doing an Ironman" at that point so I gave Nirvana a substantial chunk of what was left of my life savings a few months later instead.
Over the next couple of months, I found myself doing lots of things I would "never do" – get a coach, buy a TT bike, have no social life.
Fast forward past endless hours of training and an even greater amount of bitching about training, and it was off to Austria with the crew.
I was travelling over with the Klagenfurt 5 (Jacqui Dunphy, Nikki Hickey-Crowe, Siobhan Forman and Meg Smith) so I was in good company. The benefit of having experienced Ironman to ask a million pointless questions of was invaluable.
After a slightly disastrous journey from Munich (a three-hour delay due to a crash) to our (amazing) accommodation just outside Klagenfurt, we landed late on Thursday night.
Being a wannabe lazy person, I was dying for a couple of hours/days of lying around reading books. Taper had not been the restful time I had been longing for with various personal commitments cropping up.
The next couple of days were busy but relaxed as we collected bags, checked out bikes, registered, racked, bought (and ate) enough food to cause a famine and swam in the beautiful lake.
I found myself creeping around in fear of being walloped with a debilitating amount of nerves, but the excessive carbohydrate intake had me nicely sedated much of the time and it never really happened.
The night before the race, I battled with another giant bowl of pasta (thank you, Chef Forman) and went to bed at 8pm. I slept very well considering what lay ahead the next morning, but if I was going to die the following day, I at least wanted to enjoy my last sleep on this planet.
The alarm went off sometime around 4am and I was excited about the prospect of getting the bloody thing done. That evening, I would hopefully be an Ironman and the whole thing would be over. I could be the lazy person I yearn to be but fail miserably at becoming.
I struggled through a pre-race breakfast of four eggs and a bagel. My usually insatiable appetite had been temporarily halted by a Difene I'd taken for my back two evenings previous. I wasn't going to worry though, I'd enough food to last me a couple of days packed onto the bike.
Fortunately for my comrades, I had become mute for the morning as I let out a sneaky few tears every so often. Crying was oddly calming.
I dumped the street wear bag (while silently praying I would be alive later that night to pick it up) and made my way to the swim start. Lots of blue hats and bravado in my swim wave till I discovered I was in the 1-1:10 pen, not the sub 60 one.
I made my way into the sub 60 pen (sure why not give it a shot!) which was thankfully pretty empty.
I took on and off my goggles at least 20 times to clean them before making my way up to the start line where they were letting a few athletes in at a time.
At this point the nerves vanished and I was suddenly calm, confident and excited. I was (hopefully!) going to be an Ironman soon! I was also getting to swim in what is probably the nicest water I have ever been in.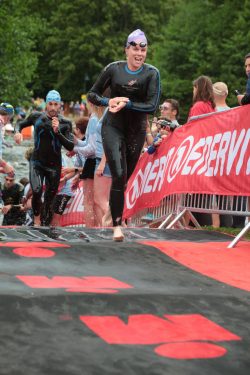 The swim is simple to follow with a left turn, another left turn then into the canal. In previous years I'd heard it was difficult to sight going towards the canal but we were blessed with cloudy weather that morning.
There was a little bit of head bashing at the start but I was loving swimming through groups of people.
I had been hopeful of finding some fast feet to sit on but no one seemed to be going fast enough. There were definitely a few jokers in the pack and I found myself zigzagging quite a bit to use different feet.
The sighting practice and open water skills drilled into me by Ewa, Anthony and my coach Ross McLynn gave me a huge advantage. I couldn't believe the poor sighting techniques I was witnessing.
I made it into the canal without issue (thank you, clouds) and felt lucky to have a clear path although I wasn't being sucked along as I'd been told to expect. I could feel that I was being used to draft but I didn't mind. The tapping was keeping me on my toes (no pun intended). I got pulled out of the swim exit (I knew they'd have fresh arms at that stage of the day so I wasn't going to be using mine) and made my way over the timing mat. Checked the watch and I had done a 59:03 swim. I couldn't believe it!
I spotted Mags Wallnutt with the fantastic Piranha spectathletes and called out to get some cheers (I am shameless when it comes to getting race love) while also giving them mental kudos for getting up at ridiculous o'clock to support.
My left calf was a bit tight running up towards T1 but I told myself it would ease out on the bike or run later.
T1 was uneventful and calm and I again felt fortunate to have had a decent swim time.
Hopped onto the bike (jokes – it took me about two minutes to clip in at the mount line) and off I went. My legs felt fresh, heart rate okish and I began to think Ross may have been onto something with those long swim sets he tortured me with (doing deck-ups in a public pool makes you feel like an awful eejit). I really felt as if I'd just been for a casual dip and was booting it along with very little effort.
The scenery on the bike course was amazing. I felt like I was in a movie much of the time with the giant mountains. It was such a treat to have wide, closed roads with decent surfaces for flying down the descents.
The drawback of being a decent swimmer but much less decent cyclist was getting passed out so much. However, this did have the benefit of getting to admire other athletes' bikes and race attire (raging I didn't get that patterned Castelli speedsuit) and having the chats with anyone I knew that passed me out.
I did, at one point, have to pass Chairman Moody who could do with a few lessons in gearing. (I will ask Nikki Hickey-Crowe to offer her advice).
The bike course has two main climbs with the second one being much less pleasant. I am almost certain that the second climb had a couple more lumps inserted into it for the last lap.
It felt like the descent would never come and even when it did, it didn't feel as fast or as long as on the first lap. It also seemed hotter and windier on the second lap. Nothing to do with getting tired, of course.
There was some great support with big crowds shouting, "Hop! Hop! Hop!" while having the craic drinking beer. I made a mental note that I would excel at a career in spectating.
I also got a great boost after the first lap from the Piranha crew which had relocated to the bike turnaround. (At this point I did worry that I would probably struggle with deciding where to place myself if I was going to be successful in my new spectating career).
Hopped off the bike (jokes – I did the granny shuffle) and into T2 after 5:57:42 and 1,675m of climbing (according to Strava) on the bike. I was just below my six hour target.
Again, transition was uneventful. Sprayed some factor 50 on me, changed into clean socks and got my Flip Belt on. I really fancied a good sit and a bit of a daydream but I'd a few hours to go yet.
I'd heard people saying how they had to slow themselves down at the start of the run. I did not have such concerns. My legs felt heavy and I scolded myself for being silly enough to sign up to run a marathon after a six-hour bike.
The M word was quickly replaced in my head by four 10ks and a 2k. Though confusing, this proved an effective strategy as I never really knew at what point I was in the run. I was just keeping moving.
My heart rate had been playing up all day and I had hoped it would calm a bit on the run. The heat did not help and I was concerned I'd suffer if I pushed it too much.
I was running well below my target pace. However, I have to admit that at this point I did not care what pace I was running at anyway.
I made a pact that I could walk every food station but nowhere else and this worked out nicely.
At one point, with cup of Coke in one hand and a slice of pizza in the other, I thought how I could be on the couch on a Sunday evening after a long training day. I had to quickly remind myself that I was doing an IRONMAN.
Shoulder pads were in vogue on the run as athletes grabbed sponges from buckets of cool water and placed them anywhere they would go. I became half woman, half sponge and wondered how I hadn't appreciated the versatility of the simple household item before. I even tried placing one on my heart in an effort to slow it by freezing. It did not work.
At one stage I nabbed four sponges off a small child and she cried out because they were the only ones she had. I'd like to take this chance to apologise to absolutely nobody for such behaviour.
The support on the run course was once again amazing and I was genuinely smiling when I passed the Piranha crew (not just because Muiriosa was sending pictures back to my mother). The supporters in parts were fantastic and some even had us dancing outside a pub on the course (tango lap one, techno lap two, for anyone that's interested).
The last bit of out and back of the course was fairly testing and the steep but short hills going under the bridges were torture.
I had spent much of the course running near but not speaking to a man in a Monaco trisuit and with about 6km to go he had started to walk again. I gave him a shove in the back and told him we were running home together, no walking.
I cajoled him along, up and down the sharp hills and with about 1km to go it was his turn to bully me into finishing "strong".
I had spent the last couple of kms living to see the Piranha crew again and they did not disappoint. Muiriosa handed me a tricolour and I made my way to the finisher chute trying not to cry (too much) yet. I was also cheered on by NHC (who had chicked all the Piranha men) and some Lough Key TC supporters.
Thinking about the run up to the finisher chute still gives me goosebumps and I can almost feel the noise of the crowd reverberating through my insides.
I approach the announcer and point to my number.
"Claire, you are an Ironman," he seems to announce too soon as I haven't crossed the line yet. Anything could happen in those 20 metres to the timing mat!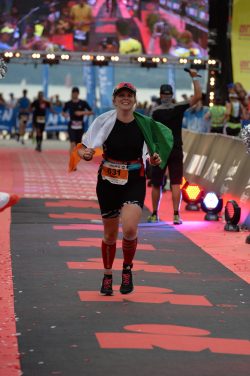 I soon make it across though where Jean, my Monaco hero, is waiting for a sweaty, snotty hug before I move on to claim the best medal I have in my collection.
When I first contacted Ross back in December, I was embarrassed about admitting my goal of finishing in around 12:30 as it seemed beyond my capabilities.
I finished Austria in a time of 11:35:04 with a smile on my face and a promise to myself never to do another Ironman.
You don't get to the start line of an Ironman without the help of many people. (I'll try to keep the thank you bit brief as I know this is approaching on thesis length).
I couldn't have done it without the guidance of my coach, Ross McLynn. His patience, perseverance and attention to detail, especially when I had zero interest, was remarkable. Coach is always right.
My physio, Martin Hynes, had the combined role of counsellor and torturer/fixer as he listened to my woes while keeping me injury-free with his magic needles.
To my Piranha club mates and coaches, the value of your support and expertise has been immeasurable. The selflessness of those who travelled to support sums up the spirit of the club for me. I would have been lost without the advice and moral support of the Klagenfurt 5. Also, shout out to the DCT Marketing crew for keeping me laughing even though some of you were petrified of me much of the time.
To my family and friends, thank you for your understanding, patience and support over the six months of training. I know I wasn't the easiest to deal with at times.
A special thanks has to go to my amazing mother, MaryG, who was silently supportive the whole way throughout the mad undertaking. She kept me grounded by reminding me there was no one standing over me with a whip (I have yet to explain TrainingPeaks) and making fun of my early weekend bedtimes.