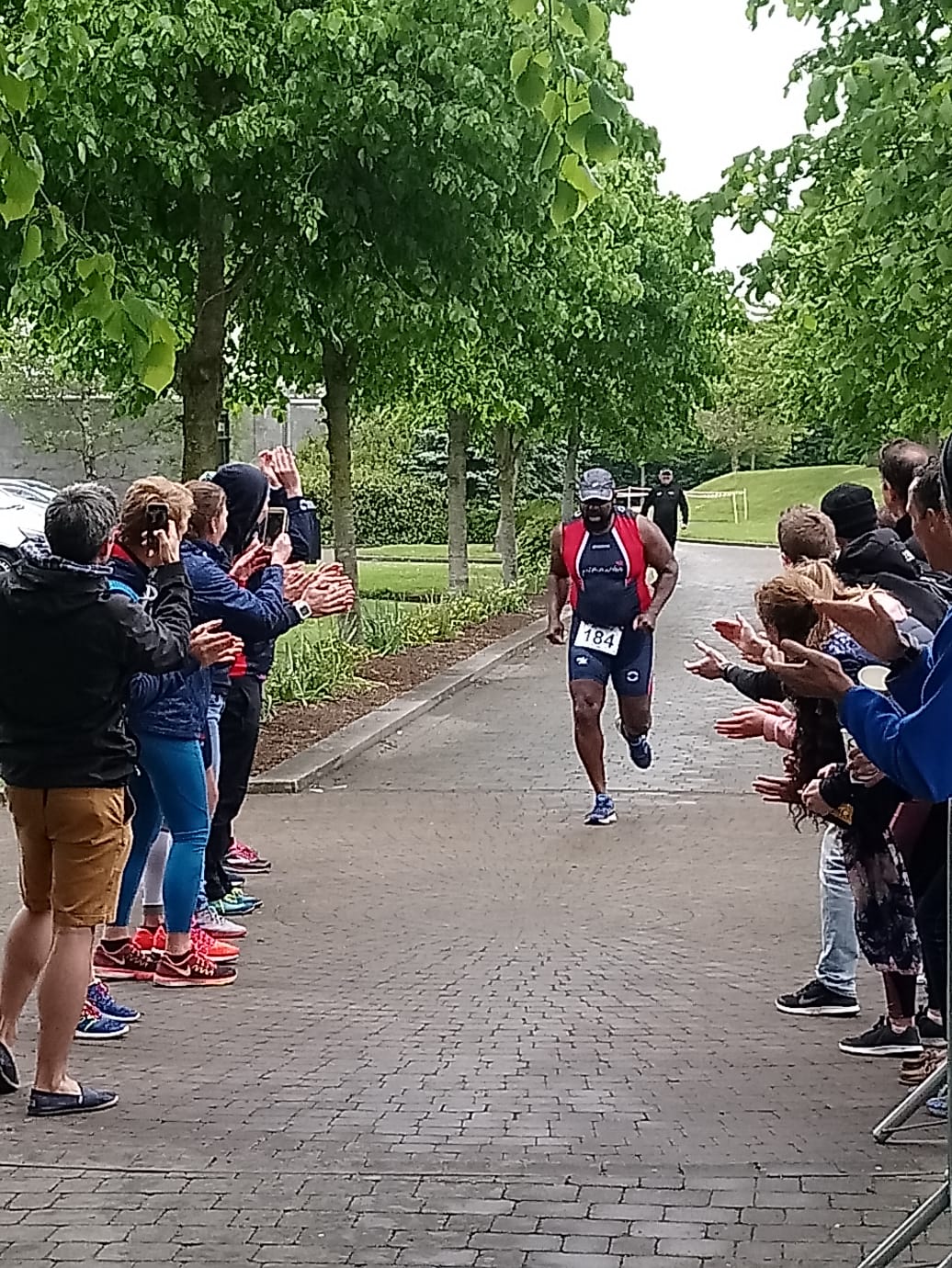 by Marlon Major
It was October 2017, I was having a pint with a fairly new friend, Bernard Hanratty.  He was energised and chatty….  He had just come from swim training.  And he couldn't stop talking about his breathing, his strokes and his form.  He went on to talk about running sessions and then cycling sessions.  Honestly, I didn't know what to think.  This was too much training for one person.  How does a person doing this much training, have time for work, friends and family?
At some point we did get around to talking about me and my weightlifting.  But I was no longer interested in talking about my gym pursuits.  I wanted hear more about the swimming, cycling and running.  I wanted to know more about triathlon training.  By the time we had our last pint, I was convinced.   I wanted to investigate this triathlon phenomenon.  So, I sort of invited myself to a training session.  Bernard encouraged me to take a look at the Piranha website for more information (times, location, gear, insurance etc).
A week later, I arrived for a Thursday morning swim session.   Needless to say, I was intimidated by the long pool lanes.  They seemed to go on forever.  I was apprehensive about jumping into one of the lanes…  Everyone appeared to be seasoned Olympic champions.  And with that, I introduced myself to Ewa, and told her that I hadn't swum in years, but was a spring board diver in American high school, like this made any difference.  She quickly replied, that most people who say they haven't swum in years actually speeds along down the lane without a bother.  And, into the pool I went.
In the pool, I struggled through my first 50m lap.  And I nearly didn't make it back on my return 50m.  Ewa smiled kindly and moved to lane two for a quick chat with someone….  I don't that she had the heart to tell me that I was a horrible swimmer.  The lad behind me, tapped me on the shoulder and suggested that I should continue practice in one of the other lanes, as he pointed to the baby pool.  In truth, I was happy to go to the baby pool.  If had I tried to do another lap, I'm sure someone would have had to drag me out of the pool.
Registering for my First Race
It's now February.  I'm having coffee with members of the Piranhas Club after Saturday morning swim training and a run.  There was an inaudible buzz in the air….   One of the first triathlon registrations had recently opened for the season, Carlow 795.  And everyone was talking about it, except for me.  To be social, the folks were asking me about my registration and which races had I plan to complete during season 2018.  To be honest I hadn't considered any race during 2018.  I was thinking maybe 2019.  I never took the time to figure out the different distances in triathlon races.
Mentioning that my first race would probably be in 2019, for some this wasn't' acceptable.   For the small group they thought my 2019 goal was unacceptable.  I was eventually "guilted" into registering for the Carlow race.  They had deflected every one of my objections with sound reasoning.  Thanks Ken (ring leader)!  By the time I left West Wood, I was signed up for my first race and was numb wondering what had I done.
Carlow795 Race Preparation
Now it's been seven months. I have focused all my attention on swimming.  I have cycled some and I have done a bit of running.  But swimming has been my focus.  I have moved from the baby pool to the lane one.  John, Anthony, Ewa, Chris and Anthony have been incredible coaches.  Though I have learned much, I have no illusions that I have so much more to learn about swimming.  As a result, I was stressed about going on a two week April holiday that I had booked a year earlier.  I was afraid I would have to begin from scratch when I got back.
My first day back from holiday, I was excited to get back to swim training.  However, I had a very rude awakening….  After a few laps, I felt loads of pain, I couldn't really reach during my stroke, I was incredibly exhausted…  More exhausted and winded than I could remember.  I was feeling defeated and I was angry with myself.  When I left the pool I was despondent.  I felt I had lost everything that  I had learned.   How could I do the Carlow race?
On the 5th of May I decided, that I couldn't do the Carlow race.   So, I wrote to the organisers of the race to inquire if I could transfer my registration to another club member.  And, I went to the Piranha WhatsApp group chat to off-load my registration.  The day was 03 May 2018.  The time was 16:02.
Yes…  I felt guilty and disappointed. But all the stars were aligned telling me that I shouldn't do the race.  I couldn't swim; I didn't have a wetsuit; and bike needed repairs. I didn't have all the bits that would help during a race and I certainly definitely didn't have the confidence.
By 21:28, 20 messages of encouragement hit WhatsApp. At 21:31 two-time Olympic Champion Alistair Brownlee dropped a video message of encouragement on to WhatsApp.   Thanks Ivan!  At 23:44 over 50 messages of encourage popped up.  My phone practically vibrated off the table with number of messages that were posted.  And it continued into the next day.  Amazing, humbling, scary, intense….  After 24 hours, I was back in.  I had to do it.  I was going to do it.  I had no choice.
The amount of support from everyone leading up to the race was amazing.  I was told stuff, leant stuff, and given stuff…   I also had to buy stuff.  There were sessions held on how to properly put on a wetsuit, what to expect in the water and how to  actually swim in open water.   There was a session on how sort out your bike in transition  and how to run and leap on your bike.  There was even a discussion about getting rid of passengers.
Race Day
I was collected by a seasoned triathlete.  Thanks Cam!  He offered to give me a ride down, so that I could ask questions and calm myself.  But I think he was on a mission to insure that I made it to the race and didn't back out.
We were registered and parked by 8:15.  We surveyed course with my house detention bracelet around my ankle.  I learned what to do and what not to do.  To be honest, the whole thing was surreal. I really didn't feel anything.  As more club members arrived, they all greeted me warmly with encouragement and inquiries as to my state of mind.
However, reality began to set in as I slinked into my wetsuit.  And a slight bit of fear began to creep up my leg when we were marched off to the river.  But before I could analyse this fear…  I was in the cold water.  All I could think about was…  Long strokes…   Be an arrow….   1, 2 breath…   1, 2 breath…  And… Is this over yet?  There was a lot of cheering on the river bank.  My name was like a chant…  Go Marlon…   You're doing well Marlon…   Take your time Marlon…  But I heard my name the most when I decided to roll over on my back to catch my breath.  Unbeknownst to me, I had turned myself around and was swimming on my back in the wrong direction.
Once I realised, my error I righted myself and made my way in the right direction.  Yes…   I heard everyone screaming directions from the bank.  Thank you…   I didn't feel so alone.
Yes I stopped a few times…   But I made it around the buoy and to the swim exit.  While running into transition point 1, I couldn't reach the back of my wetsuit to unzip the darn thing.  But someone on the side popped it for me, and I was able to get the wetsuit off.  In transition, I got such a cramp in my stomach muscles from the swim, that it forced me to sit down to put on my cycling shoes.  And when I went to mount my bike, I nearly knocked a poor women down.  I know now that I need practice with the two step-hop-bike-mount.
On the cycle, I got cramps in my triceps as I did the 20K cycle.  How could this be?  I never got cramps here before? Is this over yet?
On the run, my legs cramped immediately. Would I be able to do this with cramped legs?  I had to…   I was so close.  And along the way, almost every competitor that passed me cheered me on.  It was amazing. Everyone knew my name.  Everyone, regardless of their own pain, had positive words of encouragement.
Two kilometres from the finish line…  Bernard joined me for the run in…   He was dressed in his street clothes….  One kilometre to the finish line Richie and Rob joined us to get me over the line.  John Lyons was waiting at the end of the bridge to direct me in.
But the crowd…   The crowd…   The finish line, I will never forget it.  There had to have been a crowd of 70 people there to cheer me across.  Piranhas, Piranha supporters, strangers, other triathletes and loads others were there cheering.  The guard of honour…  It was amazing.  It was humbling. I am definitely proud to be a Piranha.  I am now a triathlete (with a small "T").
Thank you all!
My next race is in two weeks in Athy.