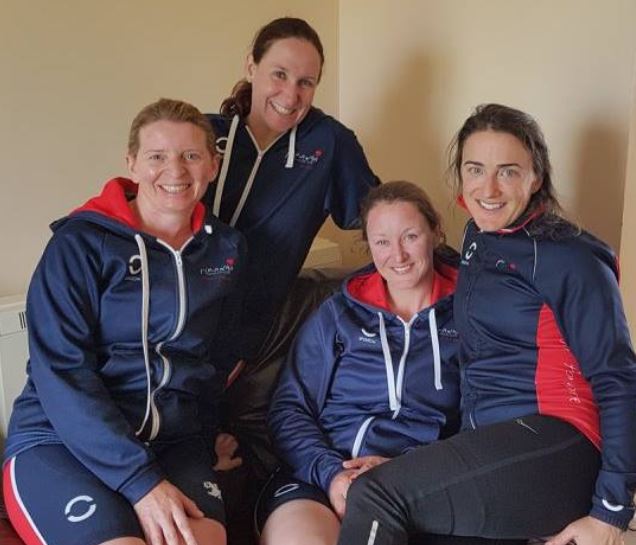 – words from Megan
How can a year have passed already when at times the days dragged by?  A year ago, our worlds changed – whether we knew Karen well or whether we just knew her from training – I think it's safe to say that everyone in the club has encountered Karen at some stage during the past year.
It may have been from hearing about the way she braved her battle with dignity and determination (the only way Karen knew how) or it may have been reflecting on her big personality and success in everything she set her mind to, which was highlighted at the Piranha Memorial Run.  Maybe it was through buying a Karen Keep-Cup, which helps to fulfill her passion for environmental sustainability and her desire to rid the world of take away cups.
Or for many of us though it's been through vivid and happy memories of her.  Sometimes these have been random flashes of her constant encouragement and positive approach to everything she did.  These unexpected thoughts generally hit when you are struggling, like during a race when you feel you can't keep going, or in training when we're pushing ourselves hard.  Sometimes though, these memories are more deliberate, mostly catching us at poignant moments – summer festivities knowing she would've loved the concert/ festival/ adventure we were having, hearing the song "Buttercup" and other music she enjoyed, our birthdays, her birthday, year-end functions, Christmas, warm weather training…the list goes on, but the sadness, love and grief remains.
The past year has taught us all a lot about grief – it's isolating, it's difficult, it doesn't magically go away, and it doesn't get easier, you just eventually evolve until you get used to it (or so I'm told).  We've all grieved Karen in our own way which by its very nature you just can't explain or share, despite us all going through this together.  Some of us have thrown ourselves into life and taken up every opportunity given whilst some of us have erred away from the crowd and kept a low profile, and some of us have landed in-between.  Either way, we've all tried to deal with our inner turmoil and heartache at the loss of our beautiful, vivacious, kind, caring, crazy friend.
It takes a minute to find a special person, an hour to appreciate them, and a day to love them, but it takes an entire lifetime to forget them and anyone who knew Karen will agree, she was one of a kind, her own independent smiling, passionate person and someone, who once you met, you could never forget.  Rest in peace our special friend.
I know for certain that we never lose the people we love, even to death. They continue to participate in every act, thought and decision we make. Their love leaves an indelible imprint in our memories. We find comfort in knowing that our lives have been enriched by having shared their love.
—Leo Buscaglia