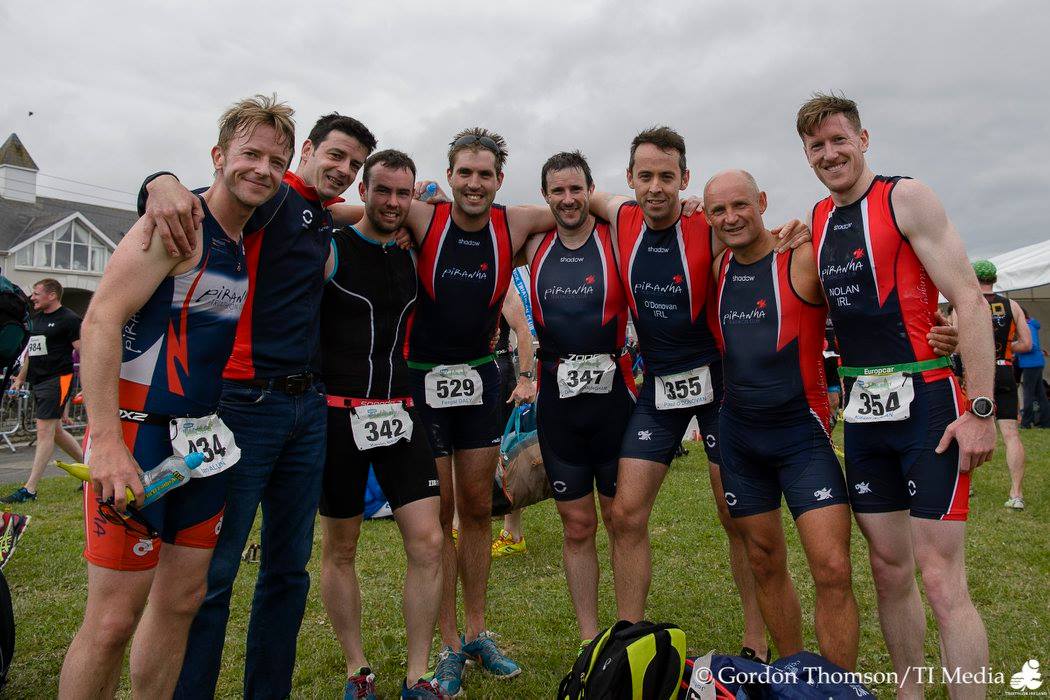 After a fantastic weekend of racing in Dunmore East & Westport there has been a 3 week gap with no NS races on and everyone getting the chance to improve their fitness and get ready for a busy July which see's the 3rd and 4th races of our 6 take place. Later in the month Jailbreak in Cobh (Olympic & Piranha away event). But First up is Harbourman in Wicklow on Sunday 8th July. This is the 3rd year of this event and its second year as a National Series event. So far we have had over 100 piranhas complete at least 1 National Series race with many having completed 2. The ladies and men have had many AG podiums and all 3 teams (male,female and mixed) are in strong positions.  We also have Killian Nolan leading the National Series with Cathal and Richie also in the top 3 and Siobhan Forman holding 4th and Martina Duignan in 6th overall in the National series standings. A very strong start to the season by many Pirnahas. By the end of July, 9 National series races of the 16 will be complete and it will give us a clear picture of the standings.
Harbourman is also the National Championships Olympic distance so we can expect a very strong field of athletes. Last year the race was won in 2:11 in the mens and 2:27 in the ladies so you can expect those times to be beaten.
We have over 80 members entered and this race also counts as part of the Piranha Club Championship. The Lowest position score over the 2 races of Hook or by Crook and Harbourman will be the Club Champion male and Female. The front runners in the mens are Tom, Cathal and Ross Condy and in the ladies its Brianne, Shannon and Siobhan F. As Killian did not race in Hook  he is excluded and Richie opting not to race this one. In the ladies  Becky is not on the start list (that I know of) for Harbourman. Best of luck to all!
Below you will find who else from Piranha is racing along with some info about the course. As always no matter what happens, enjoy your race, be safe and of course don't let a Belparker past you ! Finally as we continue to enjoy the very good weather please continue to drink loads of water. Race day Sunday looks to be even hotter with a 28c high and as the race starts at 1pm we will be in racing in the hottest part of the day. Please make sure to bring your sun screen as well as eletrolytes drink and water. After the race please make sure to rehydrate before driving home.
This handbook has the following sections:
Who's Racing?
These Piranhas are registered to race this Sunday:
| | | | | |
| --- | --- | --- | --- | --- |
| Jorge Collado | Robert Keenan | Ken Hughes | Susan Wylie | Mark McInerney |
| Gordon Grant | John Clarke | Marie Moran | Noel Kelly | Stephen McGuinn |
| Ava Whelan | Anne Morrissey | Helen Dowdall | David Bradish | Caoimhe Costigan |
| Barry Mcintyre | Kenneth O'brien | Michael Foley | Darragh Kitt | Dara Lawlor |
| Gareth Robinson | Matt Coughlan | Ivan Eustace | Frank O'Dea | Simon Montgomery |
| Sarah Sreenan | Debbie Harmon | Eimear McHugh | Siobhan Keating | Shannon Kelly |
| Ross Ringwood | Sébastien Le roy | John Lyons | Alex Colin | Gerard Vowles |
| Audrey Phelan | Patricia Eadie | Cathal O'sullivan | Ross Hamilton | Liz Rouine |
| Lorraine Carrabin | Tom Curtin | Conor Crosbie | Derek Organ | Karl Swan |
| Diarmuid Meldon | Aidan Canny | Jonathan Bunce | Niall Power | Shane Gavin |
| Pat Linehan | Jason McFetridge | Jonathan Freeman | Shannie Doyle | Miriam Grogan |
| Ger Fennelly | Brianne Mulvihill | David Larkin | Pablo Perez rodriguez | Roisin Pakenham |
| Shay Phelan | Tom Mcenery | John Wallnutt | Wini Gallagher | Brendan Doyle |
| Adam Goslin | Aine O'Sullivan | Simon Carbery | Colm Fitzsimons | Nora Gallagher |
| Ross Condy | Brian Stanley | Killian Nolan | Michael Dowling | David O'shea |
Event Timetable:
REGISTRATION
Friday 6 July 4.00pm-8.00pm Base2Race  Ballymount
Saturday 7July 11.00am–5.00pm  Base2 Race Ballymount
Sunday 8 July 10.00am–11.45am sharp  Brass Fox  Wicklow Town
Transition opens all competitors Sunday 8 July 10.45am
Transition closes for all competitors Sunday 8 July 12.30pm sharp
Transition racks are numbered.
Race briefing for all competitors  Sunday 8 July 12.35pm Beside transition
Race start   1.00pm sharp Wicklow  Harbour
Harbourmann-2018-Race-Briefing
ALL COMPETITORS MUST ATTEND THE RACE BRIEFING.
This is an important safety measure for our event and it is mandatory for all competitors to attend.
Any last minute changes to the course will be announced at this time and we will inform you of any safety issues that may affect your race.
This briefing will have the latest information to hand to the event organisers and race referee – it will not suffice to have read this race briefing document.
The race briefing will commence at 12.30pm beside the transition area.
Race Course
SWIM – 1500m
The swim will be a rolling start. Competitors will be counted onto the pier and will be requested to seed themselves according to their estimated finish swim time.
Competitors will then be directed to the rolling start area and once you cross the timing mat, your race has started. For Newbies this is not a mass start and you enter the water in small groups of 3 or 4. Its self seeding so you can start front middle or back but as above your time does not start until you cross the timing mat.
The 1500m swim will start in Wicklow Harbour, go North parallel to the shore, turn left towards the shore, left again to go South parallel to the shore once more, left again parallel to the pier and return into the Harbour:
Please note: Due to road closures, there will be a swim cut-off of 50 minutes from when the swimmer enters the water. This will be based on the chip time.
TRANSITION
Transition 1
Exit harbour at same point as swim entry and follow marked pathway from the waterside to transition. The transition area is about 500m from the swim exit.
Marshals will direct you to the transition area and will highlight any trip hazards.
However, you are requested to keep to the left of the pathway and mind your step.
Long run back into Transition. Consider taking off Wetsuit at water edge and some put on runners at this point. Check surface and route before racing !
BIKE – 40km
The 40km cycle is an out-and-back route and will start up the Port Road in Wicklow away from the Harbour and out onto the road to Rathnew. It will then take a left up a short but sharp hill and onto a road that will steadily bring you up to The Beehive pub. Once at the Beehive, you will take the first exit on the roundabout and follow the old N11 road south, with the turnaround happening a kilometer or so beyond Jack White's Inn.
RUN – 10 Km
The run will leave transition and run out the Port Road for over 2km before turning back. Once past transition they will cross the new cycling path and over the bridge onto the South Quays; this is the start of lap 1 of 2 laps of Wicklow Town. the route follows the South Quays down to the lighthouse, around and back as far as the steps that bring you up to the entrance of the Black Castle. From there competitors will run down Quarantine Hill and back onto the South Quays to turn around to start lap 2 or to continue onto the new Finishing Area back near Transition.
Getting there and Parking
From Westwood its approx. 70mins to Wicklow town travelling via the M50 to N11/ M11. Exit at Junction 16 ( Rathnew / Wicklow north) travel through Rathnew.  After passing through Rathnew, competitors should take the left hand turn at traffic lights sign posted for Port Road to in order to get to race site and parking.
No road side parking will be permitted near transition as this road is part of the bike course and we need to ensure access for emergency vehicles, so please do not park on the roadside.
Parking will be available close to the race venue and competitors are requested to arrive early.  Do not park on double yellow lines or on any private property or in any designated residents' places as you may get clamped.
Pre-Race Advice
Race Week
In the week before the race, being well-rested is vital. Triathletes have a (good) habit of being very committed to training and often find it hard not to train! However, the week ahead of a race is one of those times when you should take that break and not feel guilty about it. The training that matters has been done already and flogging yourself a few days before a race is not wise. However, tuning up in the form of short and sharp intervals across all three disciplines is generally recommended. Otherwise, eat good and nutritious food and stay hydrated. Make sure you have everything you might need for the day. Of critical importance is your TI card or one day licence – no licence, no race! You should know yourself what items you need, but as a guide, see the sample checklist below:
Swim
Bike
Run
Additional
Race Day
Outlined below is a comprehensive warm-up that incorporates all three disciplines and requires a decent amount of time. What is arguably as important as the physical side of warming-up is the logistical and mental preparation. Make sure that you have everything positioned where you want it (the logistics), ideally as early as possible, so that you can then prepare mentally. Assuming you have allowed sufficient time, this should incorporate familiarising yourself with the course, in particular, in and around transition. If you have any particular concerns, try to limit these. For example, nervous swimmers might walk to the turnaround point to get the measure of the course and note landmarks that might be reassuring during the race; if your bike handling on a TT is rusty, navigate a few corners. Make sure your bike is roadworthy and operating smoothly (faulty bikes cause anger, anger leads to hate, hate causes suffering!).
Cycle
Before you rack your bike, try to get 10-15 minutes easy cycle- this will give you a feel for you race position, changing gears and pedaling technique. Keep this cycle at easy intensity- This can be a couple of hours before the race start and the purpose is to give you a feel for the bike (Use run/swim as warm up before race).
Transition
 When racking your bike: Do a couple of jogs through the transition and visualise where you have to enter and exit for T1 & T2. Know exactly where your bike is – memorise how to get to your bike quickly. Placing a ridiculously colourful towel on the ground by your bike is sometimes useful as it can be easy to spot as you run along a row of bikes. You can place your runners, gels, visor, sunglasses etc. on the towel so you can grab them before you head out on the run. Alternatively, note a fixed landmark (not a bike!) and practice making your way to \ from the entry \ exit point.
Run
After racking your bike and setting up your transition completely, do a run warm up next – complete 10-15 minutes jog with 5x 10 strides seconds at intensity of 7/10. Aim to finish your run warm up approximately 20-25 minutes of starting your race, then get wetsuit on for swim warm up below.
Swim        
Try and get into the water to allow sufficient time for the body to acclimatize. While you don't want to get cold, given it's probably one of your first exposures to outside water, acclimatizing as best you can is very important. Dynamic movements of your arms and shoulder are suggested (e.g. circling your arms and practicing the swim motion). Start with some aerobic swimming and add 4 x20 seconds at race intensity, with 1 minute easy between each.
Good Luck!
Siobhan, John and Ivan
Siobhan Forman, John Wallnutt and Ivan Eustace
National Series Coordinators