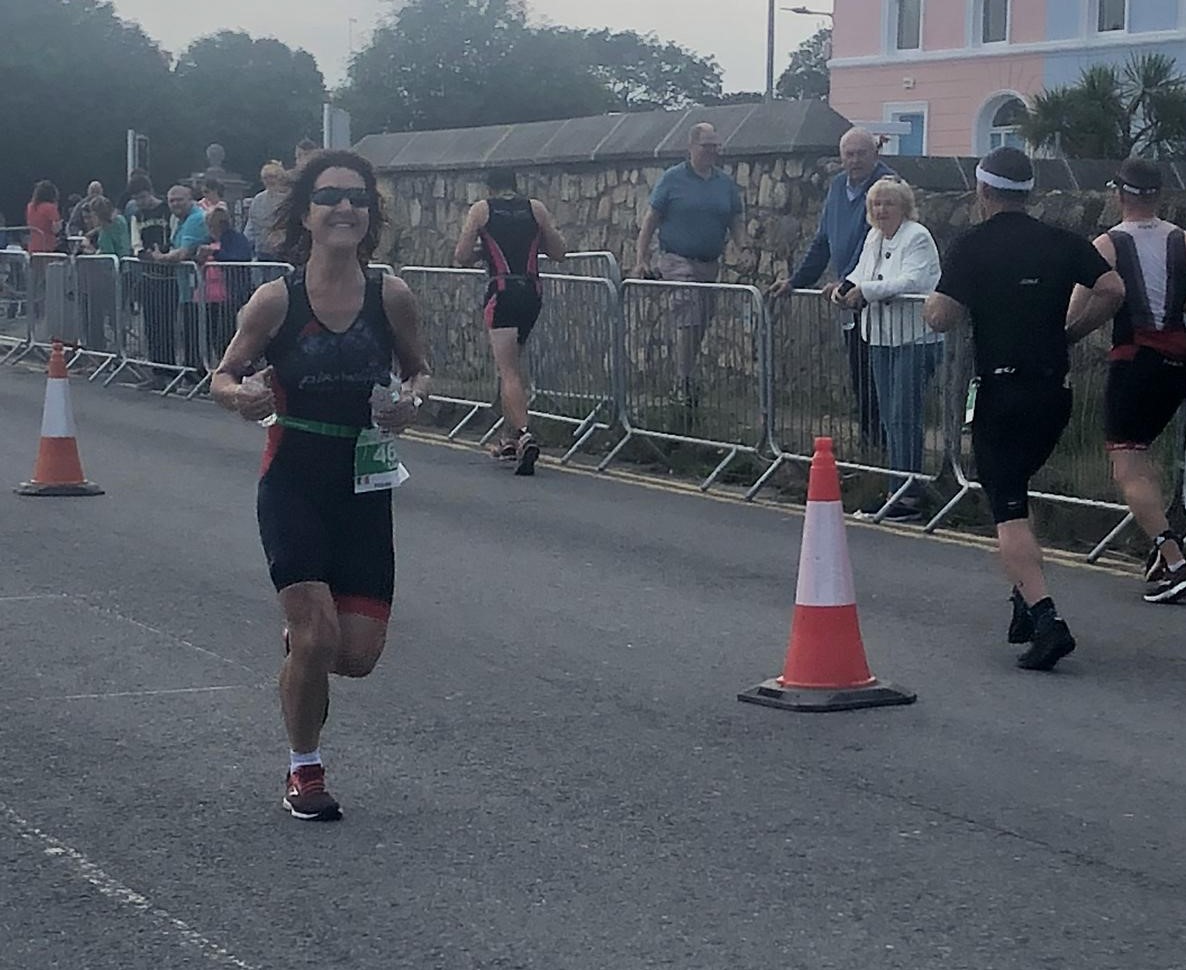 I joined Piranha Triathlon Club in November, 2017, same night as Nora and in my first year did sprints and an Olympic, delighted with these and the great support and encouragement from the Club, super (Nora and myself were like Thelma and Louise heading off on an adventure to do them). I was chilling at Christmas thinking what will I aim for this year, thinking about the bucket list and having a few medicinals and thought what would be big!! Thought about the Dun Laoghaire 70.3 – Iron man, it sounded impressive!!
So I decided to sign up early, to commit myself, rather than doing a lot of talking about it!! Then I decided a training plan was needed to negotiate the thoughts of 3 swims, 3 runs and 3 cycles a week. Fair play to John, he drew up a training plan for me on a weekly basis which kept me focused, a group of us were trained by John (the Wolf!) aka the Cubs, super bunch, Aisling, John D, Niall and later Gerhardt and Gabriel and the Zoe joined the gang.  We have had some great laughs, great training sessions, some hairy weather and some great weather. A lot of juggling, work life balance for all and some great coaching, hints and tips from John.  Great swims in Sea point, Scott's bay and Balscadden, as for the Wicklow Mountains!!!  Thanks John for showing me how to use cleats definitely character building.
Well Dun Laoghaire came upon us, kind of glad after training for the last 5 months but also nervous. Arrived at 5.30pm on Sunday morning and met Aisling and we headed off to put our nutrition on our bikes, fair play to Zoe who was kept busy pumping up tyres! Super gang of Piranha there. Off we headed to the 40 foot for a quick dip with John to get acclimatised, some crowd already queuing up for the swim.  Beautiful morning, water calm and then out of nowhere the fog descended.  First 100 or so had gone at this stage. We waited for an hour keeping our fingers crossed we would get a swim. The swim was shortened and then we headed off, fairly crowded and lots of pushing I think people were excited to get going. I was glad I had done a few races this year to get use to that amount of people. The swim was around 900m but have to admit I was very happy to see the shore.
Into transition, got the blue bag with the cycle gear and off on the bike, lovely morning, great support and kept pedalling! My tyre kit bag got loose so I stopped to fix but thanks be to God, I didn't need to use as I watch lots of people along the course stopping to fix punctures etc. I know I should have done that maintenance course!  There was a few accidents too so just kept pedalling and taking it handy down the hills.  Up the top of the Sally gap, for a few kilometres could not see a thing, mad, I have had sunshine, rain, wind but never this fog or mist, great there was a girl in front who had a bright top.  There was a gang of people ringing cow bells to tell us where to turn which was great.  There was great marshalling, roads closed etc. which all helped. So happy to get off the bike and away from those mountains!! Even if there is beautiful views.
The run was 3 loops, by the 3rd one was I ready to finish! Just kept to a certain pace, lots of water etc. Fab support from Piranha, you were all amazing, I had been following this guy from Westport and when we finished he looked over at me and said so you are Liz, he had been wondering who the celebrity was.  Definitely recommend a training plan for 70.3 and a coach, and was very luck with John agreeing to be my coach and coming out with us on the course and on numerous training sessions, much appreciated. Thanks a million for all the support for the great coaching from John and to the rest of the cubs it was a blast and to the club for the fab support and advice. When I finished another triathlete from Mayo who I was trying to keep up with said, so you are Liz and he was wonder who the celebrity was, I was laughing, so thanks a million to all the cheers of support and hi fives from club members, so appreciated.