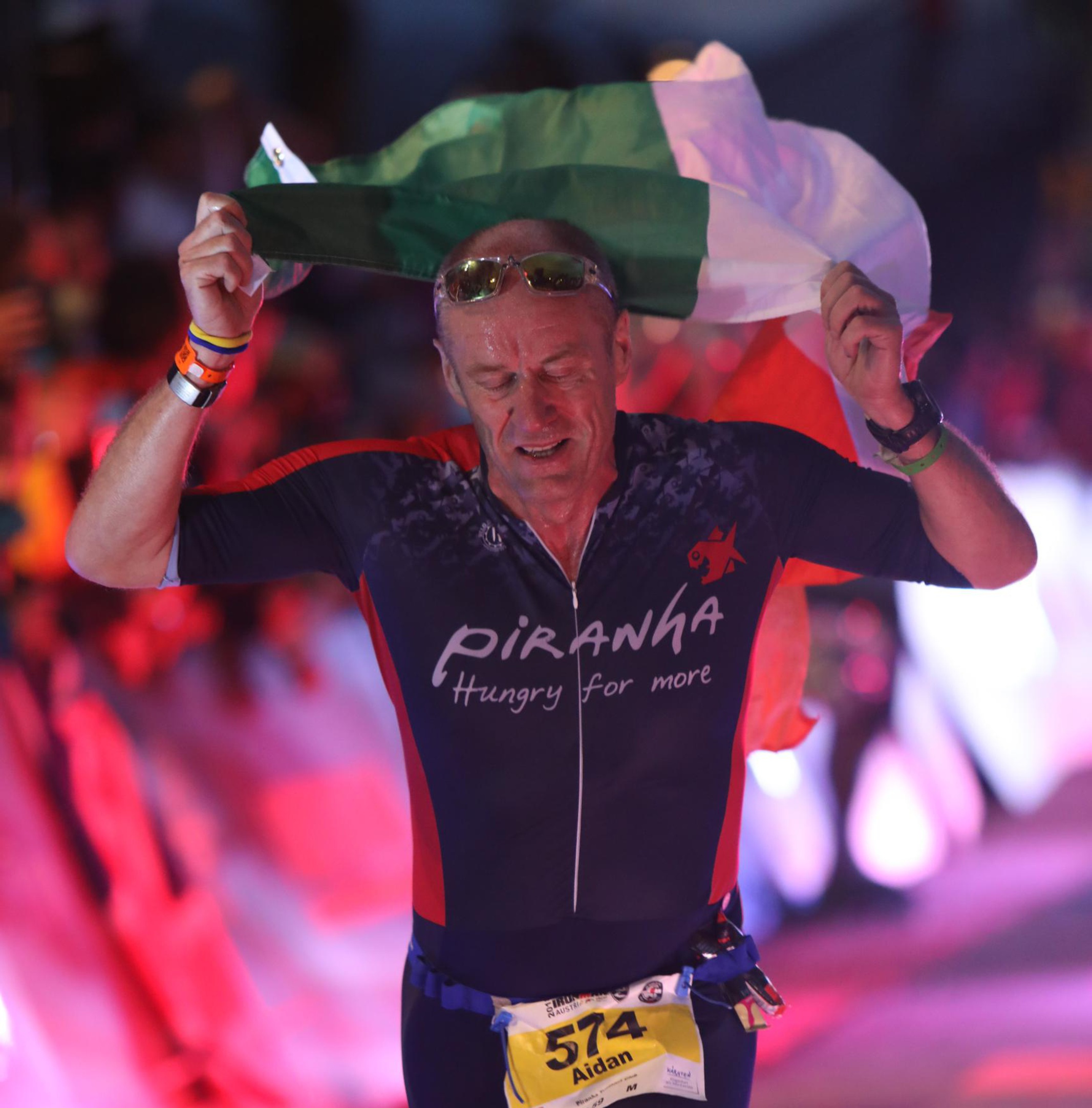 by Aidan Hughes
Failure is not an option was on the t-shirts worn by a group of spectathletes as I got out of the car at stupid o'clock on race morning and it was my mantra for the day.  And the day was no ordinary day – it was a day that had broke me and rebuilt me for almost a year both mentally and physically.   It was the 1st of July 2018, a date that was marked on every calendar in work with a countdown on my phone with a reminder pinned to the fridge.  My family all knew the date because how do you know you are in the house of someone training for an Ironman?  They'll tell you!
And so it was that I trudged to transition with nutrition, water, anticipation, trepidation and a great deal of fear.  The bike hadn't been stolen (excuse number 1 gone) so it was a quick pep talk from Coach Moody and down to swim start.   On the way I bumped in to the voice of IM Europe, Paul Kaye, and got a lump in my throat at the thoughts, nay hope, that at some stage later that day he would shout at me "you are an Ironman".
A swim warm up and I was off to the pen for those who normally swim with rubber rings and arm bands.  I watched the pro's and those who didn't grow up in an era of 15m pools with limited access disappear in to the distance – and boy did it look far.  I needed a hug!!  I must have been picked up by a person unknown because next thing I knew I was in the chute and running in to the water.
At dinner the previous night Aileen and Rachael had advised me to concentrate on my stroke.  And off I went, finding a (slow) but consistent rhythm.  Sight, swim, reach, sight swim, reach, find feet, draft, sight swim reach.  A couple of turns and I could see the mouth of the canal.  The canal means 1k to go and I hadn't drowned.  Half way along I see Rachael, Roger and my wife Denise, manage to give them a shout and their words of encouragement was as welcome as the hug I needed before the start.  Out of the water and a jog towards T1.  But a slip on the carpet with the wet suit locking my arms meant I was on the ground struggling to get up.  I was like a seal rolling on the wet carpet until a laughing marshal helped me to my feet.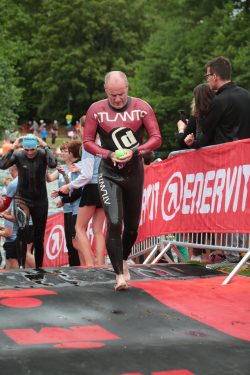 A quick check to make sure it wasn't on the big screen and I was on my way.  More Piranhas lined the walkway and behind Irish flags they shouted words of encouragement that made the other spectators try and out shout Muiriosa, Mags, Antje and crew without success.
Failure is not an option – as I set out on the bike.  I ate, drank but was far from merry.  The first 90k seemed to go by in a flash as villages along the route made a carnival out of the day with banging tunes (you have to be at S&C on Wednesday morning to get this) food and beer helping keep them in fine spirits with constant shouts of "hup hup" encouraging you to keep going.
Lap two was an adventure.  At the turn point it was Piranha corner, with Stuart and Michelle on one side of the road and the other spectathletes on the other.  Flags were waved and the shouts drowned out the MC updating the crowd on some guy who was winning.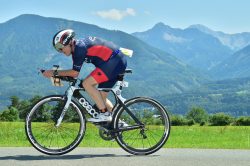 After about 110k my quads didn't want to work anymore and were asking me to arrange a transplant so they could retire gracefully, or maybe not so gracefully.  I was selling my bikes, giving away my race entries and going to spend the rest of my life being chilled and chunky.  But the feed stations gave me an opportunity to drink some electorates and my quads and I fell in love again.  And so it was with a sense of "yes I might just do this" that I approached the final climb.  And then the wheels fell off – or should I say the chain.  And it had decided to get stuck between the front ring and the frame.  After some brute force and some less that choice words covered in oil I managed to free it.  As I cursed my luck on the descent I met Aileen who was cruising up the climb effortlessly, smiling and shouting my name.  She was our Piranha on the course.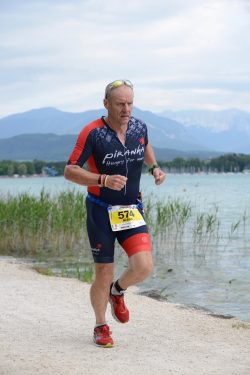 Failure is not an option as I dropped the bike with Piranha Power ringing in my ears and set out on the run.  The mantra was "control" and off I set. 6-7 minutes a km and yes I know its slow but I was a marathon virgin.  Having overcome one of my previous major errors and ate and drank well on the bike (Moody Meals) which consisted of Torq gels and bars (thanks Martina) and ham rolls (thanks Roger) I felt I might actually have this.  I wasn't going to qualify for Kona, trouble the podium but I might just get a nod from my sons and daughter as they passed through the hotel, sorry home, they sometimes frequent.  However I was soon brought back to earth with a real kick in the tummy.  You go in to these things in the hope that it goes well but knowing it won't.  I had concealed an injury from almost everyone, a hernia which I had ignored came back and bit me hard.  The next 20k was spent trying to manage this (believe me you don't want the detail) and my pace dropped by the km.  With 8k to go something clicked back in to place (literally) and I was able to abandon the walk-walk run strategy and finish.  I could hear the shouts from the finish line, went in to the park and with encouragement from the crew from Pulse caught sight of the Piranhas – still there to roar me home.
Failure is not an option and today it wasn't.  As I passed, Muiriosa threw a flag at me, Denise smiled proudly and I ran towards the finish, about 300m away.  Its weird because you run away from the line, turn and run back towards the big M.  At this stage I am not afraid to say I lost it.  The emotion of the day, the year came back and I shed a quiet tear.  I thought of the nights out I had missed, the early training sessions, the runs in the snow, the 3 hour turbo's, the pain I had put my body through and I wouldn't have changed it for the world.  As I ran down the chute the local MC shouted "Aidan you are an Ironman" and as I passed him I asked him to say it again and he shouted "Aidan you are an Ironman" just to remind me.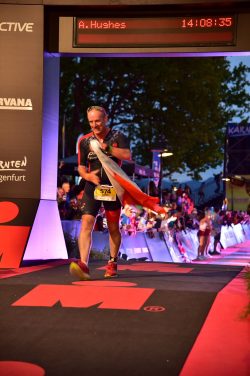 A journey like this requires the help of a team of people and so it was for me.  Special thanks goes to everyone in Piranha Tri who swam past me, ran with me or cycled with me.  To all the coaches Ewa, Paul, Anthony and Casso (thanks for the late bike fit it worked a dream).  Special thanks to Lorraine and Martina who dragged me round North County Dublin on dreary Sunday mornings.  To the Wednesday Strength & Conditioning crew at Dublin Sports Clinic for the laughs during the pain – we must drive poor Peter Mathews mad.  Also to Ivan Eustace and John Walnutt who dragged me  up every mountain around Polop on the bike.  Also mentions go to the spectathletes in Austria, to Roger, Rachael, Aileen and Tom who kept me calm in the days leading up to the race.  And to Steven Moody of Smart Endurance Solutions who has coached me for the last few months and yes I should have told you about the injury!!  But mostly to my family, especially my wife Denise who put up with all the bad moods, times of self doubt, endless laundry and  the mess made dragging mucky bikes through the house.
It is difficult to explain but I think the injury on the run hampered what would have been, for a first time oul fella like me, a respectable enough time but I would have taken 14 hours on Saturday.  But I can't help thinking of what could have been.
Would I do it again – damn right I would.
FAILURE IS NOT AN OPTION!!!!