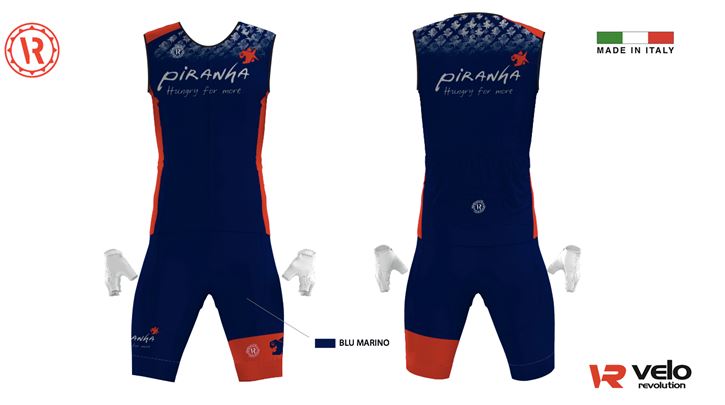 It has broken many a man and woman but once again it is that time of the year when we order our summer gear.  This year's collection includes tri suits, summer cycle wear and run gear.  Also this year we are offering an exciting new range of casual race day wear!  This is great value at €30 (plus transaction fees) and consists of a Piranha hoodie, t-shirt and bobble hat (not available separately) – samples of which were available at the recent fittings held by Adam & Richie.
A few things to note:
As previously advised you should try before you buy so if you are purchasing by guessing your size remember exchanges cannot be facilitated.
All orders are subject to minimum orders being met.  In the event that you order something that doesn't meet the minimum we will contact you direct to make alternate arrangements.
Orders will be taken until the 8th of March and will be delivered in 8 weeks – early May.
As soon as we have the items we will make arrangements for you to collect your gear.
Velo are the suppliers of the tri & cycle gear with Ronhill being our supplier for run gear.  For the casual race day wear we have sourced these from different suppliers.
Once again the club, to try and get as many members in club gear, is providing a subsidy and as a result the prices are the same as last year (the only increase being the inclusion of the administration fees).
PLEASE NOTE ITEMS IN THE BUNDLE CANNOT BE ORDERED SEPARATELY 
It is great at races and you see the club gear being worn and even better when you see it on the podium.  So we would ask that if possible you order and wear club gear and maybe include the casual gear.
Adam, Richie & Aidan
Ladies & Gents Outfitters
By Royal Appointment
| | | |
| --- | --- | --- |
| Male tri suit €68.00 | Female tri suit €63.00 | Female (open back) tri suit €63.00 |
| Aero suit (unisex) €108.00 | Tri top €45.50 | Mens Tri shorts €41.50 |
| Casual Bundle €33.00 | Cycling gear | Ronhill Run Square Shorts< €18.00 |
| Ronhill Run Singlet €21.00 | Ronhill Run T-shirt €22.50 | Ronhill Run Race Shorts €18.00 |
| Bib shorts male €73.00 | Bib shorts female €73.00 | Female Tri shorts €41.50 |