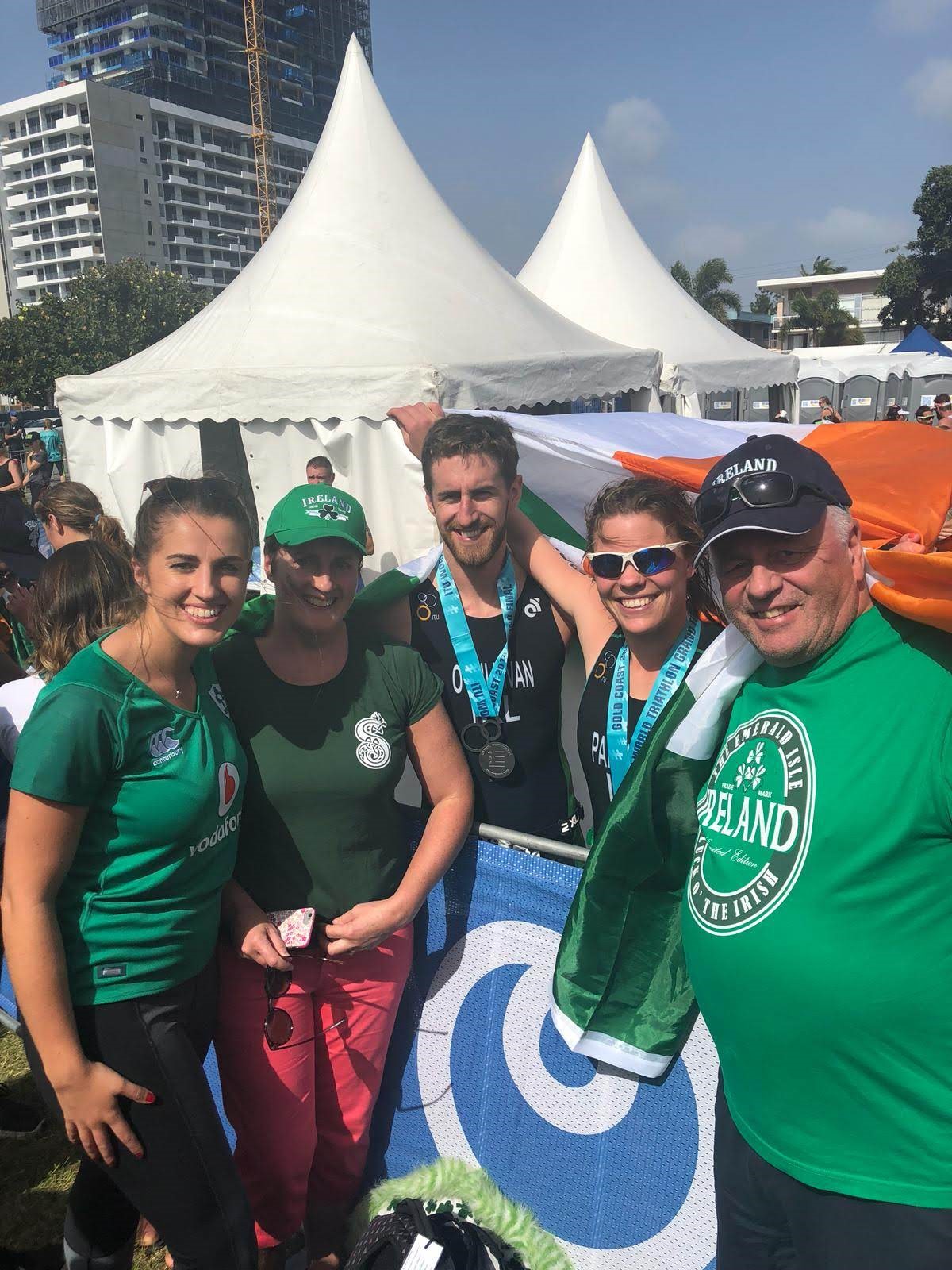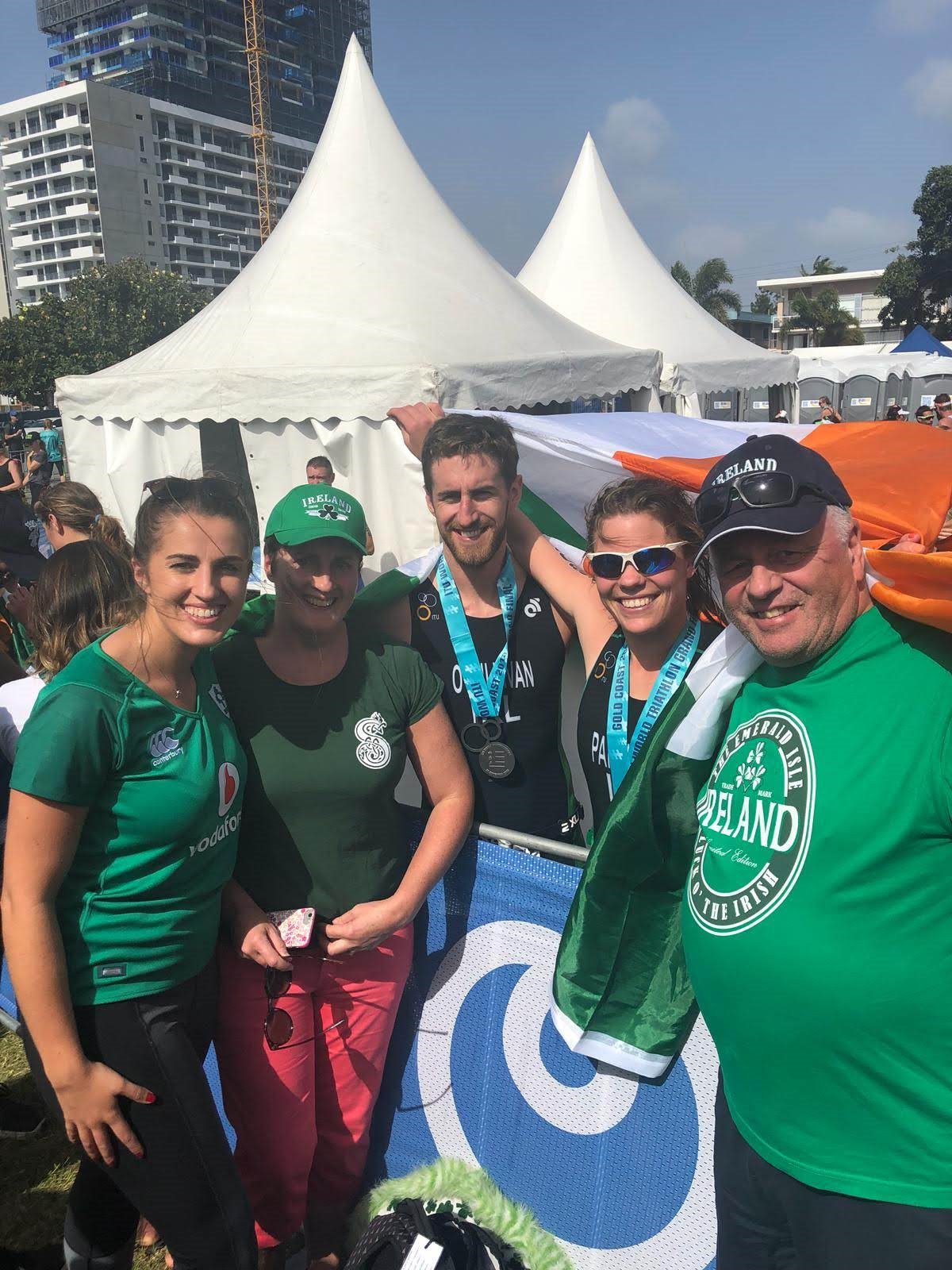 " !#%k  !#%k !#%k YOU !#%kING  !#%kER".
To the uninitiated this may sound like a rather surprising reaction to having just completed the world championships but to the seasoned triathlete you know what I'm talking about.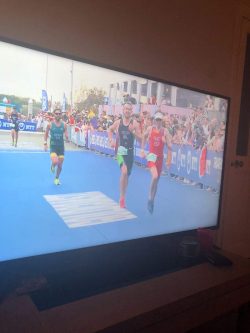 Coming into the last kilometre, I made a pact with myself that nobody was going to pass me until I crossed that finish line. Four minutes of hell, come on…
1km – "Yes, I can do this"
500m – "Oh !#%k this hurts"
250m – "Oh  !#%k this really hurts. Why am I even here"
100m – "Arrrrggghh, man the !#%k up, this is the world championships"
50m – "Oh no. No no no no no don't you !#%king dare think about passing me"
10m – "I will literally kill you, you little Spanish bollix"
5m – "…."
The initial fury quickly subsided into a mixture of elation and relief. After having trained for the past 9 months all for this moment, it was like a pressure valve releasing. I may not have won or come anywhere near winning but I left everything out there and had absolutely no regrets. I had represented my country at World Championships and couldn't have been happier!
Getting Qualified
Having made huge improvements in 2017 (must have been the altitude training camp with the llamas), I was looking forward to the 2018 season and saw that the World Championships were on in Australia. It also made for a great excuse to visit my sister who is living in Sydney. I also saw that the European Sprint was on across the pond in Glasgow so I went about applying to TI to be considered for selection for both races. After coming 3rd in my AG in the National Series in 2017, I knew I had qualified but it was still a nice feeling to open the email from TI at the end of the year which said that I have qualified to represent my country.
So with my name in the match day squad, I started planning out the year ahead. I got Anthony Mulholland onboard as a coach to bring some structure to my training. Up until that point, my training consisted of turning up to as many Piranha sessions as possible and train as hard as I could. To say Anthony's training style is different would be an understatement. Everything seemed to be about taking it easy – 'easy run', 'easy bike'. But after a few of Anto's famous Training Peak bollockings when I didn't exactly stick to his planned easy sessions, I began to understand why he put so much emphasis on balancing the easy with the hard sessions. To be able to perform at a high level consistently and remain injury free, your body needs as much recovery as it does training. It wasn't long before I got into the swing of things and as the season progressed, I could see improvements with each race and this gave me the confidence that the training was working.
National Series
As both my international races were towards the end of the season, I got all my National Series races in as early as possible. Carlow, Fastnet, Hook or By Crook, Jailbreak and Harbourman were all on the list with the highlights being an AG win at Jailbreak and coming second overall in my local race, Trí na Móna. It wasn't always rosy in the garden though. I fell off my bike on the Luas tracks and was knocked off my bike in Clontarf.  Both these incidents put me out of action for some time. One of the more forgettable mornings was on Harbourman race day. While packing the car the previous evening, I drove off leaving my front wheel on the street behind me. It wasn't until the following morning when I was putting Roisín's bike into the car that I realised I was missing a wheel.  After a little panic (well actually a lot of panic), I rang the Garda Station and as luck would have it, a Cycle Superstore employee happened to walk past not long after I drove off and handed it into the Garda Station. The stars were aligning!
European Championships
My first race donning the Irish jersey was in Glasgow in August.  After arriving at the venue, my first impressions was that you could immediately tell that there were no slouches about. There wasn't a breast-stroking swimmer or a hybrid bike in sight – everyone here meant business. It was an incredible experience and Roisín's rent-a-mob made it feel like Italia 90 with their chants of Olé Olé each time we passed. The race went off well in what was a tricky course particularly the lumpy bike. My swim and bike were good and while I had my best run of the year, I knew I had more to give in the coming weeks. Next stop – world domination!
World Champs Build Up
Fast forward three weeks and I've landed in Gold Coast 8 days before the race. With Roisín not around for another few days, I spent my time getting the last few sessions in and resting up as much as possible. The facilities on the Gold Coast are world class and being able to swim in the same pool and run on the same track as the world's best made me feel like a pro. I was even mistaken for Richard Murray at one point!
By Thursday Roisín had arrived. We got ourselves registered for the race and familiar with the course. The buzz around the athlete village was electric and we were both itching to get racing. We still had another few days to go but luckily there were a whole bunch of other professional and AG races on so we soaked up the atmosphere and cheered on the other Irish athletes.
Day of Reckoning
We had an early start race morning with the gun going off a 6.30am. A few last minute checks in transition and on to the swim start. With Roisín's nerves reaching an all time high, I spent the build up trying to calm her down which actually proved to be a great distraction for my own nerves. Roisín's wave was called first and as she got into the water, the butterflies began to make an appearance. As the gun went off for her wave, we started to get into the water. A few quick strokes to get the heart rate up and I was ready to go.
The race itself was frantic from the off but I managed to get onto some fast feet. This meant I could swim at a quick pace without spending too much energy trying to keep up. I came out of the water in good shape and got a great boost when I could hear my family shouting on from the sidelines. The bike course was very bunched at the start and which allowed me to chase people down one by one. Being strong on the bike, I was able to move in and out of their slipstreams taking maximum advantage. It took me ages to pass Roisín which meant that either she had a really good swim or I was struggling. Thankfully it was the former. Coming to the end of lap 1, I was in a good position for the second half of the bike with my plan just being to bike hard and maintain my position. Coming off the bike, I had my sister at the ready to shout out where I sat in the field – 35th place. Knowing that there were going to be some stronger runners behind me, I focused on sticking to my game plan – around 3.55min/km for the first 5k and give it absolutely everything on the second lap. Coming into the last few kilometres, I saw Roisín and she gave me a shout. Wish I could say I returned the favour but I had tunnel vision for the finish line. I was nearly there. Just one kilometre to go…
The Aftermath
After giving Franco a good kicking for showing me up in those last few metres, I made a B line for the grandstand to welcome Roisín back in. For someone that only took up triathlon in 2017, I was so proud to see her finish in such a great time. We both soaked up the moment in the recovery area before meeting my family and getting plenty of memories for the photo album.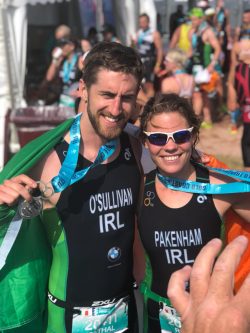 And only then the holiday could really begin. Three weeks traveling around Australia and Bali. But you'll have to ask Roisín for that report!
And the awards go to…
None of this would have been possible without the support of a few people. To say Roisín has been patient over the year is an understatement. Date nights got replaced with early nights, weekends away became training weekends. I promise you'll see more of me in the next 12 months!
Thanks to Anthony Mulholland for getting me to the start line in such great shape.
Thanks to the Pakenham Support Crew for coming to Glasgow and to my parents for traveling to Glasgow and Australia.
Thanks to my housemates for putting up with all my early morning and late night turbo sessions.
Thanks to Steve Moody who put me in touch with the owner of the Giant store in Brisbane.
Also big shout out to Siobhan Duggan for helping me source a bike also.
And finally, thanks to all my fellow Piranhas for your support and advice over the year.
So, who's up for Lausanne next year?!?
 
European Championships (Sprint)
World Championships

(Olympic)

Results

Overall

AG (30-34)

104 out of 764

18th out of 52

147th out of 1506

40th out of 94

Times

Swim

Bike

Run

Total

11:18

34:25

20:09

1:09:28

21:44 (PB)

59:35 (PB)

38:15 (PB)

2:03:28 (PB)

For the nerds

Normalised Power

Cadence

Average Speed

268w

89rpm

35.5km/h

257w

87rpm

38.6km/h