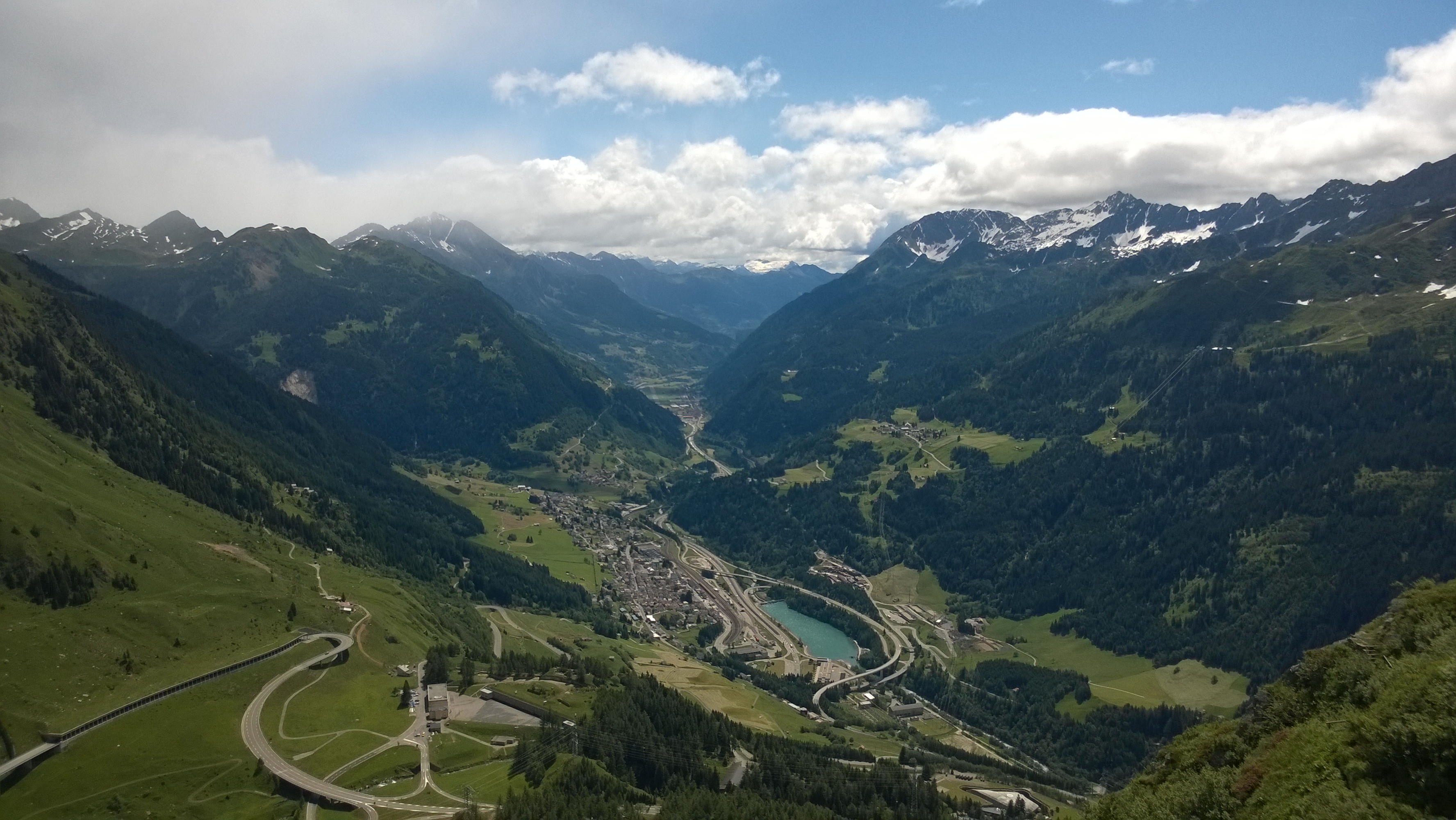 I'm neill turley and I am a bucket-list-a-holic. I had kept the fact that I was doing this race pretty much to myself with the exception of letting it slip to a couple of people so apologies for the little lie that I wasn't racing this year. I was putting enough pressure on myself as it was plus, I didn't know whether I'd actually make it to the start line.
I was on You-tube back in 2013 looking up sport motivational videos and stumbled upon this video for Swissman. I had heard of Norseman and Celtman Xtreme but not this
http://www.suixtri.com/en/portfolio/swissman-film-2013/
I was in awe of these guys, the course looked mental. It had everything I was looking for in a race. The challenge, cycling scenery, iconic climbs and the whole ethos of the race sounded perfect. I was hooked and wanted to do it. I applied for Norseman and Swissman for 2014 but didn't get an entry. They are all lottery draws and heavily oversubscribed. As it turned out it was lucky I didn't get an entry as a pretty decent crash in the Pyrenees puncturing on a steep descent in April 14 would have caused me to miss it. Then in July another crash on Clontarf strand trying to avoid a dog, left me sitting on the ground with a broken collarbone (try not to do this-it's very sore). Lack of exercise and my ridiculous chocolate habit left my weight creeping up so my plan was to join Dublin Wheelers and do some club racing and maybe A4. This was all thrown out the window when I got the mail on 14/11/2015 saying I had an entry for Swissman 2015. I was in shock, What will I do now, I thought about it for 2 seconds, realised I might never have this chance again so it was Swissman for me. I registered and then I asked for the permission slip. This was the wife-to-be's (Laurann) final test, would she say no and be dumped….. Luckily enough she didn't say no but I made the promise this would be the final one.
First thing was to head up to Crazy Jimmy Ziemowit do get a full rundown on the race and see what I had got myself into. I had so many questions but he had completed it in 2013         (LEGEND) so knew all about it. It kept sounding better and better but there was a lot to think about and plan. He still had is tan lines from the race as had been scalded in the heat that day.
So bit of background to the race.
SWISSMAN is a point to point race for max 250 tri athletes chosen by a lottery draw starting in the southern part of Switzerland, leading over three mountain passes to the central part of Switzerland and finishing with a final climb in the heart of Switzerland just at the bottom of the massive mountain backdrop of the Eiger, Mönch and Jungfrau. The scenery is breathtakingly beautiful and the challenge of the course is absolutely extreme. 3950m climbing on the bike and 1500m on the run. This year was even more difficult as weather conditions were atrocious in the mountains.
What makes Swissman different to most other IM races are each athletes supporters are essential part of getting their athlete to the finish. Only minimal support is provided by the organizer during the bike and running course. It is the duty of the supporter to provide his athlete with everything he needs during the race, i.e. clothes and nutrition. This makes the SWISSMAN as challenging for the supporter as it is for the athlete. On the final climb to Kleine Scheidegg the supporter accompanies his athlete mandatorily and they cross the finish line together.
So training started straight away, I had done nothing in 3 months so fitness was zero. I got back in to the pool and gradually built up the shoulder strength and went to Andy Kenny KOM spin classes 1-2 times a week for 4 months. Each week he would break me but I was improving and knew it would stand to me. My plan was different to 2013 IM Copenhagen where I followed a set training plan. I decided to swim only twice a week, combo of KOM classes and mid-week howth repeats with long cycles at weekend. One problem I was getting married in March so was out of action for a guts of a month. Winter came and went and fitness was improving. In the end I got several runs done on honeymoon and one epic cycle climbing up to a ski resort outside Queenstown, the price for an spa morning for the now wife. Time flew by and the cycling was ramped up as the weather got better. Wicklow was my new best friend after howth and got to know it well. I tapered and double checked all the bookings I'd made.
We flew to Zurich and rented an estate (wise decision in the end for the room needed) and travelled down to Locarno beside Ascona late on the Thursday night. Word came through that the weather forecast for race day was to be extreme, snow, hailstones, rain and high winds in the mountains. This was my worst scenario for the descents and didn't help with the nerves. On Friday I built the bike and tested it and then we set off to recon both the start of the bike course and supporter route as they were different, We were told that we needed to know are own way so this was stressful enough. As it turned out, the cycle was very well signposted and marshalled on the day. The supporter car routes were different in places and not as easily understood so several supporter cars had to work together at times to figure it out during the race. We went to the race briefing on Friday night then had a pizza (it was all I could stomach with pre-race nerves) and it was off to bed as was an early start.
Race day
2.30 am we were up and off to T1, Athletes had to get a ferry out to the Brissago islands at 4.15 am and swim back at 5am to Ascona by sighting a flashing light. The Swiss are on time, every time and everything ran as planned.
The swim
I had planned on 1hr and 30 min and in the end that's what it took although looking at other strava data I probably swam 4.2km; I took it easy and enjoyed the relatively warm water versus Irish waters at Bull wall which I had only swam twice for max 15mins the week before. Not good preparation but the water is fecking freezing here.
T1 was calm affair, double check I had everything and said my goodbye and we were off on the bike, the plan was to meet along the route for food and drinks and double check if had right clothes as the weather could change at any moment.
The bike
https://www.strava.com/activities/330477042
I was moving along nicely till the 85km/1500m climbed mark, nothing was too steep just gradual and the first major task was to get over the 5km of cobblestones called the Tremola. Before that I had passed a cyclist who was being put into an ambulance, there was still blood on the road and gave me the wakeup call that it's only a race and not to do anything stupid. The Tremola climb was slow process; I couldn't build speed and was slightly uncomfortable. Once over that, it was onto the Gotthard pass (2091m) and never ending switch backs. So I dug in and kept it ticking over, then the bad news came that it was snowing on the Furkapass (2429m) and to wrap up warm as it was close to freezing. I could see the weather changing ahead as the clouds were very dark. I got into the newly acquired rain gear ( Galibier Tourmalet rain jacket and Castelli Gabba 2). I had been caught out badly at the Orwell Randonee in April and knew I needed better gear for this very race scenario. They were awesome and did a great job of keeping me dry. So starting the Furka pass climb, the rain turned into sleet and then into hailstones and dense fog. Visibility was a couple of car lengths. Crazy Porsche drivers and motor bikers tearing around corners didn't help the nerves. Finally I got to the top and I knew had a 16km decent to the next Grimsel climb. I asked Laurann to stay behind me just in case the worst happened. The wind had been knocking me sideways on any descents and my wheel choice cosmic carbones didn't help with their aero rims. I managed to get through it with a lot of braking through what felt like the flow of a river on the descent and my arms were sore. Onto the Grimsel Pass and conditions were somehow worse even though we were lower down at 2164m. Once at the top I checked in again and got more nutrition. A race official came over and said the last 6 guys behind you have quit, you need to get down to T2 by 6.15PM. I was now last so had 30 odd km to do in 50mins of which I thought was all descending but there was a final kick in the teeth which had forgotten, another wee climb. So I was in full on TT mode, the roads were getting dryer and less windy so could open it up. I bombed with what I had left and came into transition with 5 mins to spare. On arrival I was told it had been extended by an hour due to the atrocious conditions. The cow bells were banging I was chuffed to have made it and could at least attempt the run.
The run
https://www.strava.com/activities/330477034
Laurann had gone ahead and got T2 set up and after a quick change and I was off with my very own Swissman mountain guide on a mountain bike who was covering the last person. Chatted a bit and turns out is doing the 168km insane Mont blanc ultra-running race and he thought we are crazy for doing Swissman.  The headphones went in and after downloading every decent sport motivational mp3 beforehand, I was getting the head right for what lay ahead. The run started with a steep ascent and then undulating along Interlaken Lake. I ran the flats and descents and speed walked the ascents. Saying that the speed walking was probably faster. I eventually caught 3 different groups which gave me a lift and pushed on. After a checkpoint 14km where I met Laurann, I began to slowly unravel. All day I was having trouble eating my stomach wasn't in the game and it was catching up on me now. I could only walk and the 3 groups passed me, (one of which was a 5 time Kona age grouper who then quit soon after) I got word that I need to get to Grindelwald (33k) by 10pm in order to be allowed to continue and complete the final ascent to Kliene Scheidegg. I did the maths and knew it wouldn't be possible but wasn't giving up so they would have to stop me. I got to 28.1km before I was told that was it for today so I shook his hand and thanked them for giving me the opportunity to race.
I was driven to Grindelwald and thanked the crew there for letting me get so far and met Laurann and apologised for not making it so she could get do the final climb. We decided to go up to the ceremony anyway in the morning. Weather was still ever changing beside the Eiger but looked an amazing place on a good day to finish a race! Have so much respect for everyone who finished, it was a true test of the body and mind. After reading all this and you are tempted plus lucky enough to get an entry then give me a shout and can answer any questions.
The finisher and supporter T shirts were handed out, I wasn't going to ask for one but thought Laurann deserved for her efforts plus I had paid for them already so was pleasantly surprised when I gave my race number that there was a bag with our names on it. We didn't go into the finisher photos as obviously it wasn't right to but the T-shirt will be framed as a reminder of the xtreme day in Switzerland.
So that was my last triathlon, hopefully you made it this far and haven't fallen asleep reading this. I wanted to go out with a bang but a combo of not enough training, taking way too many breaks and bad weather put paid to that. I want to thank my now wife who has been on this triathlon journey every step of the way and who put up with me throughout, it wasn't easy! We are very lucky when our other half's let us do this crazy sport and the training it entails. I want to thank everyone in Piranha for pushing me beyond what I thought I was ever capable of in the pool, on the bike and on the run. It's been an amazing 4 years and looking forward to giving a bit back to the club. Will still attend sessions to keep the weight down from the ongoing chocolate addiction.
The madness does'nt stop completely, Mont ventoux 3 sides in a day coming up in 2 weeks, I'm going to guess the weather will be the other xtreme unfortunately!
Some early photos of the race
http://www.gettyimages.ch/search/2/image?family=editorial&p=swissman&editorialproducts=SPORT
https://www.facebook.com/suixtri?fref=nf